"Luckily I didn't see the number of viewers… I thought I was alone so I just kept having fun on the stream lol!" said the developer of Shadow of the Guild, Robin Buisson from the Guild Studios after his nearly three hours broadcast during Steam's October 2022 Next Fest. Over a hundred thousand unique viewers and nearly ten thousand concurrent viewers brought Shadow of the Guild some well deserved demo-enthusiast attention.
Guild Studios has been making the beat 'em up / RPG / story-driven metroidvania for a long time since it originally started as a saga of books, penned by the lead developer of the game! The French book series called The Rain Merchant's Guild tells the story of the said guild, who controls the clouds, rain, and thus the water available to the people.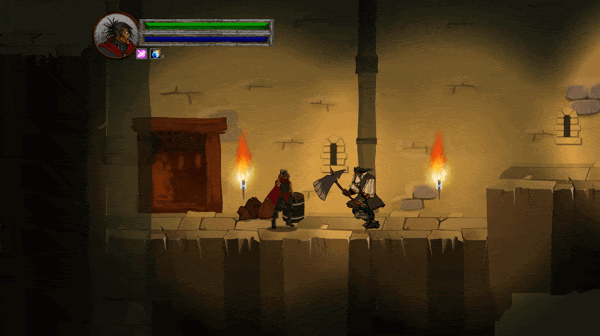 Shadow of the Guild sets up a premise for the books, and lets you play as one of the Guild's Shadows, Yarán. A shadow is part of the Guild's spies who are trained to be warriors, mages, and assassins. Yarán receives a mission to solve how the evil Emperor Gethro III has learned to make clouds himself and is trying to steal the domination of rain and clouds from the Guild.
Shadow of the Guild is a side-scrolling beat 'em up with an RPG-like progression. When you go further in your mission you will be able to choose which skills you want to develop. You can choose from the paths of warrior, mage, or assassin, each focusing on different skill trees.
The actual gameplay lasts for about 5 to 7 hours depending on how deep you want to dive into the story. And why wouldn't you, it truly is a magnificent story.
The Guild Studio is also promising a lot of upcoming updates on their roadmap, including speedrunner features on their first update following the release, more content, and missions, and they're hinting something about slaying a horde of pirates…
Shadow of the Guild is arriving on Steam on November 10th, so stay tuned by wishlisting and following on Steam: https://store.steampowered.com/app/1767250/Shadow_of_the_Guild/
For press and influencers, review codes are now available, and preview opportunities are open for inquiries to chosen ones.