Nintendo is ripe for a share price increase.
When the Switch released on the March 3rd 2017, Nintendo (OTCPK:NTDOY) share price was $5.45 by mid-week March 8th 2017. After the hugely disappointing sell-through for the Wii U, the Switch was the fastest selling home console for Nintendo and the second fastest selling home console of all time. By year end 2017 Nintendo's stock had more than doubled.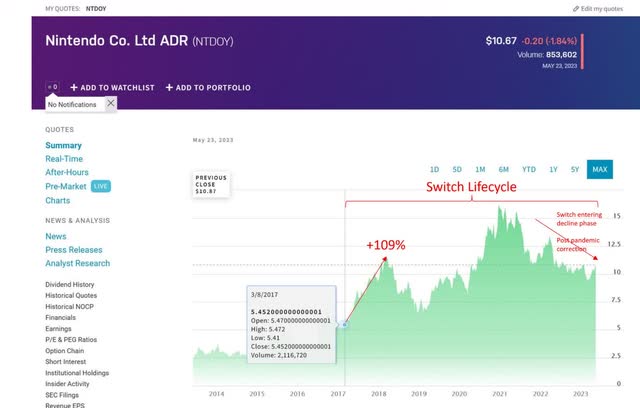 The post pandemic correction, which has seen sales in catalogue software decline dramatically, and the age of the Switch, correlated with a share price decline since the high of 2021.
I expect Nintendo's share price to increase substantially following a possible announcement of a new console from Nintendo. The share price could surpass the high of $16 in December 2020. This is because all the indicators show Nintendo is not slowing down, if anything, Nintendo is consolidating on its record sales for new games, doubling down on building trust with its user base by avoiding controversial monetization, and possibly shoring up the Switch install base with a console that follows the same build principles that made the Switch a huge success, namely doing away with supporting two hardware devices at the same time.
The Legend of Zelda: Tears of the Kingdom is most likely a fitting swansong game before the next Nintendo console.
With unit sales of 10 million units worldwide in just 3 days in market, news that The Legend of Zelda: Tears of the Kingdom is the fastest selling game in the Zelda franchise should come to no surprise. According to Gamesindustry.biz the game is the UK's biggest boxed video game launch of the year in the UK and is Nintendo's (OTCPK:NTDOY) second fastest selling title after the 2008's Wii Fit.
The Legend of Zelda: Tears of the Kingdom could be the swansong game for the Switch platform before a possible announcement of the console replacement this August at Gamescom. Nintendo is also planning to release Pikmin 4 on July 21st . The fact that Nintendo could be ending the Switch lifecycle with such a strong franchise is credit to the company that understands its market so well. When the first Zelda game for the Switch, The Legend of Zelda: Breath of the Wild, released back in March 2017, it actually sold more units than there were hardware sales for the Switch console in the US. It would be a fitting tribute to the Switch, which is the third best-selling console of all time, that the Zelda franchise bookended this console's lifecycle.
Nintendo has taken little risk with its core business, garnering it both good and bad business.
In the last several weeks there have been a lot of mixed messages from Nintendo. The release of The Legend of Zelda: Tears of the Kingdom came several weeks after the disappointing fiscal results for financial year 2023. The silver lining in the cloud is that those Zelda numbers should boost revenues for Nintendo in its Q1 fiscal 2024.
The 2023 fiscal results showed a year-on-year decline of 5% for revenue and a 10.4% decline in ordinary income. This is primarily due to the fact the Switch is approaching its end-of-lifecycle and the wind has been taken out of Nintendo's sails.
In the last three fiscal years, Nintendo could be accused of being a bit boring. The company does not play fast and loose with its IP, which means it is pretty risk-averse. This comes from a position of dominance and a thorough understanding of its core markets, which are predominately family and children. Nintendo may be slow in monetizing its games with add-on packs and downloadable content (for example, the company released Mario Kart 8 Deluxe – Booster Course Pass five years after the base game for the Switch dropped), but the company knows that engaging in controversial microtransactions and loot boxes will drive its audience away. This grounding in appealing to its core audience has proved fortuitous, but it can also make it a little too specialized and unappealing to the mature gamer or those players interested in third-party AAA games.
To its credit, the company's financials proved to be a steady ship during and after the pandemic (2020-2022), marking it as one that is less troubled by post pandemic correction, especially in the downturn in catalog game spending. The upside of specializing in family games and having a high install base for the Switch is that Nintendo does not need to rely on others, like Sony's (SONY) PlayStation or Microsoft's (MSFT) Xbox, to build its fortune. Just recently, Gamesindustry.biz published articles that showed Pokémon Scarlet and Violet (released in November 2022) was the fastest selling Pokémon game, Splatoon 3 (released in September 2022) is the fastest selling game in Japan, and Super Mario Bros Movie (released in April 2023) is the fastest selling box office film in the animation genre. In addition, Nintendo's evergreen titles such as Mario Kart 8 Deluxe, Pokémon, Zelda, and Switch Sports dominate software sales through charts (Games Sales Data (GSD), Chart Track, Circana). When the calendar for new releases runs low, it is not uncommon to find that up to half of the top 10 games are Nintendo first-party catalog games.
Given that the company is not in direct competition with Sony or Microsoft, Nintendo is playing in a different field. The limitations of the aging Switch have meant fewer ports from AAA games from third party publishers (for example, there is no Call of Duty or Madden NFL on the Switch, and the latest FIFA games run on an older game engine and have the label "Legacy Editions"), this means Nintendo relies on itself to generate its fortune.
On average, Nintendo first-party titles account for almost 80% of the software sell-through.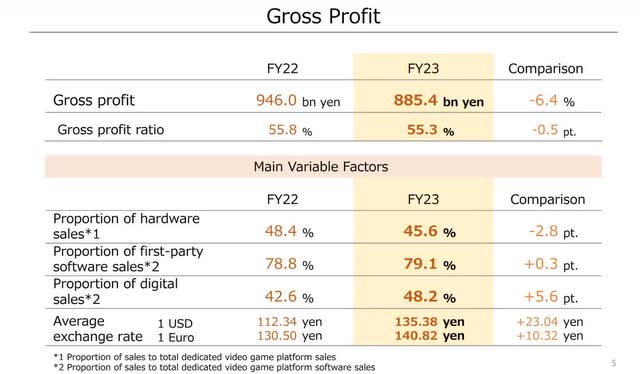 By contrast, Sony's PlayStation first-party games account for just 16% of PlayStation software revenue.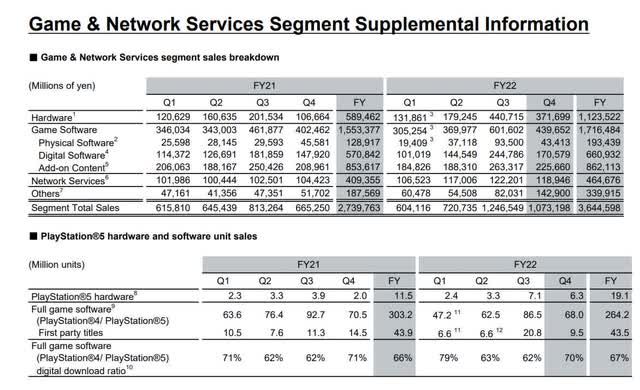 This reliance on first-party games could be its Achilles heel because there is a high expectation that Nintendo must deliver hit after hit if it wants to see growth in top line revenue, given it cannot rely from the success of ported games. The recent decline in revenue for the past two fiscal years is an example that the strategy of self-reliance can backfire. Pokémon and Splatoon broke records for Nintendo in its fiscal 2023, but that was not enough to sustain growth.
What about that new console?
The Switch 2, or Switch Pro, or whatever their new console will be called, must be Nintendo's worst kept secret. In my opinion, a new console should be released either next year, or in 2025, because after posting two consecutive financial years of declining revenue, it is the only card they have left to play to generate growth. Software alone cannot offset the losses in revenue from declining Switch hardware sales.
The reality is that the Switch is really beginning to show its age. The console cannot support most of the third-party AAA games coming out for the PS5 and Xbox Series. If that is not bothering Nintendo, it is most likely annoying the third-party publishers, who are seeing money left on the table.
The reason I am so adamant that Nintendo will release a new console soon is because of the historic time gaps between its console and handheld generations. There was a six-year gap between the 3DS (released in February 2011) and the Switch (released in March 2017). There was a five-year gap in release dates between the Wii U (released in November 2012) and the Switch. There was a six-year gap between the Wii U and the Wii (released in November 2006) and a five-year gap between the Wii and the GameCube (released September 2001). The Switch is now in its seventh year in market, so it is time for a new release. Nintendo could possibly extend the Switch lifecycle beyond 2025 but that would be unadvisable given the direction in hardware sales. If Nintendo were to extend the Switch beyond 2025 without releasing a new console, it would seriously jeopardise future revenue growth given almost all the losses in its revenue are from hardware spending declines.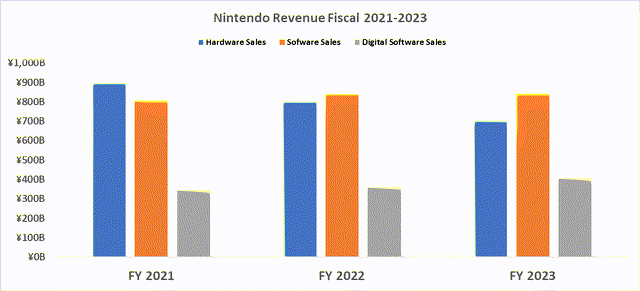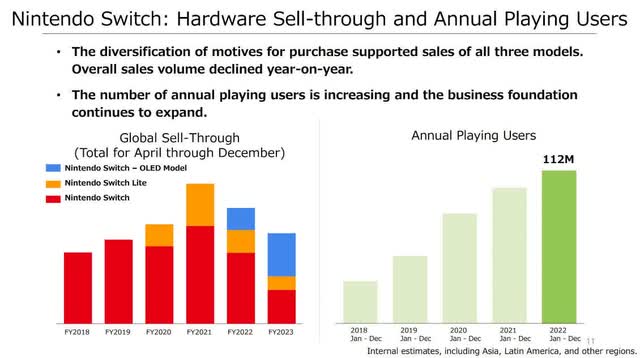 A problem Nintendo could face is that the Switch could be, in many ways, the pinnacle of its hardware innovations. It successfully migrated handheld gaming with that of the console, it could therefore be unsurprising to find that Nintendo will re-iterate on this hybrid design. I believe the chances of Nintendo releasing a dedicated handheld console and separate TV consoles are over. The Switch 2 will most likely be like the new PC gaming handheld, the Asus ROG Ally, that will be released on the market soon. The fact that the Switch Deck and the Asus ROG Ally ape the design of the Switch, and its TV console functionality is testament to the prowess of the Switch's hardware engineering. More of the same design is not a bad thing. Nintendo could take a bite from Apple's (NASDAQ: AAPL) iPhone strategy of iterative improvements. A new concept or blue-sky thinking is not needed if the current design ticks all the right boxes.
A glance at their latest financials.
In the fiscal year 2023 financials, Nintendo posted ¥1.605B, a decline of 5.5% on last year's fiscal results and an 8.9% decline compared to its 2021 fiscal results. Hardware revenue declines account for the company's losses. Hardware spending in the last two fiscal years declined by 21.4%, but this was offset by a 17.7% increase in software spending.
The net profit ratio stands at 28.2%, 0.9 percentage points higher than last fiscal.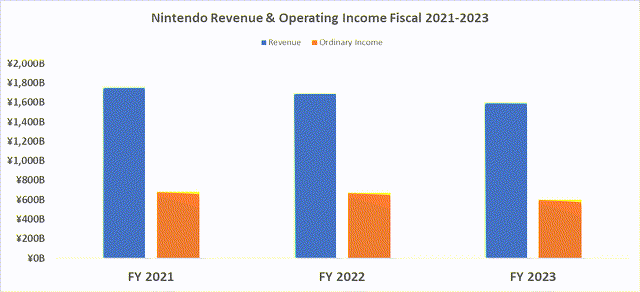 Nintendo has done very well in keeping a lid on spending and achieving a very strong ordinary profit of ¥641B. When compared to its competitors, Nintendo's operating income is flying high. During calendar 2022 Nintendo's operating income was 2x that to the PlayStation Division from Sony, 3x Activision Blizzard (ATVI) and almost 4x Bandai Namco (BANDAI NAMCO Holdings Inc) or Electronic Arts (EA).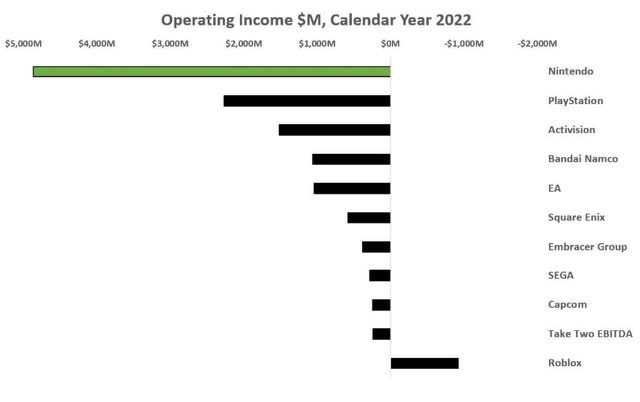 Nintendo is ramping up its research and development costs. Investment increased by 7.7% between fiscal 2023 and fiscal 2022. When compared to fiscal 2021, research and development costs increased by 18.0%. We already know this fiscal year will see revenue from The Legend of Zelda Tears of the Kingdom and Pikmin 4, so Nintendo is not planning to slow down game releases any time soon. Nintendo would need to leverage more than The Legend of Zelda: Tears of the Kingdom to shift hardware units.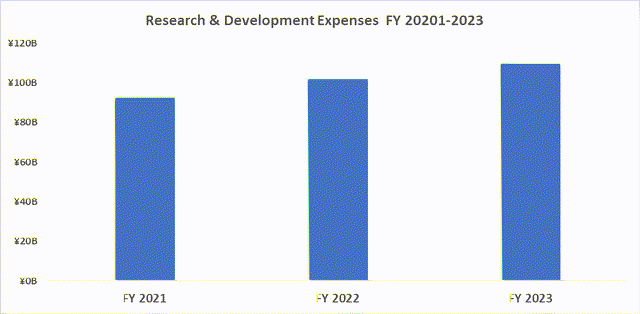 Software sales account for half of revenue, allowing for continued expansion in this category. Currently, digital revenues account for an average of 43% of total software sales. Although this is markedly lower compared to other video game publishers, for example, 89% of PlayStation software revenue in its fiscal 2022 was from digital spending, Nintendo will be able to capitalize on greater digital sales in the future as its next console should be supporting a larger hard drive and memory space than the 64-gigabyte memory that came with its current premier console, the OLED Switch.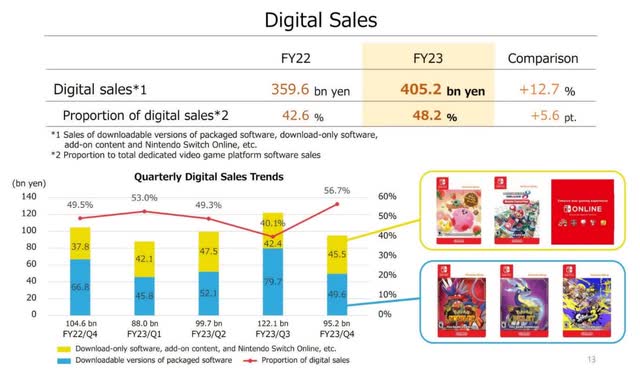 Nintendo's 42.6% digital revenue footprint is half that of the PlayStation.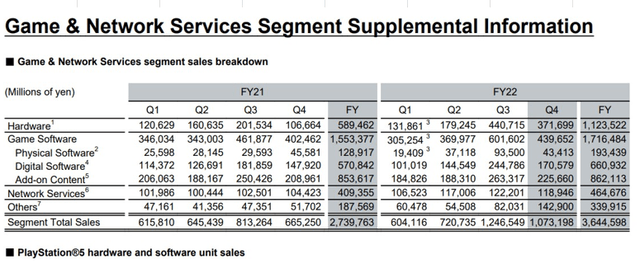 Nintendo is finally mining its valuable IP on the big screen. I believe the huge success of the Super Mario Bros Movie could lead Nintendo to build an extended cinematic universe, like Marvel and DC's extended cinematic universes. A sequel to the Super Mario Bros Movie could be just as successful, or more so, than the first film. Nintendo may be slow on the uptake in lending its IP to film and television, but this could all change within the next several years. Many game companies are investing in film and television productions of their IP because they know the synergies it creates with game sales and brand awareness.
Nintendo is forecasting a 2024 fiscal year with a 9.5% decline in net sales and a 20.1% decline in ordinary profit, but this forecast is projected with no official announcement of a new console, which could possibly be forthcoming by next year.

The decline in the value of the Yen is helping Nintendo.
With The Japanese Yen falling nearly 5% against the dollar and over 6% against the euro in 2023 so far, this has made Nintendo's exports more attractively priced to gamers in the US and Europe. This trend, which has been occurring for at least a year, provides a tailwind to Nintendo's profits when foreign earnings return to Japan. With 77.2% of revenue coming from outside Japan, Nintendo stated that it has gained an additional ¥157.8B since fiscal last year. As a proportion of top line revenue, this gain amounts to just under 10%.

Conclusion
I think Nintendo is a great company to hold for a long-term investment. At the time of writing, Nintendo's stock market valuation is trading at the mid $10.94 USD mark with a high P/E ratio of 15.19. When the new console is unveiled, the stock price should head upwards as the company looks to have learned from its mistakes with the Wii U and will most likely double down with a more powerful Switch-like console.
Nintendo confirmed it will attend Gamescom in Germany this August, and we should expect some big announcements. As I suspect, a new console should be released within the next two years, which will reverse Nintendo's declining revenue and fortify its position as the dominant player in the video game market.
Editor's Note: This article discusses one or more securities that do not trade on a major U.S. exchange. Please be aware of the risks associated with these stocks.