Make Friends With the Adorable Kana in 13 Worlds and 300 Hand-Crafted Levels in the Upcoming Educational Match 'Em Up
Erie, Pennsylvania (March 1, 2023) — Whitethorn Games – publisher of inclusive, accessible, low-stress games including Lake, Calico, and Wytchwood – and developer Not Dead Design are bringing the kawaii Kana match 'em up, Kana Quest, to Nintendo Switch™. Available on March 28, 2023, in North America and Europe, and in Japan, Hong Kong, Taiwan, and South Korea on March 30, 2023, players will soon be able to make friends with all the adorable Kana as they play through 13 worlds and enjoy 300 hand-crafted levels. Whether at home or on the go, learning Japanese has never been so fun!
"Kana Quest is a fun, at-your-own-pace way to learn Japanese, and we're pleased to be able to share it with even more players, thanks to our Partners at Nintendo," said Dr. Matthew White, CEO of Whitethorn Games. "We're glad they agree that Kana Quest should have a home on the Nintendo Switch™."
Watch the new Kana Quest trailer here:
YouTube | Download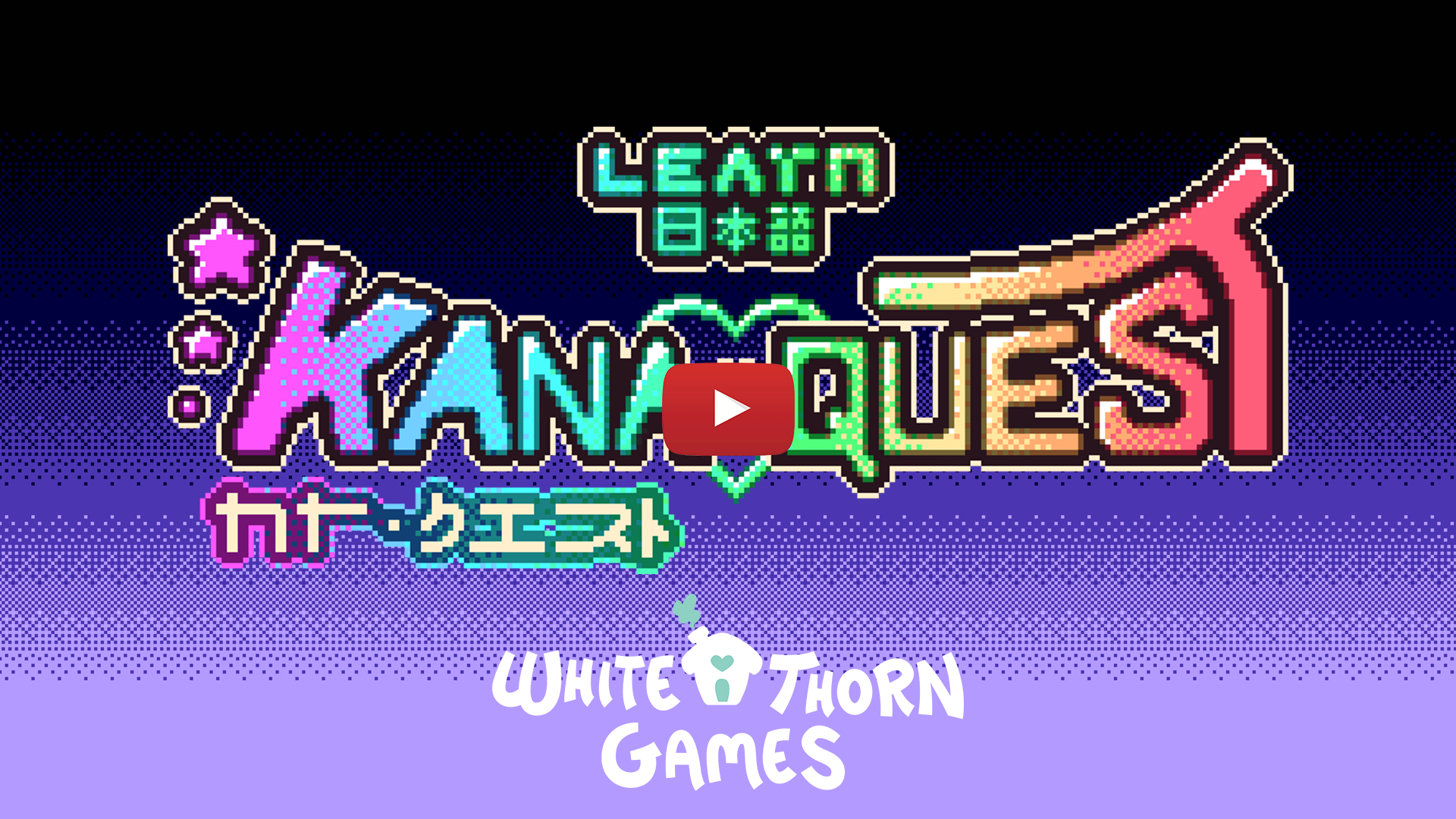 Kana Quest offers a unique twist on the educational game genre, teaching players to read Japanese through engaging tile-swapping puzzles. In Japanese, each phonetic letter is called a Kana. In Kana Quest, players must rearrange a grid of Kana in order to match tiles with shared sounds. When all Kana in a level are connected by matches, the puzzle will be complete! Whether players know how to read Japanese or not, Kana Quest offers hundreds of brain-bending puzzles that will challenge even fluent speakers, all set in an adorable, pixel-art retro-arcade aesthetic!
Key Features of Kana Quest include:
Match and Learn: Puzzles and lessons for all skill levels! Kana Quest was designed for anyone to enjoy, no matter your level of Japanese.
Double the Fun: Know how to read Hiragana already? No problem! Swap between Hiragana and Katakana at any time to add to your knowledge of the Japanese language!
No Tests, No Problem: Unlike other educational games, Kana Quest features ZERO pop quizzes so that players can learn in an interactive and engaging way!
Kawaii Kana: Beautiful sprite art and catchy music will accompany players on their language-learning journey.
Kana Quest will be available on  Nintendo Switch™ on March 28, 2023, in North America and Europe, and on March 30, 2023, in Japan, Hong Kong, and South Korea. It is currently available for purchase on PC via Steam: https://store.steampowered.com/app/725850/Kana_Quest.
A full press kit, including logos, key art, and screenshots, can be found here: https://cozygames.pub/Kana-Quest-Press-Kit
To keep up with all things Kana Quest, be sure to follow the game on Twitter, Facebook, and YouTube, and visit the official website.
Follow Whitethorn Games on Twitter, Facebook, Instagram, Youtube, and Twitch, join the official Whitethorn Games Discord, and visit https://whitethorngames.com.
About Whitethorn Games
We're an indie game publisher focusing on pleasant, low-stress games that can be played in pieces, that require no special skills or knowledge and that anyone can pick up and play. We're believers in accessibility, inclusion, and widening the audience that gets to play. We like to consider ourselves the defenders of easy games. While our games might challenge you, they'll respect your time, they'll make sure you can play, and most importantly, they'll never punish you. Learn more at whitethorngames.com.
About Not Dead Design
Not Dead Design is a small Melbourne-based game studio. We focus on making focused games that have an impact after you finish playing – "designs that keep on kicking".
###
PRESS CONTACT
Lisa Mior & Yared Admasse
Whitethorn Games
press@whitethorngames.com
https://whitethorngames.com
Nintendo Switch™ is a trademark of Nintendo.