Every open-world game, good or bad, is full of Easter eggs nowadays. A passing nod, some references to popular things—these things are everywhere in these open-world games. The Legend of Zelda: Tears of the Kingdom, on the other hand, is one of the best open-world sandbox games ever launched, so it only makes sense for it to have some exciting easter eggs.
And one of these Easter eggs in this game is just too good. It's one of the most obvious things ever, yet fans might not even notice it until pointed out.
Nintendo has hidden a very special thing in plain sight in Zelda: Tears of the Kingdom!
ADVERTISEMENT
Article continues below this ad
Ever since they started releasing on various consoles, Nintendo and Game Freak have added a very curious Easter egg to all of their Pokemon games. Whichever console a player is enjoying that game on, it will be featured in the game.
The player can simply walk to the shelf and read something along the lines of "A Gameboy Advance is plugged into a Gamecube". This is a unique way of self-referencing. This never served any purpose, but it was a pretty cool meta-joke.
When Zelda: Breath of the Wild launched in 2017, Link used something called a Shiekha slate to do many things. Many noticed that this Shiekha slate was the spitting image of the Wii U's pad. They took it a step forward by simply making the Wii U pad into a Shiekha slate when people played that game on that console.
ADVERTISEMENT
Article continues below this ad
And now, with this generation shift from Wii U to Switch, Nintendo has decided that Link's items need to reflect that shift too. Hence, they have given him a new pad called the Purah Tablet. This one is made by the renowned Hylian scientist Purah, and it looks like the Nintendo Switch.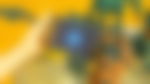 At first, Zelda is seen using it, and once she disappears, Link gets it. When he holds it up, it's pretty clear that this tablet is the spitting image of the Nintendo Switch.
ADVERTISEMENT
Article continues below this ad
The game is indeed insanely fun to play, and fans everywhere are enjoying it thoroughly too. But it makes us wonder, how many of them noticed this nifty little detail?
Watch This Story: Old mobile games that will make you feel nostalgic