RELEASE DATE ANNOUNCEMENT TRAILER: https://youtu.be/M_0UbzhIDhI
BRISTOL, UK – February 23, 2023 – Outrun a mysterious corrupting force and explore a charming underground world through the power of balloon flight in Beyond the Long Night, an uplifting roguelike adventure launching on Steam on April 13th.
Created by former Frontier Developments staff and nominated as a finalist at Develop:Brighton 2022's Indie Showcase, Beyond the Long Night whisks players on an enchanting journey through the Dark Mountain, a whimsical subterranean world full of monsters, secrets and lovable characters captured within an endless time loop.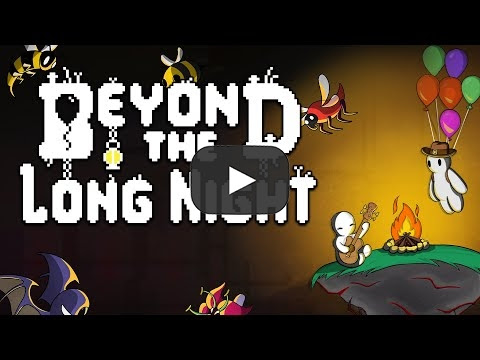 Discover the Dark Mountain's secrets and learn more about the world each time you play, solving puzzles and befriending mountain folk on your journey to outrun a deadly storm and escape to the Overworld beyond. Uncover a trail of mysteries, complete side quests and discover secrets across multiple runs, all while acquiring, stacking and combining countless powers & upgrades to defeat the Dark Mountain's dangerous foes.
GAME FEATURES: 
A charming single-player adventure set in a world caught within a time loop.
Shoot, dodge, throw items and use superpowers to fight your way through the Dark Mountain. All upgrades are infinitely stackable and combine with each other to create chaotic combinations.
Outrun a deadly storm that spreads from chamber to chamber, chasing you up the mountain.
A colourful cast of charming characters who remember you between runs.
Discover puzzles and secrets scattered throughout the world.
Randomly generated maps built from individually handcrafted rooms.
A killer soundtrack inspired by retro chip tune but with a modern twist.
The bunting has physics.
Motivational cows?!
"I'm so thankful for the incredible reception Beyond The Long Night has been receiving from players and press during pre-release demos – it's an amazing feeling to know that people have loved what they've played of the game so far," said Steve Hollis, Founder & Lead Developer at Noisy Head Games.
"It's been my dream to create an uplifting experience that captivates people with its fusion of roguelike-action and adventure-puzzling, with an emphasis on atmosphere and sound that I hope players love," continued Hollis. "I can't wait for everybody to lift off on their journey across the Dark Mountain on April 13th."
Beyond the Long Night can be added to your Steam Wishlist now. To keep up with the latest info, follow @NoisyHeadGames on Twitter or join the discussion on Discord.

About Yogscast Games
Yogscast Games is the independent publisher dedicated to independent developers, founded in 2017 by The Yogscast.
---
For PR enquiries & review key requests, please contact:
Dave Scammell – dave@the71.net
Chris Glover – chris@the71.net