Sign-Up Now Open For Valentine's Weekend PC Beta
Watford, UK, 19th January, 2023: Publisher Wired Productions and crafters of artisanal interactive entertainment, Rogue Sun, are proud to confirm that their narrative puzzle adventure, Tin Hearts, is heading to PC (Steam, Epic Games Store, GOG, Utomik), Nintendo Switch, PlayStation 4 & 5, and the Xbox family of consoles on April 20th, 2023.
In addition, Wired Productions are pleased to announce that players can register their interest in the Tin Hearts physical edition, complete with digital EP download and inventive stickers, for PlayStation 5, PlayStation 4 and Nintendo Switch today via the Wired Productions Store.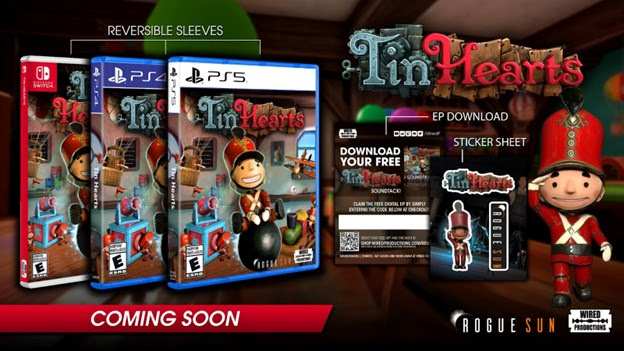 Ahead of its release players can sign-up now for the closed PC beta, running from 10th – 14th February, on Steam, and 17th – 19th February on Utomik. Experience the opening acts of Tin Hearts, guiding tin soldiers through a trail of puzzles using whimsical and inventive contraptions to bounce, shoot, and glide them to their goal. Join the Official Tin Hearts Discord, home to dedicated content with full access to speak directly with the developers, to find out more.
Watch the Tin Hearts 'Dear John' Release Date Trailer: https://youtu.be/Llo3W3xZrPQ
Winner of the Most Wanted Nintendo Switch Game Accolade during Gamescom 2022, Tin Hearts is brought to life by former members of the exceptionally talented Lionhead Studios development team, responsible for the critically acclaimed Fable series. Set in an alternate-timeline Victorian universe, the 'Dear John' trailer highlights the magical toy-filled world of Tin Hearts, through the lens of the tin soldiers themselves.
"Tin Hearts is a one-of-a-kind experience and we're keen for players to go on this magical journey, with their sense of mystery and wonder as unspoilt as possible!" said Kostas Zarifis, Managing Director at Rogue Sun. "Our release date trailer teases a whole load of never-before-seen content and features from the game, so we couldn't be more excited to share it with the world!"
"The brand-new Tin Hearts trailer is a showcase of the lovable characters with a stark change in gameplay from what we have previously shown." Said Leo Zullo, Managing Director, Wired Productions. "This April, gamers will discover what brilliant minds will do when under threat!" 
For more information visit https://wiredproductions.com/games/tin-hearts/, follow Tin Hearts on Twitter, join the Official Discord and wishlist on Steam.
Download all assets via: https://media.wiredproductions.com/
Request Review Code via: https://requestkey.net/y4u7zm
PR Contacts:
Renaissance PR
Stefano Petrullo – Renaissance PR
stefano@renaissancepr.biz
+44 (0) 7828 692 315
Greg Jones – Renaissance PR
greg@renaissancepr.biz
+44 (0) 7867 788 079
Wired Productions
Tegan Kenney & Anastasia Denisova
press@wiredproductions.com
###
About Wired Productions
Wired Productions is an independent video games publisher based in Watford, UK. Wired has produced and published award-winning titles across all major platforms and its games are curated to deliver on its mantra: 'Driven by Passion.' Bringing games to market in both physical and digital media, recent notable launches include Arcade Paradise, Martha Is Dead, The Falconeer, Deliver Us The Moon. Upcoming titles include Tin Hearts, Tiny Troopers: Global Ops, The Last Worker, Gori: Cuddly Carnage, Hotel Architect and The Falconeer: Bulwark.
For a deeper dive into the Wired world, watch Wired Unplugged: http://wired.gg/wiredlive
And for those who love music and video games, head to Black Razor: https://blackrazorrecords.bandcamp.com/album/arcade-paradise-ep
Join the Wired community via: Wired Live | Twitter | Discord | YouTube | Twitch
About Rogue Sun
Rogue Sun was formed in May 2016 soon after the closure of historic UK based Lionhead Studios. The founding team all worked on multiple Fable games together, and formed the studio out of a shared passion to create innovative, thoughtful and memorable gameplay experiences. Games with interesting mechanics, meaningful stories, beautiful aesthetics and multi-layered characters.