London, UK – 7th March 2023. Showcasing the FMV game – interactive film as the convergence of Film and Video Games; The Gallery will screen in various cinemas during the London Games Festival as an official side event from 29th March to 7th April.
Details of venues, dates, screening times and how to buy tickets can be found here.
Written and directed by Paul Raschid, one of the most prolific interactive filmmakers, The Gallery is a thrilling combination of hostage thriller and social drama with a dash of world film festival cinema aesthetic. Two Decades. Two identities. It's going to take everything you've got to survive the night.
The Gallery has been created to engage both film fans and gamers with its blend of high production values, stellar cast and a nuanced script depicting the film's two time periods – 1981 and 2021 – both of which are of considerable political, social and cultural significance in UK history.
The cinema version lasts around 140 minutes with a screening of both time periods or 70 minutes with a screening of one time period.
The cinema screening takes place with a Facilitator "playing" The Gallery on a lap-top. As the audience enters, they are given "Glowsticks" which they use to vote for their choices. The Facilitator pauses the film for 2-3 seconds at each decision point. The majority choice of the audience as indicated by the "Glowsticks" prevails and the film continues.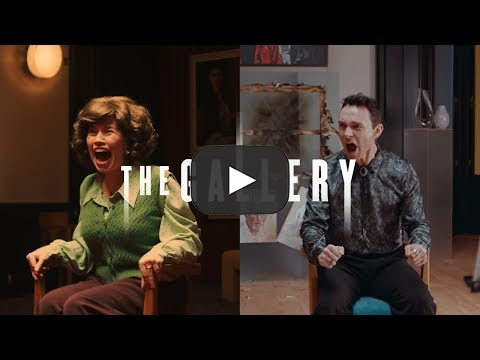 Watch the trailer for The Gallery here
Download the press kit along with the official poster and trailer here
Check out The Gallery announcement promo here
Review code is now available – please register your interest here
The Gallery cast includes George Blagden (Louis XIV in Versailles and Athelstan in Vikings), Anna Popplewell (Susan Pevensie in Disney's Narnia franchise), Kara Tointon (Mr. Selfridge and Eastenders); Rebecca Root (The Queen's Gambit); Richard Fleeshman (The Sandman and Coronation Street), Shannon Tarbet (Killing Eve and Love Sarah) and Fehinti Balogun (I May Destroy You).
"The Gallery" has secured universally positive reviews at its film festival appearances. Following its world premiere as part of the "Cinema – Past, Present and Future" section at Dinard 2022, "The Gallery" was the opening night film at the British Film Week at Le Grand Logis, Bruz near Rennes in January. The Rennes screening was attended by 250+ high school students aged 16-18 who engaged enthusiastically with the interactive film concept and gave a huge ovation at the end of the screening.
The film was also screened at the Cine O'clock Festival in Lyon in February and had its UK premiere at the Independent Directions (INDIs) Festival in Leeds on 22nd February 2023.
The Gallery is currently available on Steam, PS4/5, Xbox, Nintendo Switch and on the App. Store and Play Store.
###
For more information and interview requests please contact:
Mark Allen – Renaissance PR
Mark@renaissancepr.biz +44 (0) 7884 408 973
Stefano Petrullo – Renaissance PR
stefano@renaissancepr.biz +44 (0) 7828 692 315
For more on London Games Festival please go to https://games.london
About Paul Raschid
Paul Raschid (29 years); who wrote and directed 'The Gallery' is a born and bred Londoner.
Paul's 3 earlier live action games – The Complex, Five Dates and Deathtrap Dungeon – The Golden Room – were released on Playstation, Xbox, Switch, Steam and Apps. 'The Complex' was also released in a linear version for TV and streaming.
Prior to focusing on the FMV – live action game / interactive film hybrid; Paul was a linear feature filmmaker.
He wrote the teen horror-thriller 'Unhallowed Ground' (2015) and wrote and
directed haunted house horror-thriller Winterstoke House (aka Servant's Quarters) in 2016. Paul wrote and directed  thriller-horror drama  'White Chamber' for which Shauna Macdonald won Best Actress at BAFTA Scotland 2018 and which was released on Netflix following selection for 10 film festivals worldwide including BIFFF Brussels, Edinburgh, BiFan S.Korea, FrightFest London, Sitges and Mumbai.
About Aviary Studios
Aviary Studios comprises 2 companies. Paul Raschid Media (PRM) Ltd. which is the game developer and Aviary Films Ltd which is  the game publisher.
'The Gallery' will be released both as a live action game / interactive film and in a linear version for TV and streaming.
The CEO of Aviary Studios is Neville Raschid who had a 20 year career with Hollywood studios and leading entertainment companies including Paramount, Warner Bros. and Village Roadshow before becoming an independent film producer in 2002. He has produced 7 independent feature films since 2002. He formed Aviary Studios in 2019 to develop and publish a series of live action and animated video games under the title 'INTERACTIVISIONS'. The Gallery is the first in the series.
About Stornaway.io
Stornaway.io is a tech startup based in the UK, which lets producers create interactive immersive content and publish to multiple platforms. Created by video tech inventor Ru Howe and writer producer Kate Dimbleby, Stornaway is now being used by thousands of producers not just in entertainment but also areas such as marketing, education, tourism and recruitment to meet the increased demand for interactive stories everywhere.