Osaka, Japan, 10 November, 2022 – SNK CORPORATION is proud to announce NEOGEO POCKET COLOR SELECTION Vol.2 for Nintendo Switch and PC via Steam is available to download from today.
The second collection of SNK classics is here and includes ten new NEOGEO POCKET COLOR masterpieces. Four of the titles are currently sold separately—meaning six new titles have been added to the collection. Players can experience a varied lineup of genres from sports to action puzzles, card games and more. The collection features re-wind functionality so game overs are a thing of the past.
Titles:
Iconic characters duke it out in an all-star brawl in "SNK VS. CAPCOM CARD FIGHTERS' CLASH".
Stunning wrestlers settle it in the ring in "BIG BANG PRO WRESTLING".
Pilot your Unitron and aim for the top in "BIOMOTOR UNITRON".
Go wild in the world of MEGA MAN with "MEGA MAN BATTLE & FIGHTERS".
The second installment of masterclass puzzles is here: "PUZZLE LINK2".
Play through 30 different mini-games in "GANBARE NEO POKE-KUN".
Roll the dice in "THE KING OF FIGHTERS BATTLE DE PARADISE", the fun KOF-themed board game.
Simplistic baseball has never been so fun with "BASEBALL STARS COLOR".
Serve your opponents your best shot in "POCKET TENNIS COLOR".
Build in "NEOGEO CUP '98 PLUS COLOR" the strongest team in the league.
With the exception of MEGA MAN BATTLE & FIGHTERS and GANBARE NEO POKE-KUN, all games are available in English.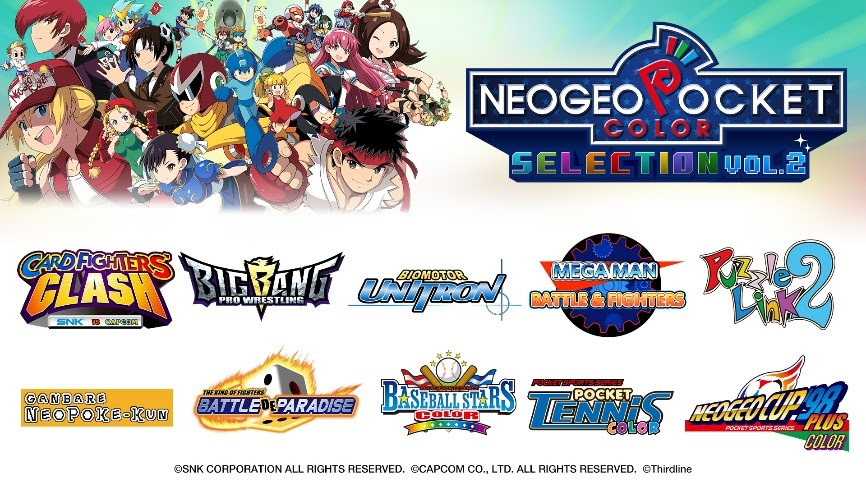 The NEOGEO POCKET COLOR SELECTION Vol.2 is available for 39.99€. More information is available on the official website. Assets can be found here.
– ENDS –
For media inquiries in the US:
Stefano Petrullo – Renaissance PR
+44 (0) 7828 692 315
Sophie Carter – Renaissance PR
+44 (0) 7810 848 320
About SNK
Headquartered in Osaka, Japan, SNK develops, publishes, and distributes interactive entertainment software on a global scale. Known for such franchises as THE KING OF FIGHTERS, METAL SLUG, and SAMURAI SHODOWN, SNK continues to focus on its rich console game and arcade history.
©SNK CORPORATION ALL RIGHTS RESERVED.
©CAPCOM CO., LTD. ALL RIGHTS RESERVED.
©Thirdline
*Nintendo Switch is a trademark of Nintendo.
*©2022 Valve Corporation. Steam and the Steam logo are trademarks and/or registered trademarks of Valve Corporation in the U.S. and/or other countries.
*All company and product names are trademarks or registered trademarks of their respective companies.
*All in-game footage displayed is work-in-progress. Design and specifications are subject to change.