Master the art of rallying in the Deluxe Edition for PlayStation 5 and Nintendo Switch 
Madrid, Spain – May 17 2023. art of rally, the stylish and beautifully designed racing experience, will release later this year as a special boxed Deluxe Edition for PlayStation 5 and Nintendo Switch via Serenity Forge and Meridiem Games. Originally developed and published by Funselektor Lads Inc. (the creators of Absolute Drift) and published physically by Serenity Forge, art of rally is inspired by the golden era of rallying featuring iconic cars from the '60s through to the '80s. Meriediem Games will be responsible for the design, manufacture and European distribution of the boxed Deluxe Edition.
The boxed Deluxe Edition of art of rally for Playstation 5 and Nintendo Switch will be available across European specialist stores and will include a specially designed case with exclusive artwork, a cloth patch inspired by the game and a colour poster featuring the cars you will be able to drive in the game.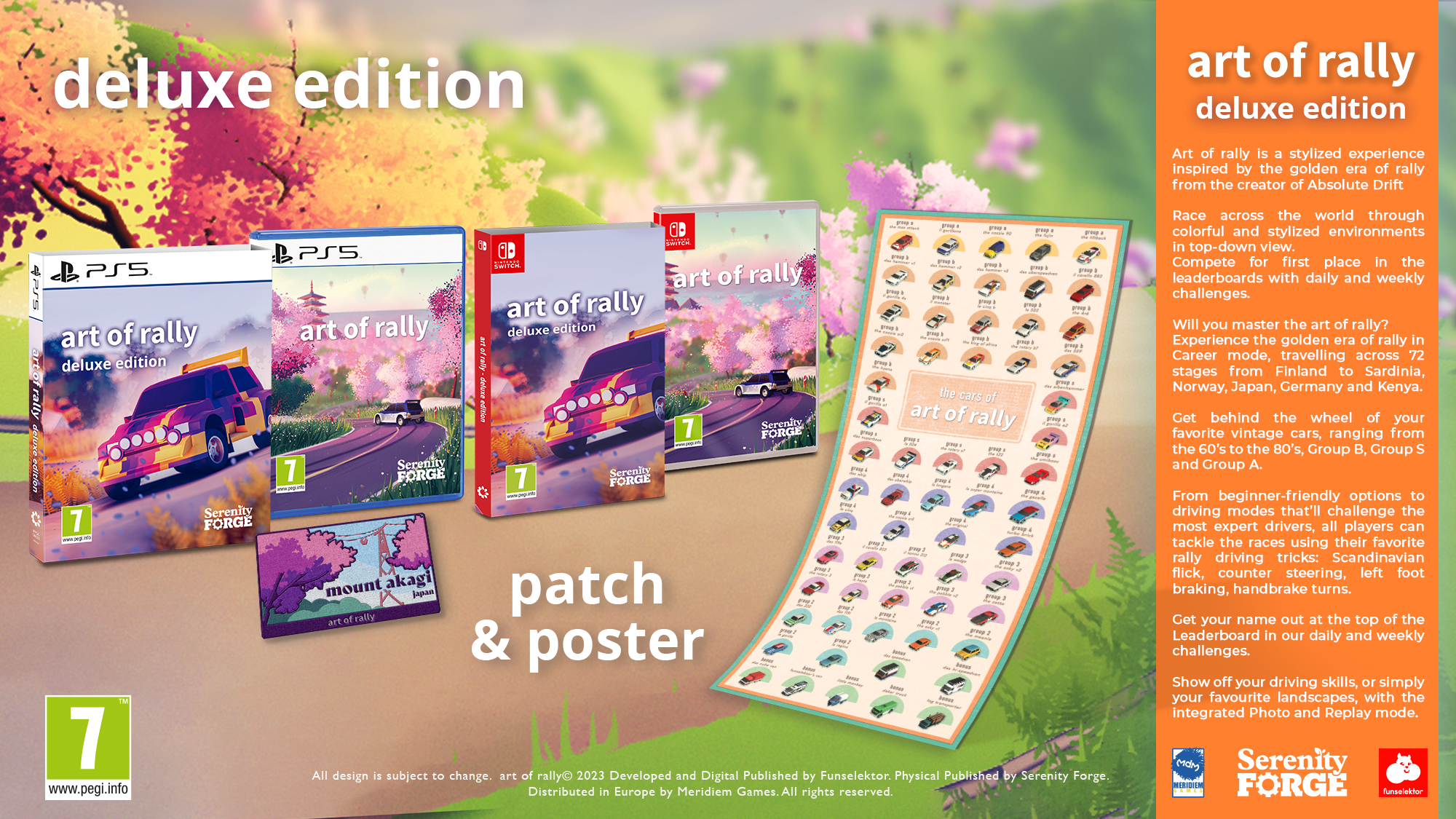 In art of rally, aspiring rally drivers will drive through colorful, and stylized top-down environments inspired by real worldwide locations. Compete for the top spot on the leaderboards with daily and weekly challenges.
From beginner options to driving modes that will challenge even the most experienced drivers, all players can take on the races using their favorite rally driving tricks, such as the Scandinavian flick, counter-steering, left-foot braking and handbrake turns.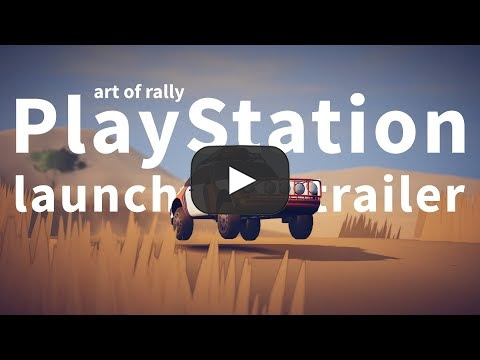 Watch the gameplay trailer for art of rally here
Download the press kit here
Features:
LIVE THE GOLDEN YEARS OF RALLYING
Experience the golden age of rallying in Career mode, travelling through 72 stages such as Finland, Norway, Japan, Germany or Kenya.
More than 50 emblematic rally cars
Your favorite vintage cars, from the '60s to the '80s.
AUTHENTIC MANAGEMENT
From options for beginners to driving modes for the most experienced drivers, all players can tackle the races using their rally driving tricks.
LEADS TO THE TOP
Get your name at the top of the leaderboard in our daily and weekly challenges.
PHOTO MODE
Show off your driving skills, or simply your favorite landscapes, with the integrated mode.
Photo and Replay mode
For more information, visit www.meridiem-games.com
###
For PR enquiries please contact:
Mark Allen 
Mark Allen PR Ltd – on behalf of Meridiem Games
mark@markallenpr.co.uk  +44 (0)7884 408976
About Meridiem Games
Meridiem Games is an independent video game publisher and distributor for all platforms. The entire Meridiem Games team is focused on meeting the demand of players who are fond of physical editions, titles such as Fahrenheit 15Th Anniversary PS4, KUNAI Day One Edition NSW, Daymare: 1998 Black Edition PS4, Pang Adventures Buster Edition PS4 / NSW, etc. They have come out in their physical edition thanks to Meridiem Games.  www.meridiem-games.com
About Serenity Forge
Based in Boulder, Colorado, video game development and publishing studio Serenity Forge prides themselves on the care and dedication they put into their work, creating meaningful games that challenge the way you think. Firm believers in the artistic, cultural, and educational power of video games, Serenity Forge aims to craft unique interactive experiences to broaden players' horizons and expand their perspectives. Learn more at http://serenityforge.com/
About Funselektor
Funselektor launched in 2014 when its founder, Dune Casu developed his prototype made at a game jam which would later become Funselektor's debut title, Absolute Drift in 2015. After the release of his first game and with the drive to apply his passion for rally in a new game, Dune immediately began development on Funselektor's second title, art of rally while supporting Absolute Drift. It involved collaborators for art and music until 2020 when more developers and producers came on to help finish it and provide post-launch support. https://funselektor.com/index