A co-op game made by best friends, for best friends. Coming soon to Early Access on Steam, River Tails: Stronger Together is a beautifully animated 3D co-op adventure platformer, developed by Italian indie duo Kid Onion Studio and published by Gravity Game Arise. River Tails tells the story of two unlikely friends, a cat called Furple and a fish called Finn. Journeying through beautiful natural-world environments, Furple and Finn will have to learn to work together if they don't want to lose the things they love most.
The concept for River Tails was born a long time ago, when Gabriele Gangemi and Francesco Mazza were growing up in Sicily. They loved playing videogames together, although they never quite found the perfect co-op adventure. Then, after almost a decade of pursuing separate careers – Francesco as an art director for children's cartoons and Gabriele as a maths teacher and commercial video director – they decided to take the plunge and create their own co-op game. After a successful Kickstarter and two years of production, the Early Access of River Tails is now in sight.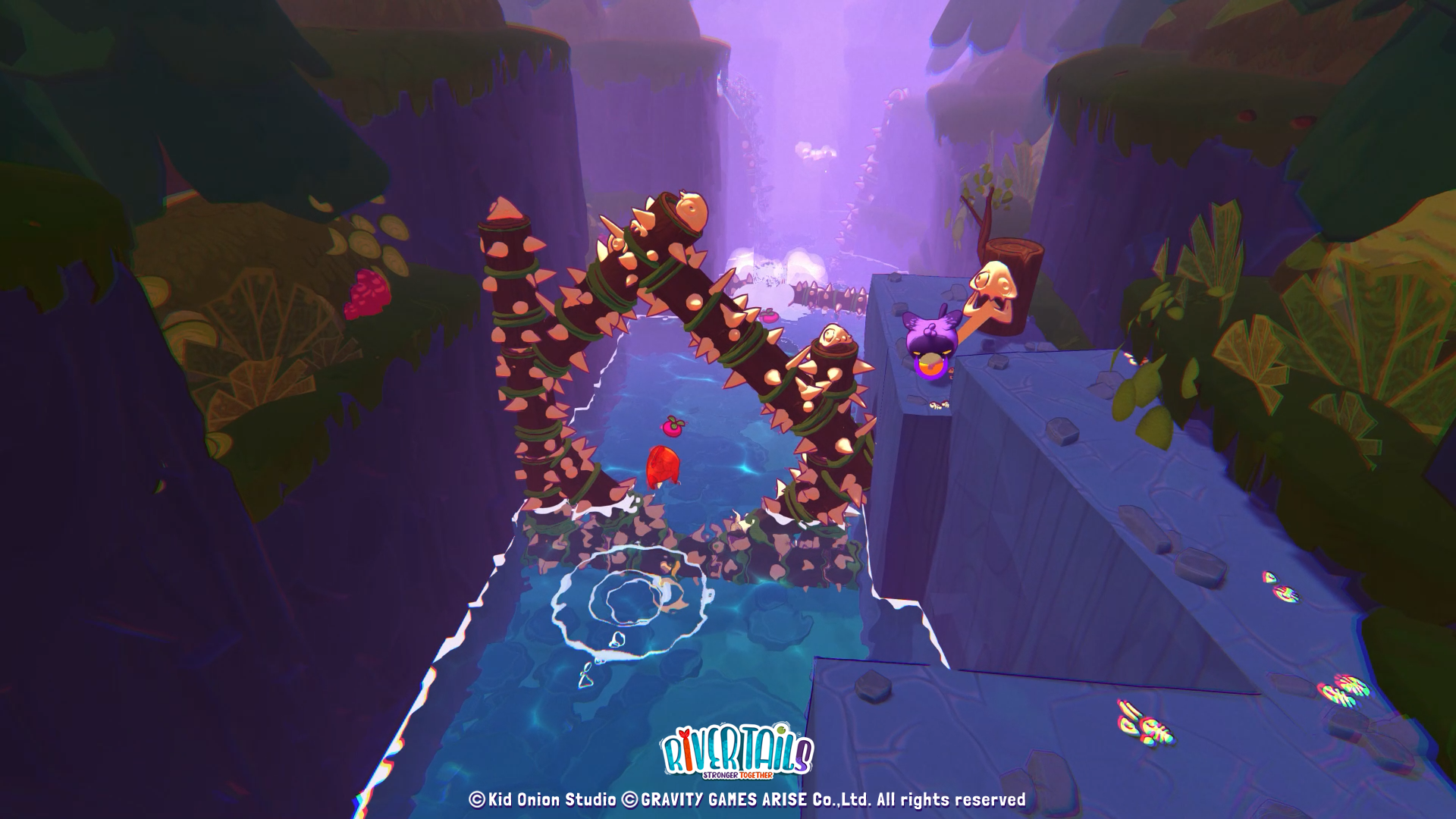 A cat and a fish?! What's the story there?
It all starts at the top of an enormous icy mountain when, one day, innocent kitten Furple ventures too far from home and encounters something very scary. In a moment of panic, he falls into a coursing river and quickly finds himself at the bottom of the mountain – far, far from home. This is where our feline friend first encounters his fishy pal, Finn. Grumpy Finn isn't happy that this excitable purple kitten has just splashed into his life, but he soon realizes that they can help each other. Furple desperately needs to get home and Finn has just had his prized possession stolen from him. With their different skillsets, a cat and fish might be better off facing this adventure together.
Furple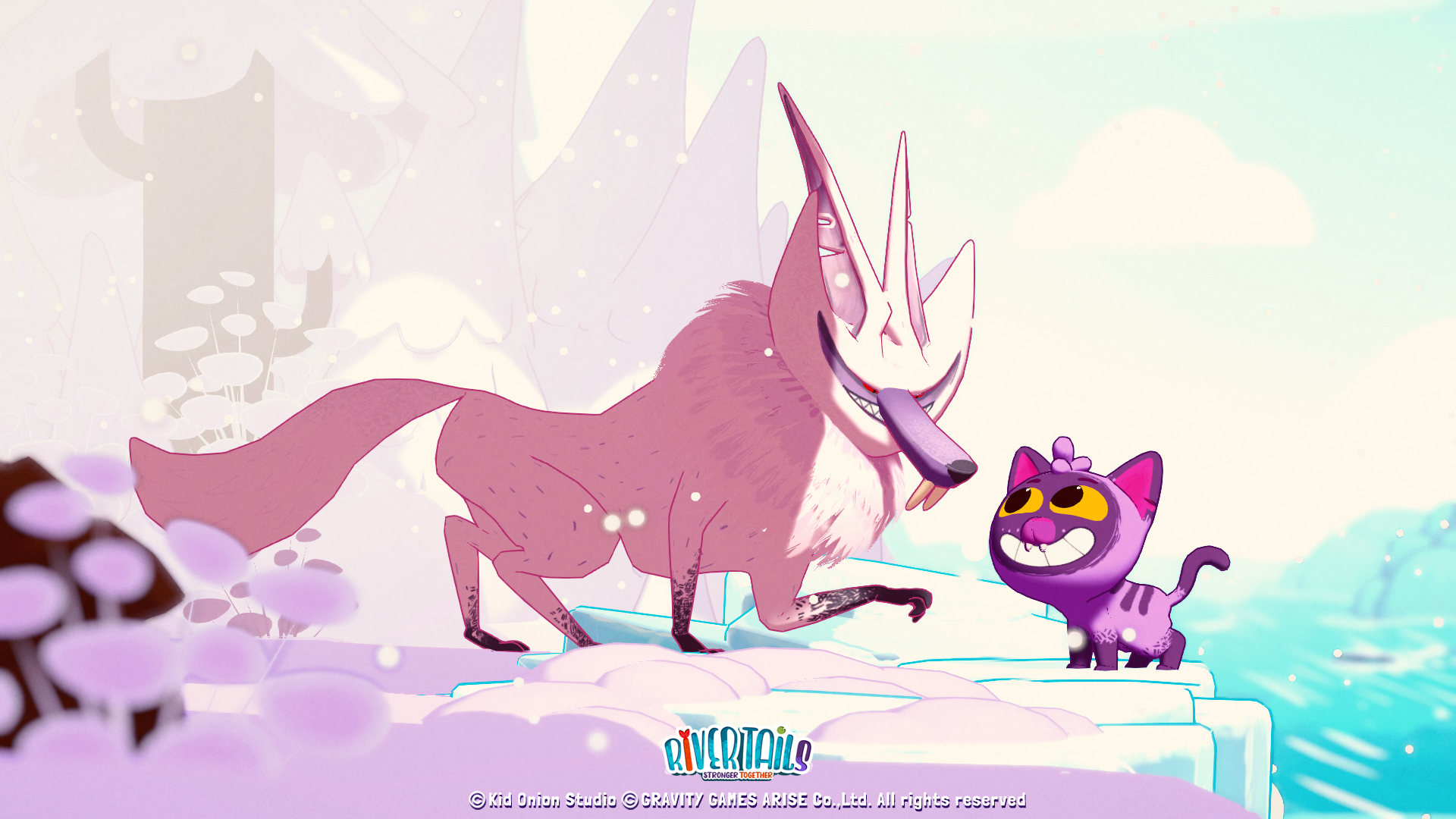 This little guy loves to jump and play, and seems never to get tired. Furple can run and jump around, bounce on platforms, open doors and scare away some of the river's baddies. But, like most cats, he's not the biggest fan of water. So don't fall in!
Finn
Finn is one cool dude. Cold, ambitious and only out for himself (or that's what he wants you to think – it soon becomes clear that he's one big softie!). He can swim fast, jump high, pull ropes and raise platforms. Just remember that, while Finn may talk the talk, there are lots of fish out there in the river who are bigger, meaner and aren't afraid to bite. Oh, and don't forget: fish can't breathe on land!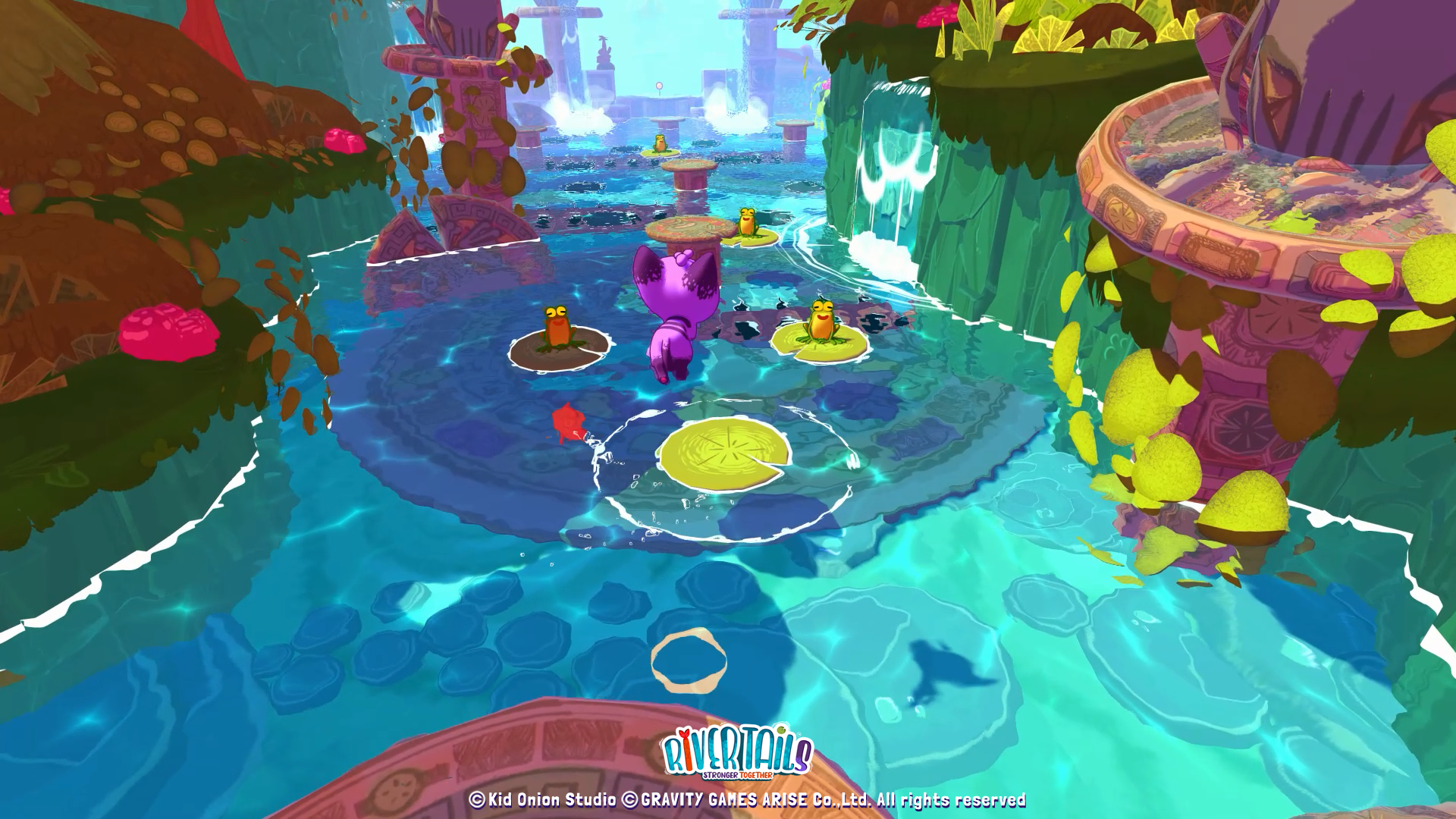 There is, of course, another main character in the game: the river itself. This long winding waterway is filled with all sorts of creatures and features that might help or hinder your progress along the way, new friends and new dangers. So, stay alert, and don't get too distracted by the beauty of the river, with its cascading waterfalls, rocky canyons, dark caves and so much more.
Every environment will present you with new and unique challenges to test not only your gaming skills, but also how well you can communicate. Working with your partner to solve puzzles or to overcome the river baddies is what River Tails is all about. Finn and Furple may come from different worlds and have different goals, but when they team up and pool resources, there's really no stopping them.
So, what will be in the Early Access?
Early Access will have the first two worlds of gameplay, each with three levels and a final boss level, as well as a chance to discover the Beaver Resort! Bonus levels and several CG cutscenes may also be available as part of Early Access.
The first world you'll come to in the Early Access is the river forest, where our dynamic duo will first meet and learn how to work together to make progress. Watch out for the piranhas, though – they're even meaner than they look!
The second world to explore is the temple of the frogs. Sound kind of peaceful? Not a chance. These amphibians will not be very happy to see you, and Finn and Furple will have to fight to make it through unscathed.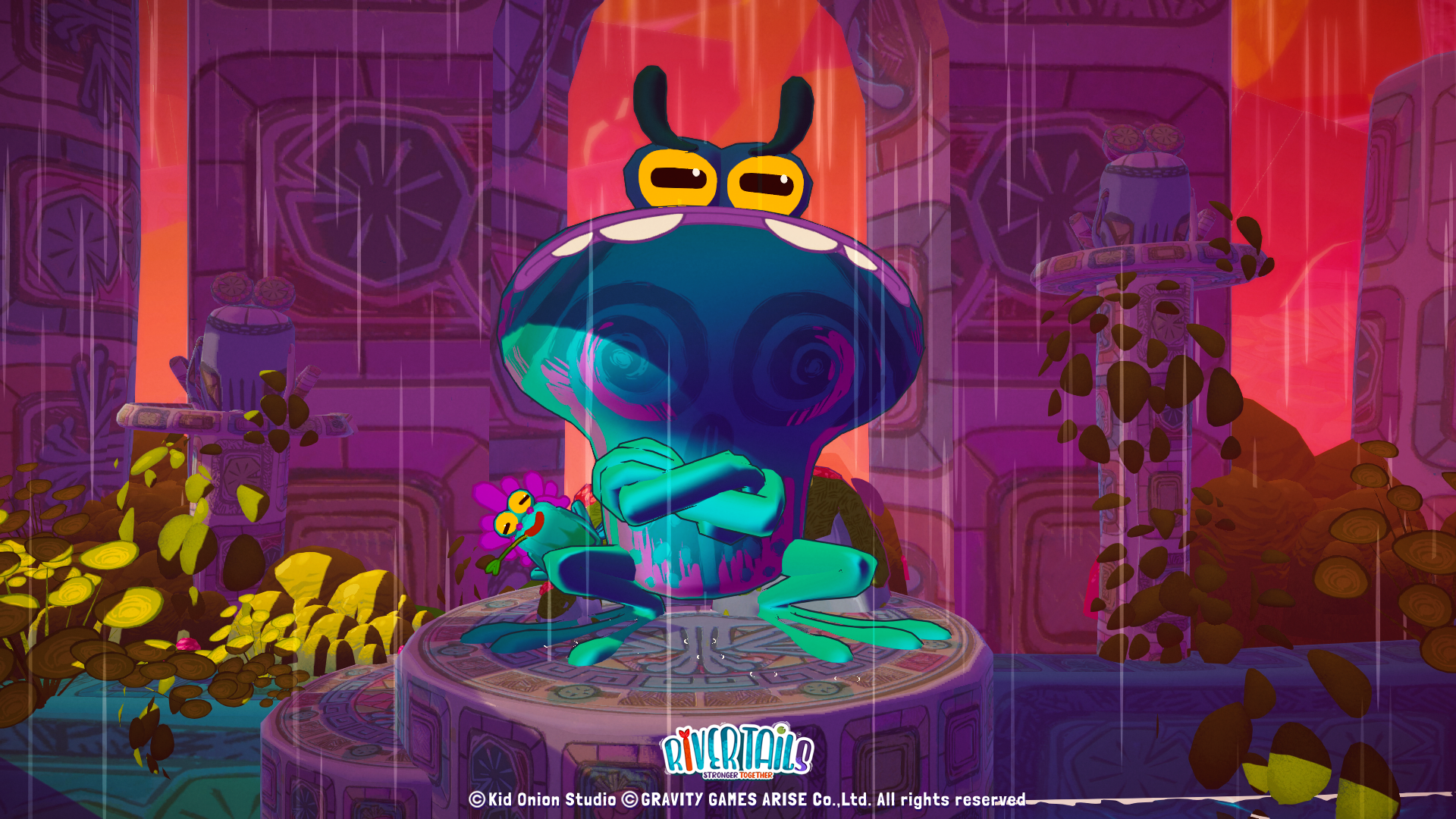 As you journey on, you'll come across a furry friend with a raft who offers to give a lift to the Beaver Resort. The resort is full of fun, laughter and challenges.
Can you play by yourself or online?
There is a solo, 'Lone wolf' mode available, but this is a game best played and experienced as a twosome. However, if you want to try a real crazy time, try playing in co-op with 'Lone wolf' mode, with each player using half of one controller!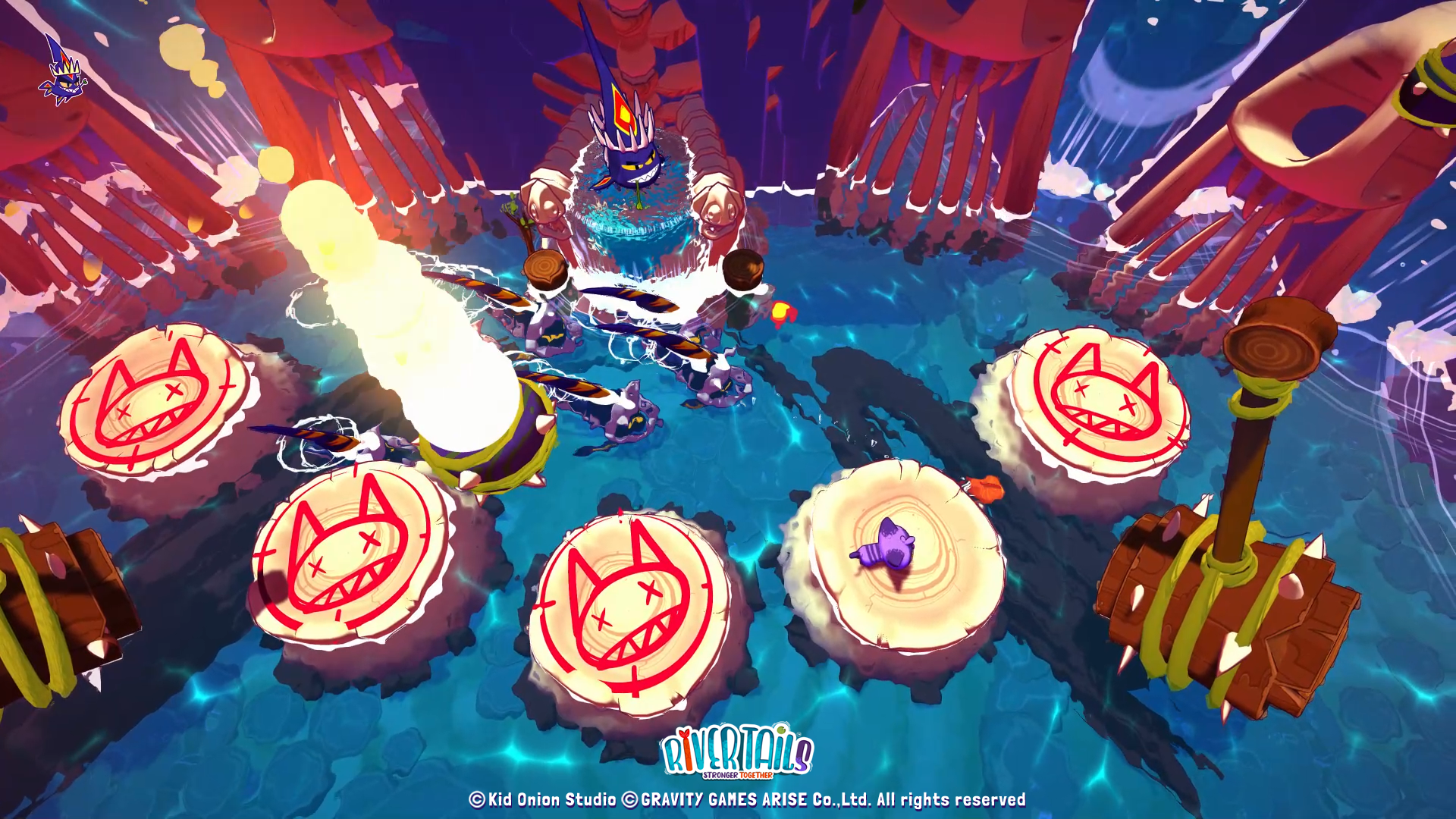 Currently there is no online mode and the team are concentrating on the local co-op only. If there is enough interest, however, an online version may be developed in the future. Also, because there is no online at the moment and you can play locally, only one person needs to own the game to play co-op!
Early Access Key Giveaway!
River Tails: Stronger Together is ultimately a game that celebrates friendship and the times we could really count on our best friends to be there for us and work together to pull us through. We want to know about your stories about you and your best bud!
About the campaign
Campaign period: 15th Feb, 2023~6th March, 2023
20 pairs of Early Access Steam keys will be given to pairs of friend entrants (1 key each person in an awarded pair).
You must both have a valid email and Steam ID to enter.
Share with us a short story about you and your friend and how much you love playing games together! Submissions with graphic and adult related content will not be allowed. Let's keep it PG.
At the end of the campaign, we will choose the best stories and those pairs will win a set of keys!
To enter and for full rules and details please check out the link below!
Enter the campaign here!
*Subject to change
General Information
GRAVITY INDIE GAMES 
 https://twitter.com/grindie_games
https://www.instagram.com/grindie_games/
https://www.tiktok.com/@grindie_games?lang=en
About Gravity Game Arise
Company Name: GRAVITY GAME ARISE Co., Ltd.
Address: 2F, 3-14-4 Hachobori Chuo-ku Tokyo
Founded:July 1, 2019
Company Website:https://gravityga.jp/
*Nintendo Switch is a trademark of Nintendo.
*Xbox is a registered trademark or trademark of Microsoft Corporation in the United States and/or other
countries.
*PlayStation and PlayStation5 are registered trademarks or trademarks of Sony Interactive Entertainment Inc.