Red and yellow and pink and green, Purple and orange and blue, I can order rainbow cables, now you can too

Liverpool, United Kingdom – 21 February 2023.  Spiral House and Epic Games Publishing's PC Building Simulator 2 receives its second major update today, bringing a variety of new components and partnerships with PNY and Steiger Dynamics joining the list of over 45 licensed partners. Update 1.2 also brings a new custom cable shop feature where players can customize and order patterned cables to add another dimension to their builds.
The update will launch with over 20 brand-new component, including new DDR5 RAM products from CORSAIR, PATRIOT, G.SKill and PNY, Z690 motherboards from ASROCK and GIGABYTE and the anticipated Radeon™ RX 7900 XT and Radeon™ RX 7900 XTX GPUs from AMD.
PC Building Simulator 2's partnership with PNY will accelerate player builds with their XLR8 lineup of enthusiast products including GPUs, SSDs, and RAM, available in-game today alongside LEET and MAVEN cases from another new partner – Steiger Dynamics.
Additionally, the update introduces a brand new Custom Cable Shop feature. The Custom Cable shop takes the bespoke builds of PC Building Simulator 2 to the next level as players can now order any color combination of 24 Pin, 8 Pin, 6 Pin and SATA cables.
PC Building Simulator 2 is available now on the Epic Games Store for SRP £19.99/€24.99/$24.99.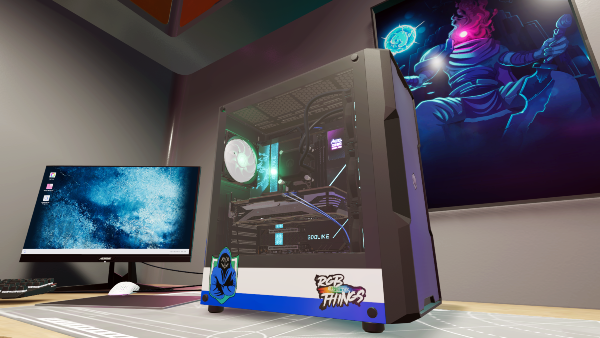 Check out Spiral House on their official site and Twitter, and keep up with Epic Games Publishing on the Epic Games Store and Twitter.
Media Contacts
Charlotte Kenny | Will Butler | Gianfranco Lagioia
Honest PR
EGP@honest-pr.com
About PC Building Simulator
Since launching in early access in 2018, the PC Building Simulator franchise has gone from strength to strength, with two career mode expansions and seven workshop DLCs selling over 2 million copies, plus an additional 11 million players claiming the title for free on Epic Games Store in September 2021. PC Building Simulator 2 builds on the original's recipe for success with an expanded and improved feature set, making those dream PC builds look and function more realistically than ever.
About Spiral House
Spiral House is a Liverpool, UK based game developer passionate about developing interactive entertainment on all leading platforms including PC, consoles, and mobile devices. Established in 1998, Spiral House has a successful track record for developing and assisting on numerous major key titles such as MotorStorm, Little Big Planet and EyePet for many of the biggest global developers and publishers. The development team is a creative, passionate team whose experience extends as far back as the Commodore 64, all the way up to present day consoles.
About Epic Games
Founded in 1991, Epic Games is an American company founded by CEO Tim Sweeney. The company is headquartered in Cary, North Carolina and has more than 50 offices worldwide. Today Epic is a leading interactive entertainment company and provider of 3D engine technology. Epic operates one of the world's largest games, Fortnite, and Epic has over 600 million accounts with over 4.7 billion friend connections across Fortnite, Fall Guys, Rocket League, and the Epic Games Store. Epic also develops Unreal Engine, which powers the world's leading games and is also adopted across industries such as film and television, architecture, automotive, manufacturing, and simulation. Through Unreal Engine, Epic Games Store, and Epic Online Services, Epic provides an end-to-end digital ecosystem for developers and creators to build, distribute, and operate games and other content.