10 MAY 2023 – Painting VR has just released its highly anticipated Spring Refresh update for Quest, which brings an array of new features and improvements to the immersive virtual reality painting app. Among the most exciting changes is the addition of Sitting- and Zero Gravity modes, giving users even more flexibility and comfort while painting.
Additionally, the new Dry and Un-dry paint on canvas feature adds more control to the painting experience.
In terms of visual upgrades, the update includes a complete overhaul of the user interface, featuring new models for tools and furniture, an improved environment, and a new loading screen. The new file handler for paintings and references makes it easier to manage and organize files, while the new brush holders offer a more convenient way to store and access brushes.
The update also includes various UI and quality-of-life improvements, as well as backend enhancements to streamline future updates. Whether you're an aspiring artist or a seasoned pro, Painting VR's Spring Refresh update is sure to take your virtual painting experience to the next level. Try it out today on Quest, Quest 2 and Meta Quest Pro.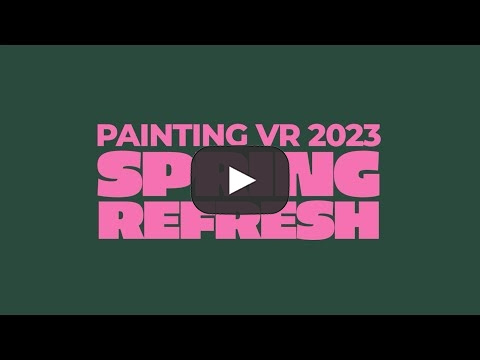 About Painting VR
Painting VR is very hands-on, easy to understand, and aimed at all ages. Play around and feel the relaxing satisfaction of putting copious amounts of fresh paint on a canvas. Teach yourself the basics of colours, the painting process, and steadily master the art of composition.
Sharpen your skills by experimenting with the tools & techniques at hand, and become part of a new wave of digital artists. Once finished, you can share your work with the Painting VR community, or even the world! All without having to bother about cleaning up afterwards!
Key Features
Familiar, yet new – Painting VR is painting evolved; create stunning art by blending age-old techniques with the latest technological advances. There is no "undo" in real life, but there is one in Painting VR!
A relaxing experience – By using a combination of visuals, audio & haptics, digital artists will be immersed in a relaxing and satisfying creative experience.
A wide selection of brushes & tools – A spray can, brushes, paint rollers, markers, and even a customizable drill fitted with a brush magnet? We have it all!
Pick or mix paint colours – Dip your brush in the bucket of your choice, or mix colours to get the desired effect. You can even use the colour-picking function to select colours from your canvas, mixing palette or reference images.
In-game web browser – Listen to your favourite tunes, watch online tutorials, or get inspired by entering (random) words in the image search engine.
Make the studio your own – Find the studio set-up that works best for you and save it for future visits. Put your favourite art on the walls & personalize your workplace.
General Info – Painting VR
Release Date: April 14th, 2022
Price: $19.99 USD / €19.99 EUR
Supported platforms:  Quest 1 & 2 (Meta Quest Store) Valve Index, HTC Vive, Oculus Rift, Windows Mixed Reality (Steam Store)
Meta Quest Store: https://oculus.com/experiences/quest/3106117596158066
Steam Store: https://store.steampowered.com/app/1905940/Painting_VR/
For more information & images on Painting VR, visit https://paintingvr.xyz, Follow Painting VR on Twitter, TikTok, and Facebook, or join the community on Discord.
More Images can be downloaded HERE.
About Oisoi Studio
Oisoi Studio was founded in 2018 by Wim Reygaert. Soon, Xander Clerckx joined as head of development. After working on VR training experiences for the aviation industry and several interactive installations for artists, Painting VR is their first own IP.
If you want an interview with the dev team, let us know: Press@piratepr.com