A specific outfit that's available in Hogwarts Legacy calls back to one of Ron Weasley's funniest, most iconic moments from Harry Potter and the Goblet of Fire. Hogwarts Legacy is exceptional at making reference to the beloved Harry Potter film series and books, thus achieving a high level of visual accuracy to the materials it's pulling from. Alongside serious homages, hidden references to some of the franchise's sillier moments can be found as well.
Hogwarts Legacy launched back in February to large scale praise and massive sales numbers, even surpassing Elden Ring in the UK. The popular Wizarding World RPG lets players create their own fifth-year Hogwarts student who attends the world-famous school in the late-1800s. While the game starts gamers off in house robes upon their arrival, they're not limited to school-related attire. During their time at Hogwarts, gamers can seek out and find a variety of stylish 1800s fashion options over at Gladrags Wizardwear in Hogsmeade Village or as rewards in chests as they explore the castle and beyond.
RELATED: Hogwarts Legacy's Professor Black Has Interesting Reaction to Half-Blood Student Getting Bullied
One such piece of attire, pointed out by Reddit user Accomplished_Bag_283 on the HarryPotterGame subreddit, pays specific homage to an iconic moment from Harry Potter and the Goblet of Fire. During Christmastime at the castle, Ron Weasley's mother, Molly Weasley, sent Ron a hideous old-fashioned outfit for the Yule Ball. Harry walked in on him trying it on in the mirror before the complaining began, resulting in a beloved portion of the movie. The item in-game is an incredibly accurate recreation of the suit from the film with the same red frills and green bow tie. The piece looks ugly enough to originate from the late 1800s, so it makes sense for it to appear in Hogwarts Legacy among all the other bold 1800s style wizard clothing Gladrags and Hogwarts Valley has to offer.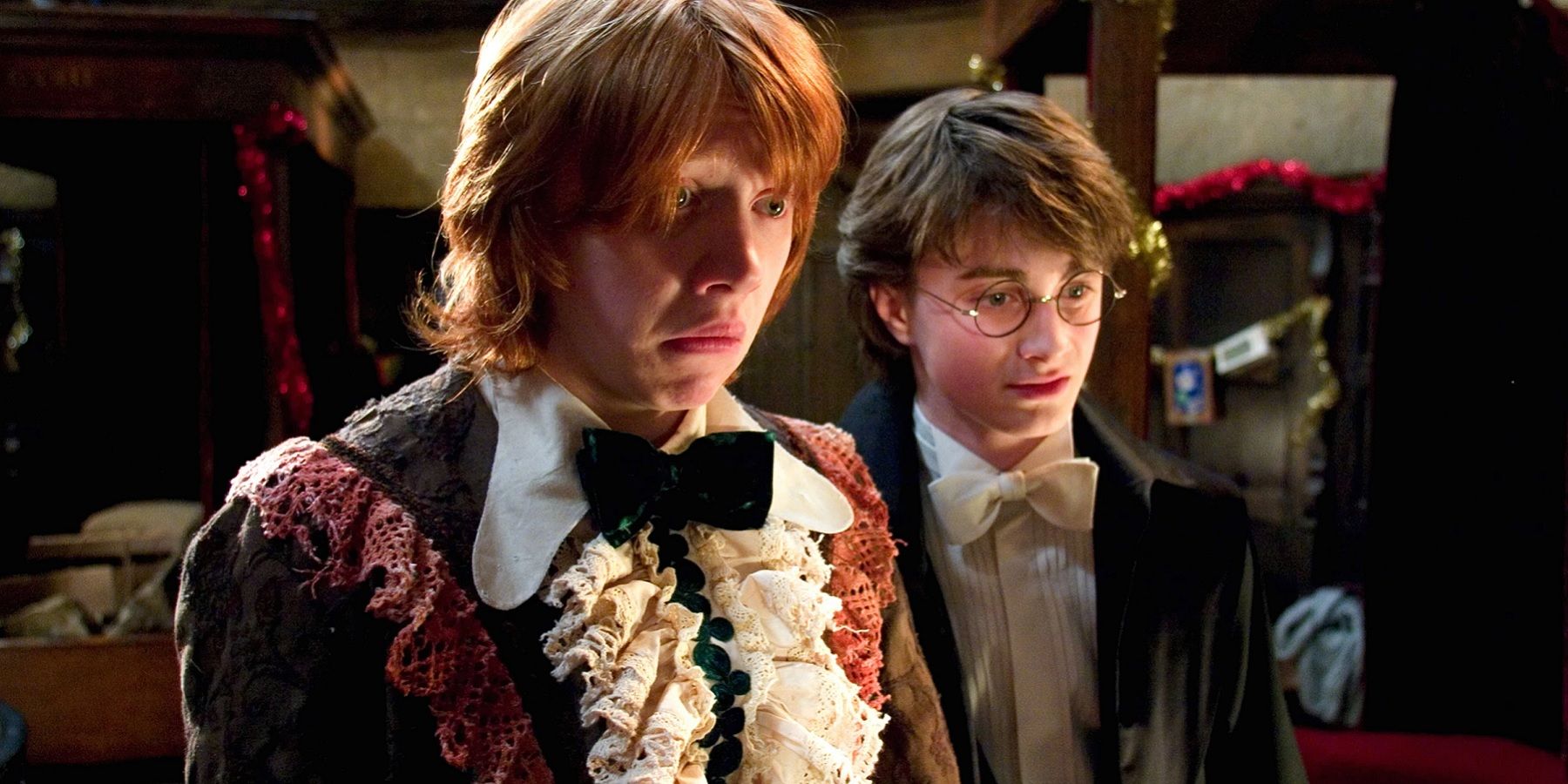 The piece of gear is called "Fashionable Dress Robes" and can be earned by completing the Hogwarts Secrets challenge, which asks players to conquer both Depulso challenge rooms hidden within Hogwarts. It's a fitting challenge to be tied to, as much like the Depulso puzzle dungeons are buried deep withing the walls of the castle, so should this hideous piece of attire. It's a neat reference, but sadly it goes no further to explain how Molly Weasley got her hands on such an appalling piece of clothing, as she attended the school in 1961.
It's clear that Avalanche and Portkey Games weren't afraid to make fun references to the films in Hogwarts Legacy. Though references to the two other members of the big three, Harry and Hermione, are pretty much non-existent in Hogwarts Legacy, the presence of the Weasley family is quite abundant with characters like Professor Matilda Weasley and Garreth Weasley. Whether fans will see references like this for Harry and Hermione in the future with potential Hogwarts Legacy DLC or a sequel is currently unknown.
Hogwarts Legacy is currently available for PC, PlayStation 5, and Xbox Series X/S. It's also scheduled to release for PlayStation 4 and Xbox One on May 5, 2023, and Nintendo Switch on July 25, 2023.
MORE: Hogwarts Legacy Stats Reveal Surprising Habit of Max Level Players
Source: Reddit