Physical editions also coming to Nintendo Switch and PS5; available day one with Game Pass on Xbox and PC
BRISTOL, UK – April 19, 2023 – Do you have the licence to grill? Yogscast Games and developer It's happening are delighted to announce that chaotic restaurant roguelite PlateUp! is coming to the Nintendo Switch™ system, the PlayStation®5 (PS5) system, Xbox Series X|S and Xbox One consoles this October.
Physical standard and collector's editions are also being cooked up on PlayStation 5 and Nintendo Switch in partnership with Numskull Games, while Xbox players can look forward to the game being served up day one with Game Pass on Xbox and PC, letting budding restaurateurs on Xbox Series X|S, Xbox One and Windows Store jump straight into the culinary action at launch.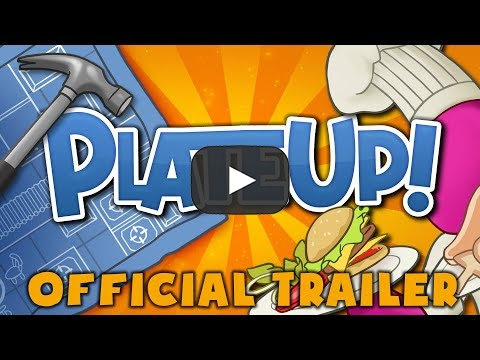 With over 1 million copies sold on PC, PlateUp! is a sizzling 1-4 player cooking roguelite management game that tasks players with cooking and serving dishes, designing and decorating their restaurants, and expanding their culinary kingdom.
Manage your restaurant through 15 chaotic days and beyond, cooking dishes and serving customers to earn money, unlock new equipment and expand your establishment. Cook, serve and upgrade your culinary kingdom with new unlocks, abilities and dishes in procedurally-generated locations with permanent progression. Automate your kitchen with high-tech equipment and let the dough roll in. Will you take the path of yeast resistance to make it through a full run or will another restaurant bite the crust?
FEATURES:
COOK! Classic co-op cooking action, with a wide selection of mains, sides, sauces, toppings, desserts and starters. Choose your equipment, lay out your kitchen, curate your menu and plate up your dishes.
SERVE! Equip your restaurant to handle the most fickle of customers and deliver them what they need, right when they need it. Look after front-of-house by seating customers, delivering orders and managing their patience.
UPGRADE! Upgrade and rearrange your restaurant to your personal taste: when the restaurant closes for the day, the planning begins! Want to go high-tech? Crank up the conveyors and make way for the robo-kitchen of the future.
AUTOMATE! Use auto-mixers, grabbers and more to streamline the restaurant, automate your kitchen and let the dough roll in.
EXPAND! Co-operate with your team like a well-olive-oiled machine or build a name for yourself going it alone. Exceed your goals and take your franchise to greater heights at a new location, bringing with you new unlocks and upgrades.
"PlateUp! has been hugely successful with players on PC, so we're delighted to be dishing it up to console platforms later in the year," said Simon Byron, Director of Publishing at Yogscast Games. "The game's blend of roguelite restaurant management and chaotic cooking have proven to be great ingredients for a compelling new take on the cooking genre, and we're thrilled for console players to join in on the culinary action soon."
PlateUp! is available now on Steam. For more information, follow @YogscastGames on Twitter or visit yogscast.games.
About It's happening
It's happening is a small team of two game developers, based in Bristol, UK.
About Yogscast Games
Yogscast Games is the independent publisher dedicated to independent developers, founded in 2017 by The Yogscast.
About Numskull Games
Since 2019, Numskull Games has quickly established itself as a publishing force with a global physical and digital proposition. Launching and curating games from both new and veteran development studios as well as international games publishers, Numskull Games publishes titles across all major gaming platforms. Additionally, by utilising the infrastructure and resources of its sister companies Rubber Road / Numskull Designs, Numskull Games creates unique and compelling Collectors' Editions for its elite releases.
Nintendo Switch is a trademark of Nintendo.
---
For PR enquiries, please contact:
Dave Scammell – dave@the71.net
Chris Glover – chris@the71.net