Grand Theft Auto 6 is expected to make $1 billion at launch, and is expected to sell at least 25 million copies upon release.
VIEW GALLERY – 4 IMAGES
GTA 6 is one of the most anticipated games of the modern era, and Take-Two Interactive has telegraphed a potential Holiday 2024 or early 2025 launch for the crime sim. According to a recent newsletter from games industry expert Joost van Dreunen, initial forecasts for Grand Theft Auto 6 sales are around 25 million.
"Assuming a 2025 launch window, which is optimistic given the publisher's propensity for delays, early estimates expect the new title to sell 25 million units," van Dreunen writes.
I reached out to van Dreunen for more clarity on sales, and was told that the 25 million figure is based on a 20% attach rate for the expected console installed base for 2024-2025. This implies that the PlayStation 5 and Xbox Series X/S installed bases will be around 125 million by the time, which makes sense as Sony expects the PS5 to hit 63.4 million shipments by March 2024.
Grand Theft Auto 6 game is expected to sell around 12-14 million copies at launch, which somewhat aligns GTA 6 with GTA 5's previous incredible 11.21 million copies sold within 24 hours.
GTA 6 is likewise expected to make $1 billion in sales revenues in its first week. For reference, GTA 5 broke $1 billion in sales in just 3 days.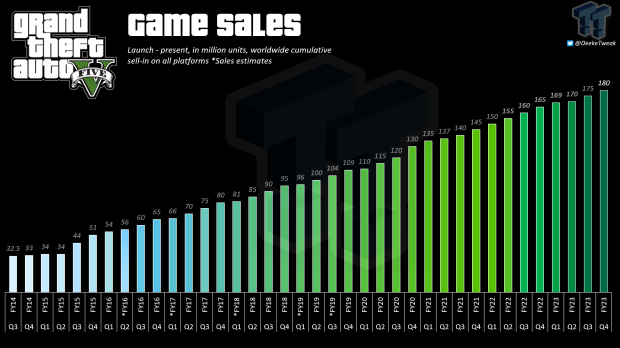 Read Also: Grand Theft Auto franchise revenues break $8.33 billion since GTA V's release
While GTA 6 is expected to be a megaton release, it may not break GTA 5's explosive launch.
GTA 5 shipped a total of 32.5 million copies in its first quarter on the market. GTA 5 launched at the tail-end of the Xbox 360 and PlayStation 3 generation on September 2013, so Rockstar Games managed to leverage both consoles at the height of their maturation. GTA 5's launch also happened just months before Sony and Microsoft debuted their PlayStation 4 and Xbox One consoles in November 2013.
The game was re-released for the PS4 and Xbox One generation just a year later in November 2014, so Rockstar was able to tap both console generations for GTA 5 sales.
It's impossible to know just how well Grand Theft Auto 6 will sell. These are predictions based on predictions, that are in turn based on expected market trends. But it sounds like the game probably won't be released on the aging PS4 and Xbox One hardware, and for good reason.
Rockstar and Take-Two will miss out on potential sales of these platforms, but the current-gen market is expected to mature quite a bit up until GTA 6's launch. The developers will also not have to be constrained by the significantly weaker hardware performance of last-gen platforms.