---
Going out: Cinema
The Eight Mountains
Out now
The Cannes film festival is unfolding this week, but here's a chance for UK audiences to see what some of the fuss was about last year, with this 2022 Prix du Jury winner now in cinemas. A luscious, heartbreaking and sweeping epic about a friendship that develops in the picturesque Alpine section of Italy, this is pure cinema.
Eurovision: Grand Final Live
Cinemas nationwide, 13 May
If you can't make it to Liverpool to watch the finale in person, don't worry: cinemas across the country have your back. You can join Graham Norton and co for a special live broadcast on the big screen of the most essential annual event in the cultural calendar.
Book Club: The Next Chapter
Out now
The 2018 original was such a smash that a Book Club sequel was all but guaranteed; the only surprise is that it's taken this long to get Diane Keaton, Jane Fonda, Candice Bergen and Mary Steenburgen (AKA the finest cast anyone has ever been able to put together in the history of cinema) back together for another go around.
LOCO London comedy film festival
Hackney Picturehouse, London, to 14 May
Running all weekend, the UK's biggest comedy film festival is back with a mixture of old and new films, including Ealing comedy classics, short films and dark new comedy-drama Klokkenluider, the directorial debut of the actor Neil Maskell, starring Tom Burke and Jenna Coleman. Catherine Bray
---
Going out: Gigs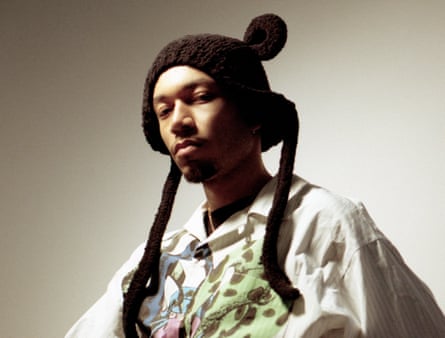 Wesley Joseph
Koko, London, 18 May
London-based polymath Wesley Joseph plays a one-off show in support of his second mini-album, Glow. Expect the singer and rapper to create the perfect atmosphere for his filmic song suites, full of dense avant-R&B – think Jai Paul meets Blood Orange. Michael Cragg
Donny McCaslin
Jazz Cafe, London, 15 May
When composer Maria Schneider recommended her saxophonist Donny McCaslin to David Bowie, a connection was formed that gave Bowie's last album, 2016's Blackstar, much of its dark intensity. Bowie's influence has, in turn, made McCaslin's post-Coltrane playing more anthemically art-rockish, but his jazz edge has mostly stayed sharp. John Fordham
Don Giovanni
Glyndebourne Opera House, Lewes, 19 May to 15 July
Glyndebourne's 2023 summer season launches with a new production of the most enigmatic and dramatically challenging of Mozart's operas. Director Mariame Clément offers a Don Giovanni for the post-#MeToo world; Andrey Zhilikhovsky is Giovanni, with Mikhail Timoshenko as Leporello, Venera Gimadieva as Anna and Rutan Mantashyan as Elvira. Andrew Clements
Pusha T
15 to 20 May; tour starts Dublin
After having to postpone from November due to "production issues", Pusha T is finally ready to take 2022's excellent album It's Almost Dry out on tour. That album will likely fill the majority of the set, but fingers crossed for some of the Neptunes-produced Clipse classics. MC
---
Going out: Art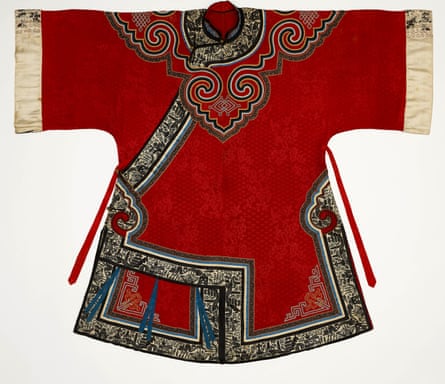 China's Hidden Century
The British Museum, London, 18 May to 8 October
In the 19th century, China's ancient social order, once admired by Europeans, came under economic and political attack from western empires and faced rebellion at home. This epic survey of the period from 1796 to 1912 takes in everything from traditional robes to the opium wars to the birth of modern China.
Patrick Caulfield
Josh Lilley, London, 18 May to 20 June
This ironic pop artist captured the louche and seedy decadence of 70s London in paintings and prints that zoom in cruelly on sad restaurants, pretentious furnishings, a glass half full. His bold outlines and bright colours have been copied by other artists yet never with the same haunting pathos.
Gwen John
Pallant House Gallery, Chichester, 13 May to 8 October
This early 20th-century Welsh artist's paintings of solitary women are engrossing and silently powerful. John had a more dramatic life than her meditative works might suggest, living in France in the heyday of the avant garde and having an affair with Rodin. But her art is poetic and melancholy.
Melati Suryodarmo
Ikon Gallery, Birmingham, 17 May to 3 September
This acclaimed Indonesian performance artist is famous for gruelling live actions that can last for hours and put her and the audience under strain. She also makes videos. Suryodarmo appears along with artists and commmunity activists "delegated" by her in what amounts to a retrospective of her art and vision. Jonathan Jones
---

---
Going out: Stage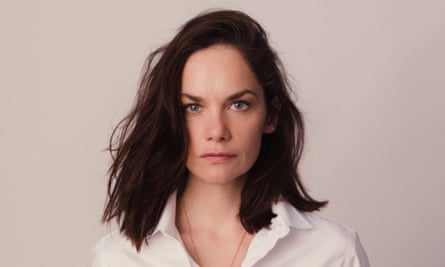 The Second Woman
Young Vic, London, 19 & 20 May
For 24 hours, Ruth Wilson performs the same scene 100 times, burning through the 100 different men who take turns playing opposite her. It's an extraordinary, audacious idea: audiences can get tickets for chunks of the performance or stay for the entire wild ride. Kate Wyver
Shewolves
Theatre By the Lake, Keswick, 13 May; touring to 8 July
Fourteen-year-old Priya and Lou embark on a climate crisis-fuelled adventure, finding hope and the power of friendship along the way. Sarah Middleton's sparky, uplifting show tours the UK before a run at London's Southwark Playhouse. KW
Rachel Bloom
Bloomsbury theatre, London, 15 to 19 May
The creator and star of mental health-themed musical dramedy Crazy Ex-Girlfriend brings her new live show. And if the title is anything to go by, Death, Let Me Do My Special is set to be yet another anxiety-riven comic extravaganza. Rachel Aroesti
BalletLorent: Rapunzel
Darlington Hippodrome, 17 & 18 May
Newcastle upon Tyne-based choreographer Liv Lorent made her first Rapunzel a decade ago as a family show, but now she's created an adult version, delving into childlessness, miscarriage, grief and child abuse. Here you can see both the kids' show (18 May) and the After Dark version (17 May). Lyndsey Winship
---
Staying in: Streaming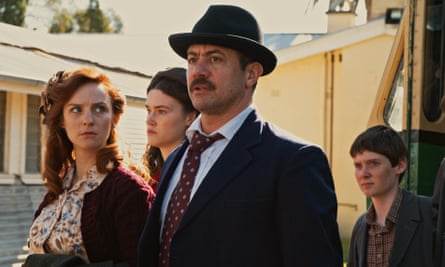 Ten Pound Poms
14 May, 9pm, BBC One
Your classic Sunday night period drama with a twist: this one is set in Australia. From the writer of Brassic comes a series about the post-second world war Britons who accepted the invitation to resettle for a tenner, only to find that life in Oz wasn't quite the sunny idyll they'd been advertised.
High Desert
17 May, Apple TV+
Fresh from her fantastically creepy turn in Severance, Patricia Arquette stars in this heartfelt yet diligently farcical comedy as Peggy, a charmingly disastrous drug addict who decides to become a private investigator after the death of her mother. Rupert Friend, Matt Dillon, Brad Garrett and Weruche Opia round out the supporting cast.
Anna Nicole Smith: You Don't Know Me
16 May, Netflix
Sensitive documentaries about mistreated tabloid stars of the 90s and 00s are suddenly 10 a penny. Now it's the turn of the late Anna Nicole Smith – model and, infamously, wife of 90-year-old billionaire J Howard Marshall – to be reconsidered through an arguably more enlightened and more empathic, 2020s-style lens.
Rolf Harris: Hiding in Plain Sight
18 May, ITVX
Until 2013, Rolf Harris was a national treasure, with decades of hit singles, art programmes and Glastonbury appearances behind him. But when he was charged with sexual assault as part of Operation Yewtree, his downfall was swift. This two-part film examines how he fooled the public for so long. RA
---
Staying in: Games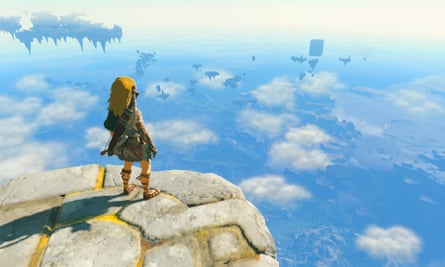 The Legend of Zelda: Tears of the Kingdom
Out now, Nintendo Switch
Storied adventurer Link heads back into the kingdom of Hyrule, now equipped with the ability to smash bits of scenery together to make flying rafts and exploding shields. This will be one of the year's biggest games.
Humanity
Out 16 May, PlayStation 4, 5 & VR2
You are a luminescent shiba inu dog, and you must guide crowds of ambling people to pillars of light so that they may ascend to who-knows-where. An unusual-looking puzzle game, and a great one. Keza MacDonald
---
Staying in: Albums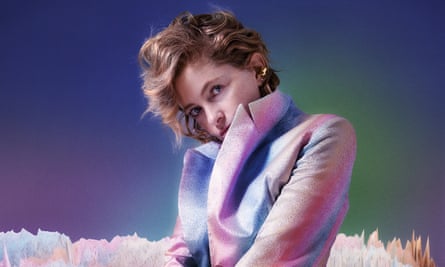 Alison Goldfrapp – The Love Invention
Out now
After seven albums of electropop experimentation as one half of Goldfrapp alongside Will Gregory, singer, songwriter and producer Alison Goldfrapp steps out on her solo debut. While squelchy single NeverStop recalls Goldfrapp's gleaming pop opus Supernature, So Hard So Hot is sweatier and grimier.
Jonas Brothers – The Album
Out now
Four years after staging a successful comeback via 2019's Happiness Begins, the Jo Bros are back with their sixth album, titled, erm, The Album. Bolting 70s soft rock on to their sleek pop, nostalgic recent single Waffle House – named after the US restaurant chain – extols the virtues of family loyalty.
BC Camplight – The Last Rotation of Earth
Out now
New Jersey-born, Manchester-based Brian Christinzio isn't afraid to pour his misery into his music; past albums have touched on deportation, death and depression. On this sixth album of elegantly crumpled indie rock, written after his fiancee left him, Christinzio brings some blackly comic touches to his various tales of woe.
Kaytraminé – Kaytraminé
Out now
Grammy-winning producer Kaytranada (Kali Uchis, Kelela) and playful rapper Aminé join forces for this new collaborative project. It's led by the percussive, barbecue soundtrack-ready anthem 4EVA, featuring a suitably sun-kissed Pharrell Williams – make sure you update your summer playlist accordingly. MC
---
Staying in: Brain food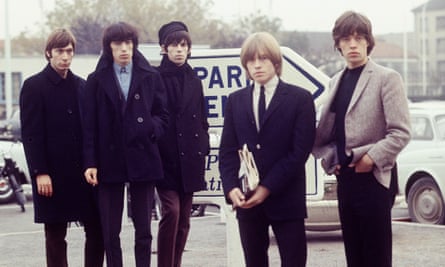 The Stones and Brian Jones
15 May, 9pm, BBC Two
An intimate look at the short life of the Rolling Stones' founding member Brian Jones. Film-maker Nick Broomfield remembers a teenage encounter with the instrumentalist, while surviving members explore how Jones fuelled their sound.
IMMA Online
Online
Ireland's Museum of Modern Art boasts a website packed with more than 3,500 digitised art works taken from its expansive collection. Explore everything from Eimear Walshe's work on Irish colonial history to the painting of Jack B Yeats.
White Smoke: America's Chemsex Killer
Podcast
A 10-part investigation into the influential American political donor Ed Buck's criminal sex life expands into a fascinating examination of power dynamics in the queer community, outlining the pervasive and often abusive world of chemsex. Ammar Kalia