LONDON, UK – March 8, 2023 – Pugstorm is lighting the birthday candles and celebrating the first anniversary of Core Keeper in style with the launch of today's special Anniversary Update, introducing a range of free in-game content from March 8th-20th.
Turn a birthday into a buff-day by finding and consuming the in-game birthday cake, giving your character a permanent boost to their maximum health. Throw an online birthday party with friends with wearable birthday hats, and play the 'Happy Birthday' song with a new music sheet available to discover in the game world.
While you're out on your adventures looking for the Happy Birthday music sheet, keep an eye out for a special Terraria guest music sheet, introduced permanently with today's update. Once found, explorers will be able to play Terraria's 'Journey's Beginning' track using Core Keeper's in-game musical instruments.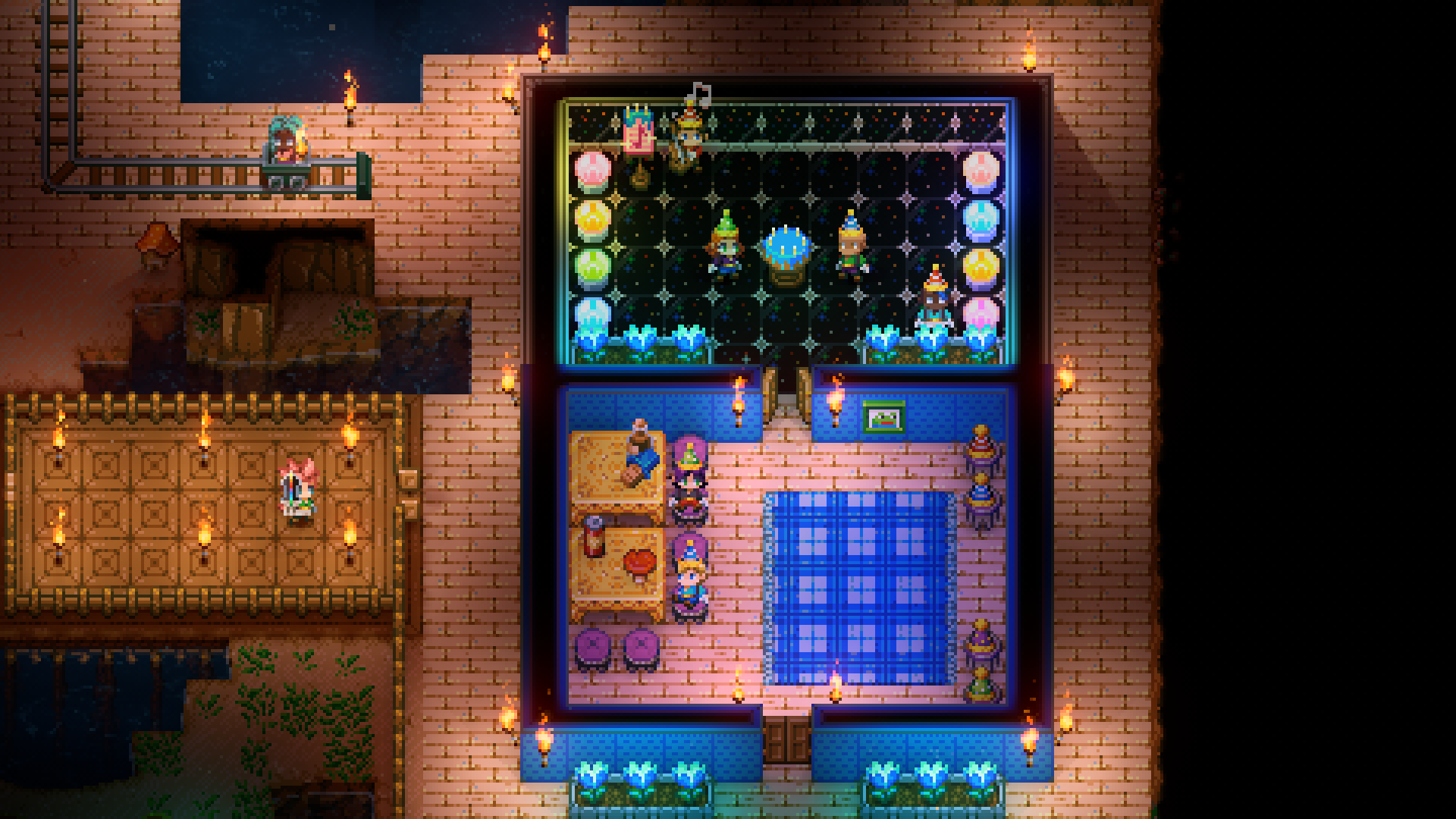 With more new content coming to Core Keeper later this month with the free Cherry Blossom Festival Mini-Update, and a huge new update introducing pets to the game later this spring, there's more content than ever for players to discover. Previous seasonal events, such as the Valentine's 'Quality of Love' Update and 'Christmas Seasonal Event' can also be replayed by selecting them via the in-game Gameplay Settings menu, giving new and existing players the option to access previous seasonal content at any time.
Winner of 'Best Social Game 2022' at the TIGA Games Industry Awards, nominated for 'Best Early Access Launch' at the Golden Joystick Awards 2022, and with over 1 million units already sold, Core Keeper is a 1-8 player mining sandbox adventure set in an ancient cavern of creatures, treasures and trinkets. Mine relics and resources to build your base, craft new equipment and survive. Defeat giant monsters, discover hidden secrets, farm crops, go fishing, cook new recipes and explore a procedurally generated underground world to unravel the mystery of the ancient core.
Core Keeper is available now on PC via Steam Early Access. For more information, follow @CoreKeeperGame on Twitter and join the discussion on Discord.

About Pugstorm
Pugstorm is an award-winning development studio specialising in juicy pixel art games that will make your inner dog bark with joy. For more information, please visit pugstorm.eu.
About Fireshine Games
Fireshine Games is a global publisher of digital and physical videogames based in London, England. Originally established in 2014 under the name Sold Out, Fireshine Games works with studio giants such as Team 17, Rebellion and Frontier Developments as well as introducing new indie dev studios to the world like Pugstorm, Stonewheat & Sons, Spiral Circus, ColePowered Games and many more – publishing for physical and digital distribution. Fireshine is also part of the EG7 group of companies. For more information on Fireshine Games and its upcoming titles, visit the official website at fireshinegames.co.uk.
---
For PR enquiries & key requests, please contact:
Dave Scammell – dave@the71.net
Chris Glover – chris@the71.net