Get the edge with the complete ASUS esports gaming setup
Updated: Jun 2, 2023 3:54 pm
*SPONSORED POST*
Let's face it, if a gamer could spend thousands on a gaming setup, they would. The ultimate gaming setup is only limited by your imagination and quality peripherals, both of which ASUS has taken care of in spades. Browsing the best gaming setups out there generally fills us with envy, so it is time to put a stop to that and showcase ASUS ROG's top-of-the-line gaming keyboard, mouse, chair, and monitor.
The latest line of ASUS gaming equipment delivers low latency, seriously good build quality, and peak performance and could be the missing link between you and the top of the scoreboard.
Best ASUS esports setup at a glance:
ASUS ROG Harpe Ace Aim Lab Edition gaming mouse
ASUS ROG Falchion Ace gaming keyboard
ASUS ROG Delta S Wireless gaming headset
ASUS ROG Delta Core gaming headset
ASUS ROG Destrier Ergo gaming chair
ASUS ROG Swift 360Hz PG259QNR gaming monitor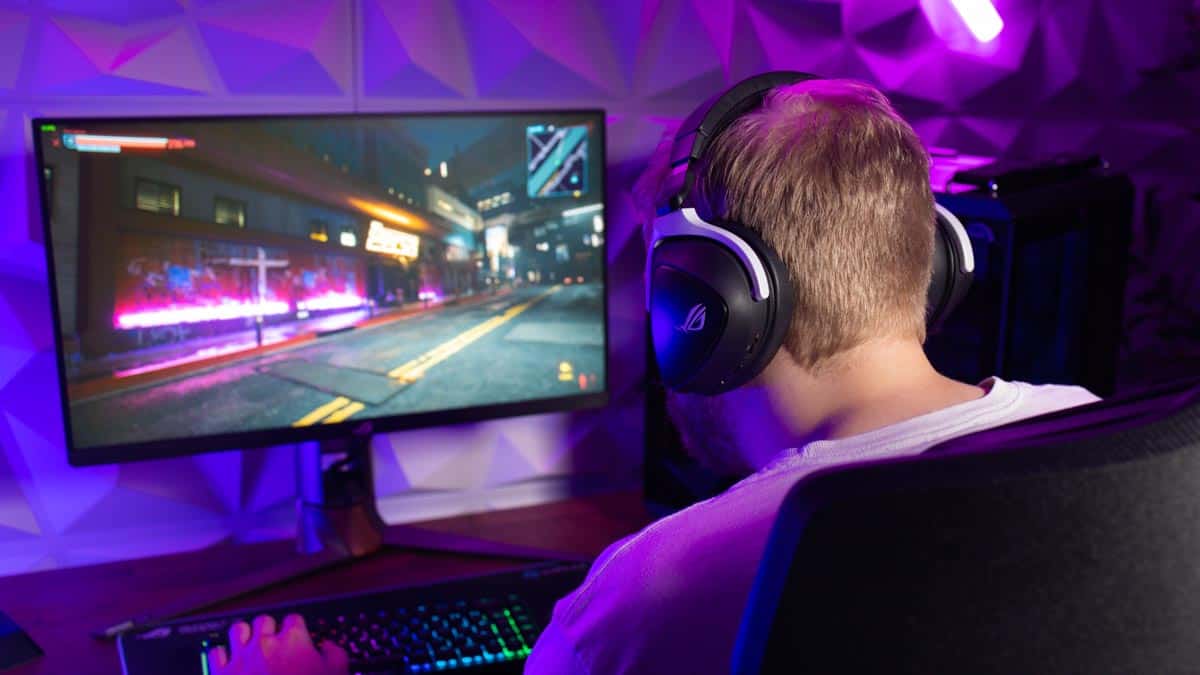 Eliminate input lag with ROG
Ping, high latency, input lag – these are the enemy of any esports player, casual or pro. Some of these can be out of your control, for example, if your ISP goes down what can you do but wait? Other areas like input lag can be tamed.
Input lag in first-person shooters, fighting games, or any game where a few milliseconds can be the difference between winning and losing. What is input lag you ask? Well, to put it simply, it is when you press a key or click/ move your mouse and see a delayed result on your monitor. It tends to be more noticeable in fast-paced games like CSGO, rather than a story-driven single-player game but in either case, it is incredibly annoying and needs to be destroyed.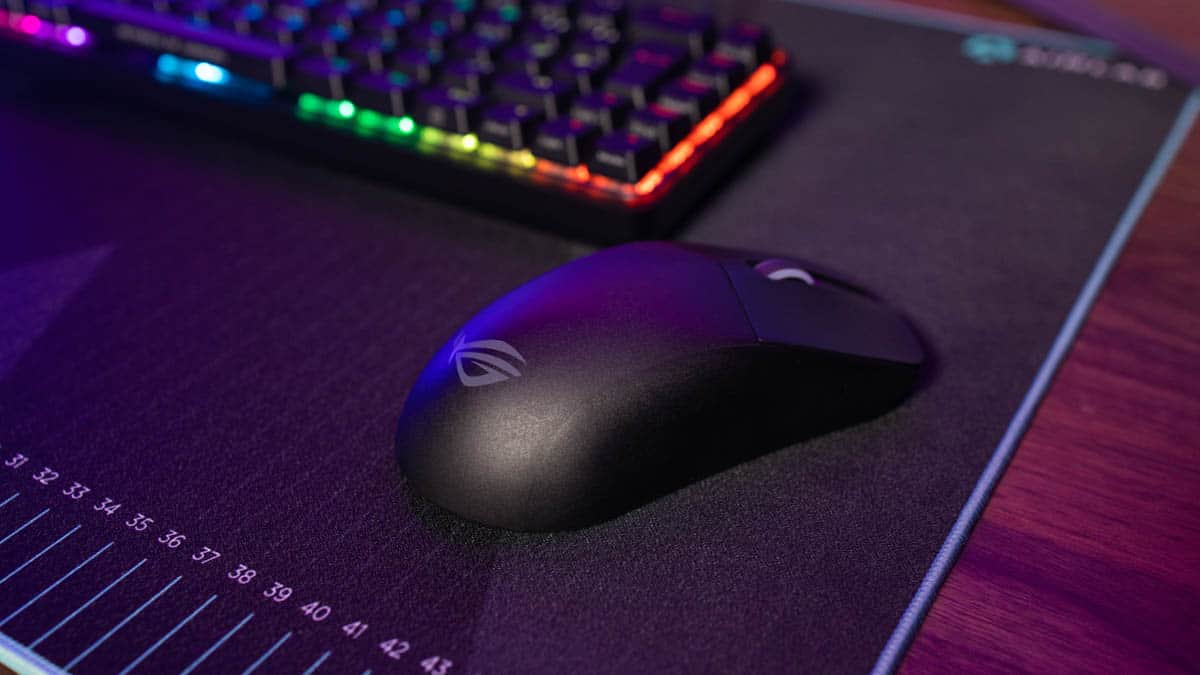 Input lag like this is sometimes referred to as lag or latency and can sometimes be a software or hardware issue. Wireless peripherals used to be a no-go in esports but connectivity and performance just kept getting better. ASUS uses tri-mode connectivity in its Harpe Ace Aim Lab Edition gaming mouse, bringing users low-latency 2.4GHz RF, along with a low-latency Bluetooth mode, and a wired connection if desired too.
The wireless technology behind this is called – ROG SpeedNova. This tech brings low latency to the mouse with an everlasting reliable connection to the receiver. This is an essential component to any esports gaming setup, ensuring you get high performance at all times, along with optimized energy efficiency in the 2.4 GHz RF mode.
It isn't just wireless mice and keyboards getting all this love, gaming headsets are front and center too. The ASUS ROG Delta S is one of the best wireless gaming headsets on the market and that is not just because of the audio quality.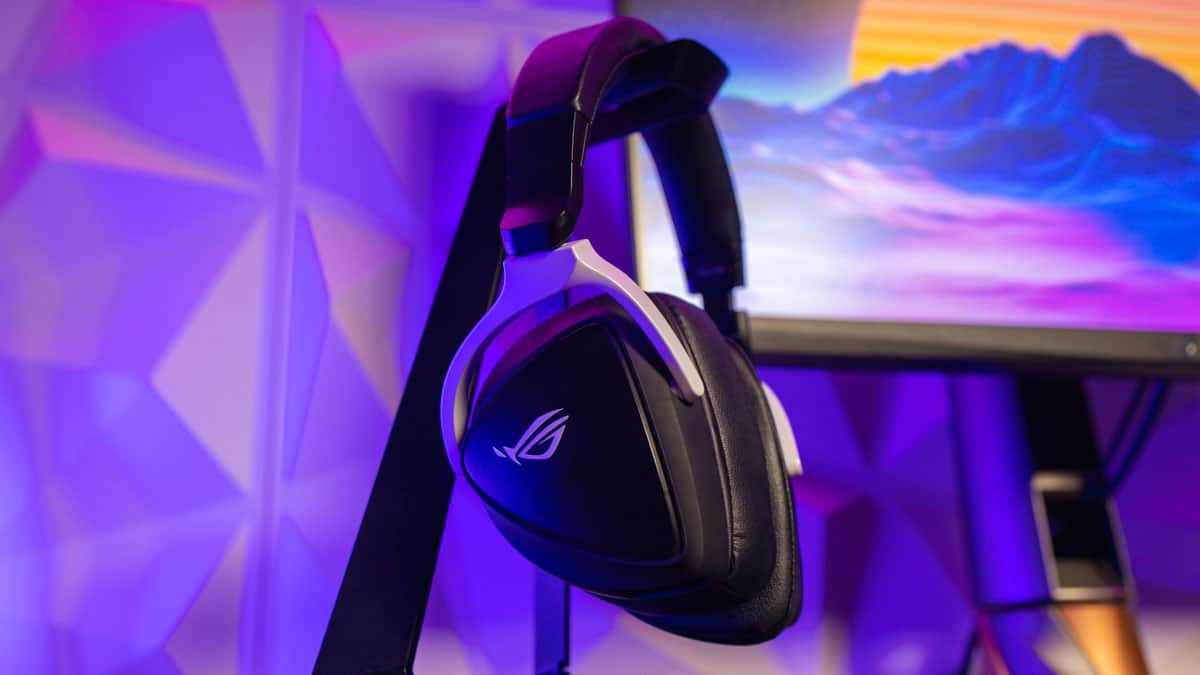 The Delta S wireless 2.4 GHz technology takes advantage of built-in antennas for instant signal transmission at a range of up to 25 meters. As you would expect, there is also Bluetooth mode, which provides a low-latency connection to ensure seamless audio.
So what does all this mean? Well, you may have noticed a lot of esports professionals are moving away from cabled peripherals and this is because the technology behind wireless has improved so much that there is no real distinguishable difference
Why you need a high refresh rate, low response time ROG monitor
The days of 60Hz refresh rate monitors are over, for some at least. There is nothing more noticeable than moving from 60Hz to 144Hz+ but did you know you can now get your hands on 360Hz refresh rate monitors with super fast IPS panels? Even 4K OLED Displays are starting to provide us with incredible refresh rates and ASUS is at the forefront of this.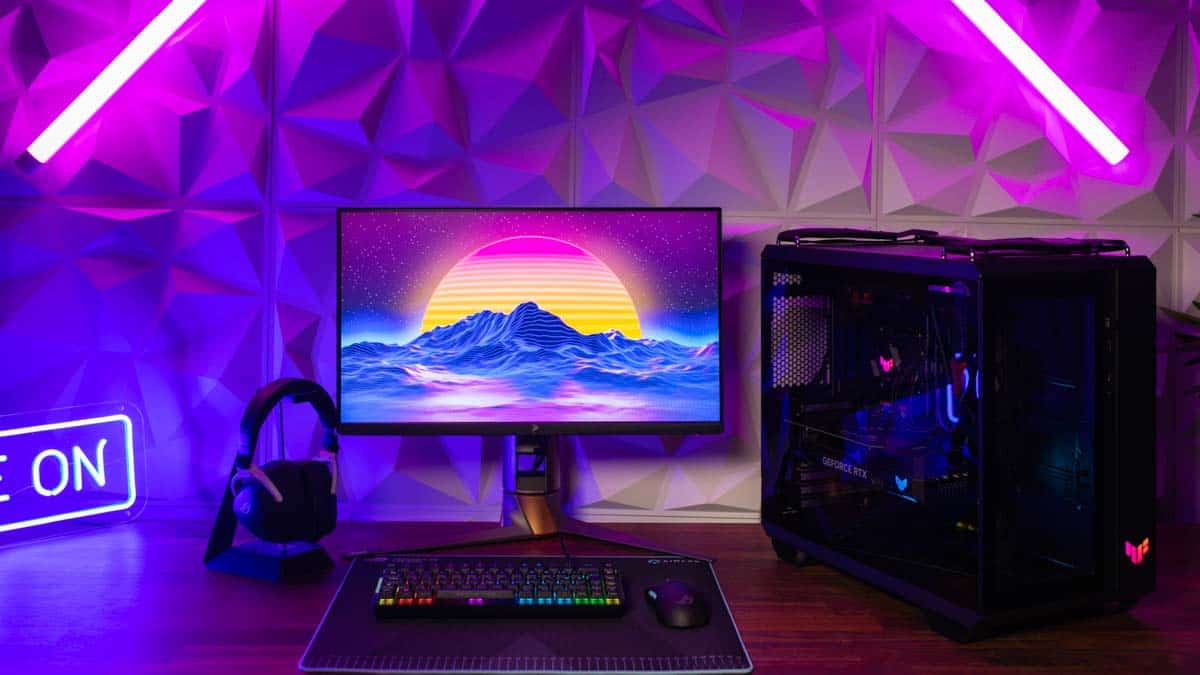 If we take a look at one of the ASUS Swift premium esports monitors – the ROG Swift 360Hz PG259QNR it becomes pretty clear. This monitor features an IPS display, however, also comes with ASUS Fast IPS technology, enabling a 1ms response time (GTG). This alone will make images on screen seem sharp when playing at a high frame rate.
The low response time paired with a blistering 360Hz refresh rate gives you the edge when it comes to competitive esports gaming. Why? Well, the difference is actually incredible when we look at the figures. With a 60Hz monitor, there are around 16.5ms between each frame. This drops to just under 7ms with a 144Hz monitor.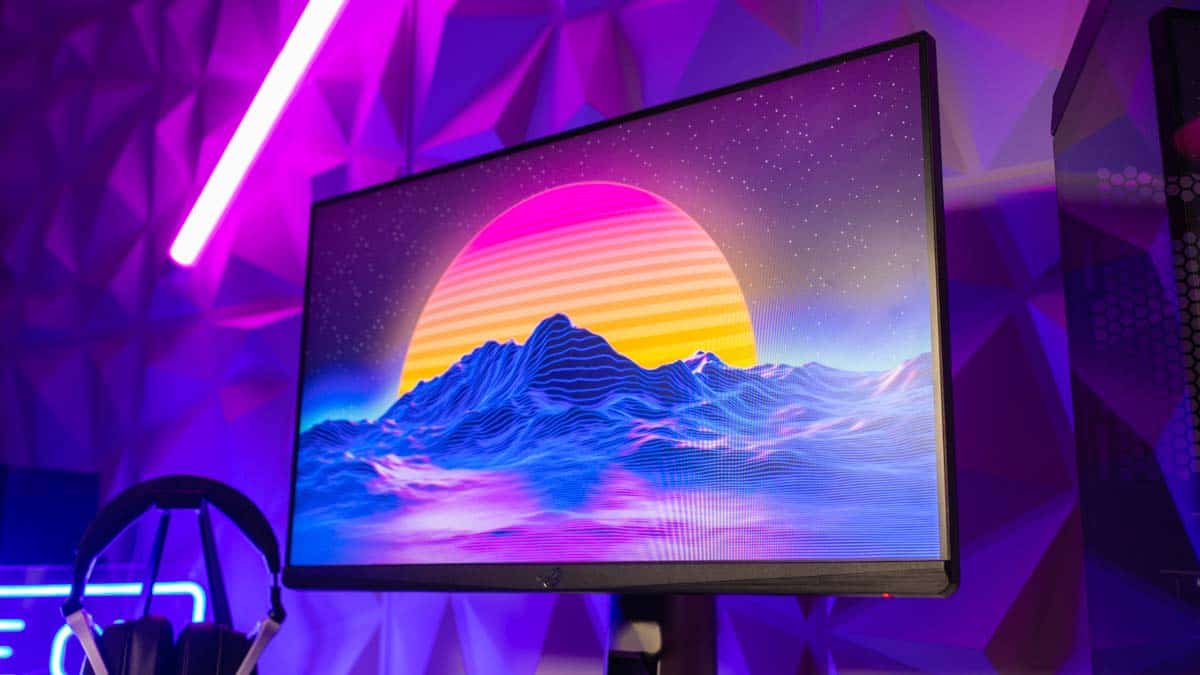 A 360Hz monitor can expect the image to refresh with under 3ms between frames, bringing gamers one of the smoothest in-game experiences money can buy.
Best ROG esports gaming setup
Here we have the pinnacle of esports gaming products, all offering high-end performance, reliability, and quality.
Best mouse for the job: ASUS ROG Harpe Ace Aim Lab Edition
Key features:
Co-developed shape with esports professionals
Synergistic software analyzes user strengths and play styles to tailor mouse settings for you
Lightweight (54g)
A highly efficient optical sensor capable of 36,000‑dpi and industry-leading less than 1% cpi deviation
Connect the mouse 3-ways via Bluetooth, 2.4GHz RF, and wired (ROG Paracrod)
Onboard memory saves your profiles
Anti-slip grip to keep those flicks in control
100% PTFE mouse feet
Arguably one of the best low-latency mice on the market for esports right now, with a superb ambidextrous shape, and premium features that make a difference.
Best keyboard for the job: ASUS ROG Falchion Ace
Key features:
ROG NX mechanical switches with lubricated stems and housing for smooth operation
Keys are stabilized for smooth keystrokes
PBT keycaps for long-lasting quality
Sound-dampening foam for better acoustic performance
Dual USB-C ports for a tidier setup
Unique touch panel
There are fewer compact keyboards on the market that come with such amazing features. ASUS really did smash it with this 65% model, the unique controls, lubed switches, and sleek design, great keyboard.
Best headset for the job: ASUS ROG Delta S Wireless
Key features:
Dual-mode wireless connection (2.4GHz/BT)
AI Beamforming mic
25 hours of battery life & fast charging (3 hours play with 15 minutes charge)
Multi-device compatibility
Premium materials and high levels of comfort
The ASUS ROG Delta S Wireless headset is a fabulous set for any gamer, whether you love to play esports titles or more immersive single-player games. The comfort, features, and sound quality are all exceptional.
For a more affordable solution. The ASUS ROG Delta Core wired headset can give you excellent in-game audio, with support for PC, PS4, Xbox One, Mobile, and Nintendo Switch.
Best monitor for the job: ASUS ROG Swift 360Hz PG259QNR
Key features:
360Hz refresh rate
1ms response time (G2G)
Console ready (@120Hz output on PS5 & Xbox Series X/S)
IPS panel for enhanced visuals
Nvidia Reflex Latency Analyzer compatible, giving you a truly accurate measurement of system latency
Nvidia G-SYNC compatible for tear-free gaming
The main reason to buy this monitor is its insane responsiveness. The combination of the fast refresh rate and low response time makes it a beast for esports gaming. The inclusion of Nvidia Reflex is also well worth pointing out as you can now use this to measure the actual latency of your PC for the first time ever. We can also highly recommend the PG27AQN as a great alternative if you're struggling to find the PG259QNR. Packed with all of the same features and ASUS Ultrafast IPS technology, this beast of an esports monitor offers the "fastest response time" of all 1440p monitors with a glorious 360hz refresh rate and DisplayHDR.
Best chair for the job: ASUS ROG Destrier Ergo
Key features:
Exoskeleton gives the ROG Destrier a flawless, futuristic style
Premium materials, quality manufacturing
Ergonomic
Breathable
There are no gaming chairs quite like the ASUS ROG Destrier, it really is a one-of-a-kind. Aside from this chair featuring dream-like aesthetics, the comfort, and ergonomics are on point. Support, materials, and features make this an ideal gaming chair for this esports setup guide.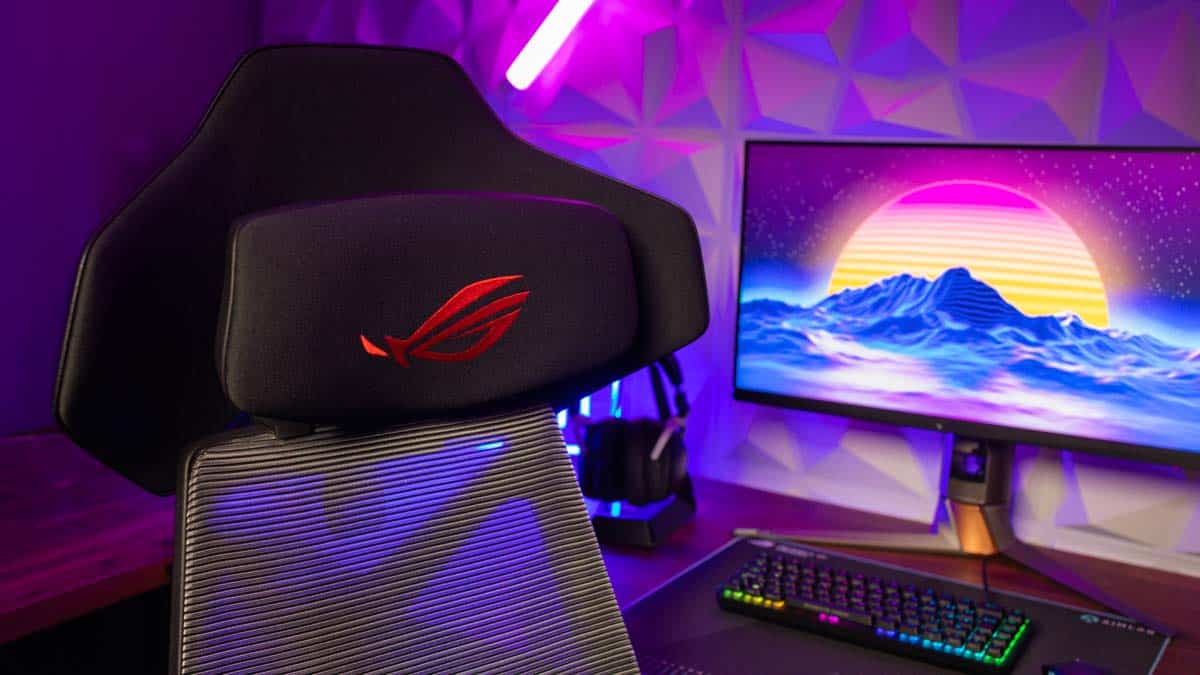 ASUS ROG Is known for delivering high-performance gaming components and peripherals and this round up showcases the very best there is. With the above, you can eliminate input lag, discomfort, and every head your cursor happens to cross.
ASUS Rate My Gear
ASUS are currently running their Rate My Gear promotion, offering all purchases through qualifying retailers £25 cashback if you review your new gear. GG ASUS! If you want to find out more about the promotion and qualifying retailers, you can find out more here.