An avid Nintendo fan has found a massive secret in Mario Kart 8 Deluxe, and fans are going crazy. Mario Kart 8 was first released in 2014 for the Wii U console before moving to other Nintendo consoles. It was one of the biggest releases of the year, as fans were looking forward to race with Mario on new tracks. The newly released game had tons of fresh features, giving fans a top-notch Mario experience. However, the community could not explore all the features, limiting themselves to a handful. As a result, only a few players found the massive secrets but kept mum throughout time. 
ADVERTISEMENT
Article continues below this ad
However, with a fresh Twitter thread trending, the information has finally swirled through the internet. The majority of fans have been left awestruck, as they constantly wished they knew it much before. After all, they have been dedicated to the game for years, so something like this was utterly important. 
ADVERTISEMENT
Article continues below this ad
Nintendo Fans celebrate as they can finally race around with their friends in Mario Kart 8 Deluxe
On August 14, 2022, avid Mario Kart gamer, Lythero, posted a tweet featuring the Mario Kart 8 Deluxe. The fan could not believe a hidden feature of the game, as he attached a video post below explaining it. Interestingly, the racing title gives access to a LAN Mode, allowing players to team up with other players.
Users who wish to access this mode, only have to Hold L+R and click on the Left Stick on the main menu. Once the player is in, he can create a room and wire up a maximum of 12 Switches for 12 player Mario Kart race. 
DIVE DEEPER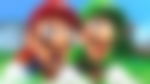 When Lythero posted the tweet, it looked like he was unaware of this massive feature. He added a caption, "WHY IS THIS HIDDEN," to express his feelings on Twitter. However, his comments section had a differing opinion, as most of them were aware of this. Vividly, Nintendo themselves had made the feature public, allowing all players to get access to it. 
ADVERTISEMENT
Article continues below this ad
So, with the massive traction that Mario Kart 8 Deluxe is receiving, it won't be wrong to predict that the franchise might see some great numbers in the future ahead. After all, the game was withstanding 45 million players as of May, with a bright future down the line. 
ADVERTISEMENT
Article continues below this ad
WATCH THIS STORY: Ranking The Highest Selling Nintendo Games of All Time
What are your thoughts about the trending Tweet? Were you aware of this hidden feature? Or are you as shocked as we are? Let us know your valuable feedback in the comments section.