Hello! We have a new series for you! Introducing: What to Play This Month, a roundup of the best games from the past month, the things we're most excited to play that are releasing in the month ahead, a quick rundown of the other things coming up, and a few alternative back-catalogue picks that might make a nice compliment for it all. Expect to see it on the first of every month – or as close to it as possible – from now onwards.

The reasoning behind this one is pretty simple: it feels like more and more games are coming out, and we'd like to help curate those releases for you.
Until now, this has been left to our reviews and other critical writing, where we've been continuously hunting for cool-looking games to either review or take a quick look at for a feature – with that writing acting as a recommendation in itself. But that was it.

Now, we'll still be doing exactly that (and with just as many games as before, don't worry!) but we're also going to round them up here, along with any others we're looking forward to on the horizon as well. This way, you can find our highlights in one place, get an idea of what's on our radar, and hopefully cut down on time wondering where to start.

So! Let's have at it: here's What To Play This June.
The best games from last month
The Legend of Zelda: Tears of the Kingdom
Availability: Out now on Nintendo Switch.

Let's get the obvious one out of the way – Tears of the Kingdom is massive and brilliant. For many it'll be the only thing they'll be playing even months from now. Here's what we said in our Zelda: Tears of the Kingdom review:
A terrific Breath of the Wild follow-up with some brilliant new systems, amazing views and more dungeon-type spaces, plus a slightly deadening emphasis on gathering resources.
Darkest Dungeon 2
Availability: Out now on PC (Steam)

If you'd like some truly oppressive bleakness to pair nicely with the June sunshine, or as a nice refreshing break from all that horrible majestic beauty of Zelda, then boy have we got the game for you. Here's what we said in our Darkest Dungeon 2 review:
…this is more remake than sequel, an engrossing new version of 2016's nastiest town-and-dungeon RPG, which swaps overseeing a small army of fragile anti-heroes for leading just four along branching, apocalyptic roads towards an ominous mountain and its retinue of Lovecraftian bosses. What was once a kind of hellish workplace simulator has become the world's worst commute.
Cassette Beasts
Availability: Out now on PC (Steam, Windows), PC Game Pass, out May 25th on Nintendo Switch, Xbox One, Xbox Series X/S (Xbox Game Pass)
A brilliant spin on classic Pokémon with a curiously British twist, this one is a must-try for anyone a bit frustrated with where the main series has gone in recent years, and doesn't might the slightky knock-off Digimon vibes of its monsters. What we said in our Cassette Beasts review:
I'm genuinely struggling to find anything negative to say about Cassette Beasts. It crashed once in over 20 hours of play, but that's it. If you're a Pokémon fan, you absolutely need to play this game and even if you aren't, I still want to evangelise for it. Cassette Beasts is a lesson in how to make a game that is delightful, cosy and brimming with nostalgia without being condescending towards your adult audience.
Age of Wonders 4
Availability: Out now May on PC (Steam, Epic, Windows, GOG), PS5, Xbox Series X/S
A cracking 4X from the experts at Paradox should scratch the strategic itch rather nicely. What we said in our Age of Wonders 4 review:
Age of Wonders 4 makes room for curiosity-driven play, bringing new meaning to the "exploration" part of 4X. It's striking how it balances depth and customisability without being dense or overwhelming, letting "what if?" be as valuable a question as "what next?"
Humanity
Availability: Out now on PC (Steam), PS4 and PS5, playable with and without VR.

Mizaguchi takes a big snaking queue and turns it into something sort of transcendental. The best puzzle game of the month, here's what we said in our Humanity review:
This is a game about rivers of humans, which means it's also a game about queueing, and Humanity likes to see a nice, complicated queue snaking over the earth in improbable ways. I have thought a lot about loops, figure eights, oxbows while playing this game. I have thought about sequencing, which part of a puzzle to do first, which part to do next. At times, it reminds me of sheet music, with those first- and second-time bars. I haven't thought of those in about twenty years! Cor, this is all lovely.
The Outlast Trials
Availability: Out now (Early Access) on PC (Steam, Epic Games)

There are a few hiccups with balance, and its all-round franticness stops it from being hugely scary, but The Outlast Trials offers a nice twist on horror, with some wonderfully hectic co-op ready to go for its meaty Early Access release. Our Outlast Trials review said:
The Outlast Trials is excessive and frantically enjoyable – but can occasionally tip over into frustration more than fear.
Inkbound
Availability: Out now in Steam Early Access.

From the makers of Monster Train comes this turn-based roguelike about ink and magic spells. It's in early access, but don't be fooled – this is as polished and finely crafted as they come. A treat.
Planet of Lana
Availability: Out now on Steam, Xbox One, Xbox Series X/S

Another delicate, finely conceived adventure about walking left to right and solving puzzles as you go. A bucolic wonderland is invaded by terrifying aliens. Look for our review next week, but in advance: it's lovely stuff.
Warhammer 40k: Boltgun
Availability: Out now on PC (Steam), PS4, PS5, Xbox One, Xbox Series X/S, and Switch.

What if we gave you a gun so good it sort of ruined everything else in comparison? Retro shooter Boltgun is bloody and ridiculous and extremely 40k. As we put it in our Warhammer 40k: Boltgun review:
Video games have always treated guns with a certain reverence, from the wicked grin of Doom's marine when he picks up the shotgun, to the pornographic customisation options of modern Call of Duty. Warhammer: 40k Boltgun takes this to its absurd logical endpoint.
Batsugun
Availability: Out now on PC (Steam)

Another true classic of a Toaplan bullet hell shooter just got a major re-release. It sounds ace, and you can expect a review from us very soon.
System Shock Remake
Availability: Out now on PC (Steam, GOG, Epic), consoles TBC.

Speaking of true classics, the System Shock remake is excellent, both as a window into the history of the immersive sim genre that spawned Bioshock and basically everything Arkane, and a game in its own right. What we said in our System Shock remake review:
Ultimately, the System Shock remake faithfully recreates a classic, retains most of its appeal, reframes everything with a horror tilt, and as a result, makes it more playable for everyone.
Return to Grace
Availability: Out now on PC (Steam, Epic TBC)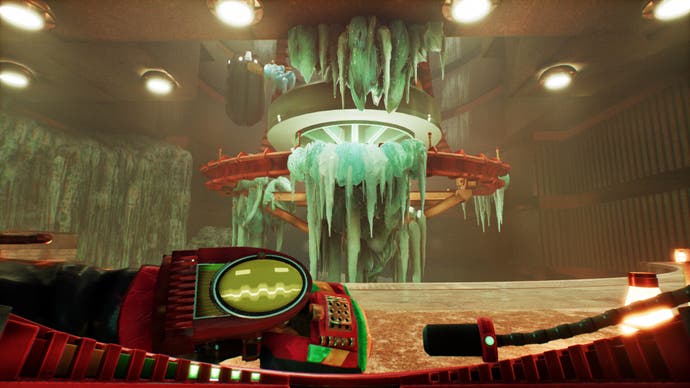 We didn't have time to get to this one for review in May, but if you're intrigued by the concept of a rogue AI – for some reason – but fancy more of a mysterious narrative walking-sim than action-adventure, this might be one for you. We'll take a look ourselves if we can!
The games we're looking forward to in June
Slayers X: Terminal Aftermath: Vengance of the Slayer
Availability: Out 1st June on PC, Xbox One, and Xbox Series X/S (Game Pass)

Obnoxious retro shooter parody that's sort of an extended joke spun out of Hypnospace Outlaw? We think? We're keen to give this one a look if we can.
Budget Cuts Ultimate
Availability: Out 1st June on PSVR 2

Before Alyx, Budget Cuts was the game that showed the real terrifying potential of VR. A game about working your way through an office and avoiding robots becomes truly transporting with virtual reality. Its arrival on console is absolutely not to be missed.
Street Fighter 6
Availability: Out 2nd June 2023 on PC (Steam), PS4, PS5, Xbox One and Xbox Series X/S
One of the best fighting games in years and a huge return to form from the venerable series, Street Fighter 6 looks set for a very strong start. Here's what we had to say in our Street Fighter 6 review:
Street Fighter 6 feels like a response, the counter-punch from a developer bruised and battered after a heavy defeat. You can't call it a comeback – for the fighting game core Street Fighter 5 served its purpose well enough. But you can call it a triumphant return to the ring; better, wiser and with a new plan of attack.
Amnesia: The Bunker
Availability: Out 6th June on PC

Summer is the new October when it comes to horror, apparently, with another big hitter coming up. Amnesia sounds grim and terrifying – expect us to take a look.
Diablo 4
Availability: Out 6th June on PC, PS5, Xbox Series X/S (2nd June for pre-orders)

You might have heard of this one. We're holding off on our Diablo 4 review for the moment, for a few reasons, but expect it to dominate attention for the month ahead – and dominate your time, too, if it gets its hellish tendrils into you. We'll have more thoughts on Blizzard's biggest release for some time soon.
Mask of the Rose
Availability: Out 8th June on PC and Nintendo Switch, with PS4, PS5, Xbox One, Xbox Series X/S TBC.

An upcoming gothic talk-em-up from Failbetter, the studio behind Sunless Seas, Sunless Skies and Fallen London (where this game's set), has got the attention of narrative fans, and we're keen to give it a look.
Pokémon Trading Card Game Live
Availability: Out 8th June on PC, Mac, iOS, Android.

Finally, the new digital version of the Pokémon TCG is coming out from beta into a full launch. We're keen to see how it lands in a surprisingly competitive corner of games. Nostalgia incoming.
Harmony: The Fall of Reverie
Availability: Out 8th June on PC, Nintendo Switch, 22nd on PS5 and Xbox Series X/S.

Life is Strange developer Don't Nod's first thing since 2020's Tell Me Why and Twin Mirror, Harmony: The Fall of Reverie's another one on plenty of narrative fans' radars for June. "There was just enough mystery to pull me into the plot of family trauma and an obviously evil megacorporation," Ed wrote after playing the game, "and the characters – particularly the Aspirations – are full of personality."
Dordogne
Availability: Out 13th June on PC, Switch, PS4, PS5, Xbox One, Xbox Series X/S.

A watercoloured indie narrative set in the south of France, from what we've played so far Dordogne seems like a game about mindfulness – touch surfaces, record sounds, take in scenery, and have a nice little walk by the river to restore your memories of an old home. Peak midsummer material, this one.
Park Beyond
Availability: Out 16th June on PC, PS5, Xbox Series X/S

Bandai Namco wades into the park sim genre. Can you send rides full of people flying off the corner of the map? Important questions will be answered.
Final Fantasy 16
Availability: Out 22nd June on PS5.
A biggie! Final Fantasy 16 looks to take God of War's lead and go all gritty and serious, with fluid action and a Serious Man called Clive. It might work!
C-Smash VRS
Availability: Out 23rd June on PSVR 2

The oddball Dreamcast classic comes to modern consoles – and VR – in this gorgeous reinvention. It's squash, but it's also not squash. Be excited.

Story of Seasons: A Wonderful Life
Availability: Out 27th June on PC, Nintendo Switch.

Part of the Harvest Moon series (but not named after it for… reasons) and smashing together all the different parts of three different versions of the classic GameCube-era farming sim, this one's finally getting a proper release in the UK, along with some new bits and bobs.
Ghost Trick: Phantom Detective
Availability: Out 29th June on PC, Nintendo Switch.

First released in 2010 on the Nintendo DS, this is another gem getting a new worldwide release.
Master Detectives Archive: Rain Code
Availability: Out 30th June on Nintendo Switch.

A detective adventure game from the people behind the cult-hit Danganronpa series could be a gem.
What else do we recommend in June?
Summer Games Fest, etc.

Not-E3 returns this year with a slightly more well-contained Summer Games Fest, plus some other shows and sort-of-affiliated trailers. Highlights confirmed so far include Alan Wake 2, Cyberpunk 2077: Phantom Liberty, and Starfield, but expect (hope for?) plenty more reveals and trailers on top of that. On the showcases front, Microsoft has a big one for Xbox, while there's also the Ubisoft Forward one, the PC Games show, the Day of the Devs showcase for indies, the Devolver Digital showcase, Tribeca Games Spotlight, the Wholesome Direct, and Future Games Show.

We'll be on the ground in Los Angeles for coverage, and you can watch plenty of this – and join us for a few delirious late-night live reports – while it all goes down.
Torchlight 2

Is this the best Diablo game that isn't Diablo? Possibly. Joyous and colourful and intricate, it's Blizzard's series if it came out in an alternate universe where black metal wasn't a thing.
Magicka 2

Sticking to the theme, what if you mixed the immersive simminess of Zelda: Tears of the Kingdom and System Shock, with Diablo's trappings and some very enjoyable (i.e.: friendly fire is always switched on) co-op? Magicka's a blast for those who want a bit more levity to their magic beams.
Final Fantasy 6

A darker, moodier Final Fantasy, without having to go Game of Thrones edgelord, FF6 is the hipster's choice of the series, with a banger of an opening cutscene. Mechs!
Pokémon Go

A big update, the arrival of Home connectivity to Pokémon Scarlet and Violet, and it's nice out! If you need to touch grass but also need that to be incentivised with a nice little stream of dopamine, there's simply nothing better. It's not summer if you're not running around in public yelling about shinies.
Other stuff coming out in June 2023
It's surprisingly busy for June – here are a few other games of note coming out this month to bear in mind.
The Elder Scrolls Online: Necrom
Tour De France 2023
Moto GP 23
Crash Team Rumble Season 1
Six Days in Fallujah
Killer Frequency