Forget classic Zelda – The Legend of Zelda: Tears of the Kingdom hearkens back to a well-loved GameCube title from an entirely different series. TOTK marks what may be a permanent departure from the traditional Zelda formula. It has plenty of old-school Zelda DNA running through it, between reprises of classic songs, meticulously themed dungeons, and recurring boss fights. Its classic Zelda references are confined to minor details, while in the big picture, TOTK plays like a completely different game.
However, many of its classic series trappings TOTK has cast off, it still owes a lot to Nintendo's historic catalog of games, especially those from the GameCube era. Released in 2001, the GameCube was one of Nintendo's most iconic consoles, and saw the release of two of the finest classic 3D Zelda titles: The Wind Waker and Twilight Princess. There are the obvious classic Zelda callbacks in TOTK, like rehashed story elements from The Wind Waker and reused character names, but some of the places TOTK finds inspiration are less predictable.
Zelda: Tears Of The Kingdom Zora Quests Evoke Super Mario Sunshine
The quests players undertake during their visit to Zora's Domain in TOTK borrow heavily from Super Mario Sunshine. Released in 2002 for the GameCube, Sunshine was the Mario series' second foray into 3D platforming. It uniquely features a device called the Flash Liquidizer Ultra Dousing Device (FLUDD for short), which allows Mario to control jets of water. A similar concept appears during the Zora's Domain quests in Tears Of The Kingdom. After reuniting with Sidon, Link gains the power of water, and can also spray it forth with a swing of his sword. While it can't exactly be called an Easter egg, the inclusion of this feature is almost certainly an intentional reference to the GameCube classic.
What Zelda: TOTK Learns From Mario Sunshine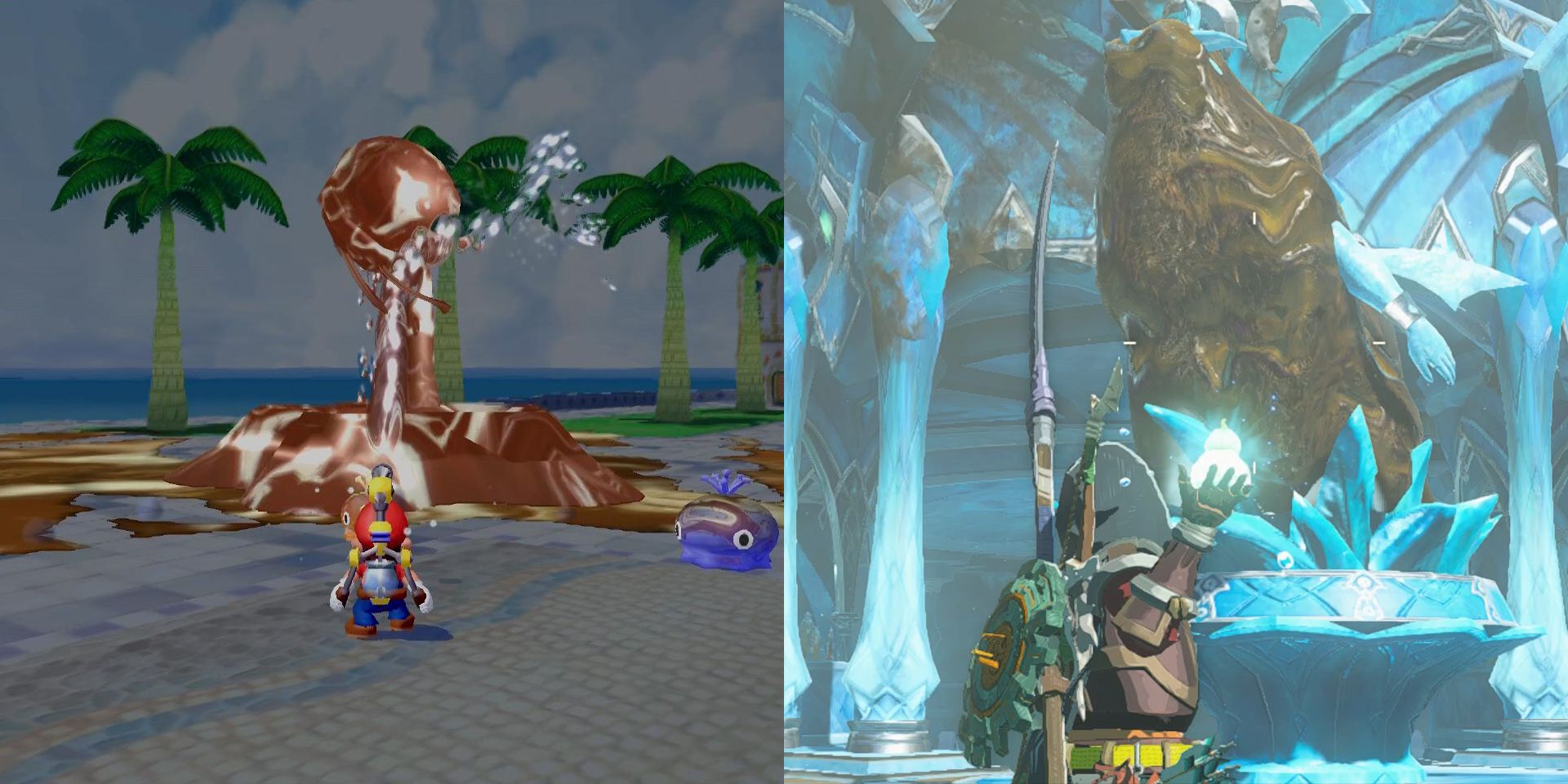 The way FLUDD works in Super Mario Sunshine is similar to how Sidon's power works in TOTK, but the mechanics of water are decidedly different between the two games. In Sunshine, Mario can fire jets of water in various directions. This can be used to hit certain targets, and is most frequently used in cleaning missions, where Mario is tasked with power washing a dirtied area or graffitied wall. Link has to perform a similar task in TOTK as a prerequisite to gaining Sidon's power. When he first enters Zora's Domain, he encounters a filthy statue, which he can only clean by throwing Splash Fruits at it.
FLUDD can do many things that the Vow of Sidon can't – and vice versa. Throughout Super Mario Sunshine, Mario finds different nozzles for FLUDD that grant him new abilities. Using the Hover Nozzle allows him to get some more air time on his jumps, while the Rocket Nozzle raises his jump height. The Turbo Nozzle fires directly behind him, boosting his speed. In short, FLUDD has many platforming uses, which are pretty much absent from TOTK. If anything, Tulin's summon power is closer in function to FLUDD than Sidon's, creating a gust of wind that Link can use to propel him in certain directions.
However, the water spraying feature in TOTK is unique in one regard. Link can actually first call on Sidon to create a protective bubble of water around him before spraying it forward as an attack. This is a potential application for FLUDD that's completely absent from Super Mario Sunshine – Mario never uses water defensively in that game. If anything, this is most similar to the Daruk's Protection ability in Breath of the Wild, which functions as a spectral shield with three charges. For all its unexpected inspirations and unique twists, TOTK is still a direct sequel, after all.
Mario Sunshine Has Never Made A True Resurgence – Until TOTK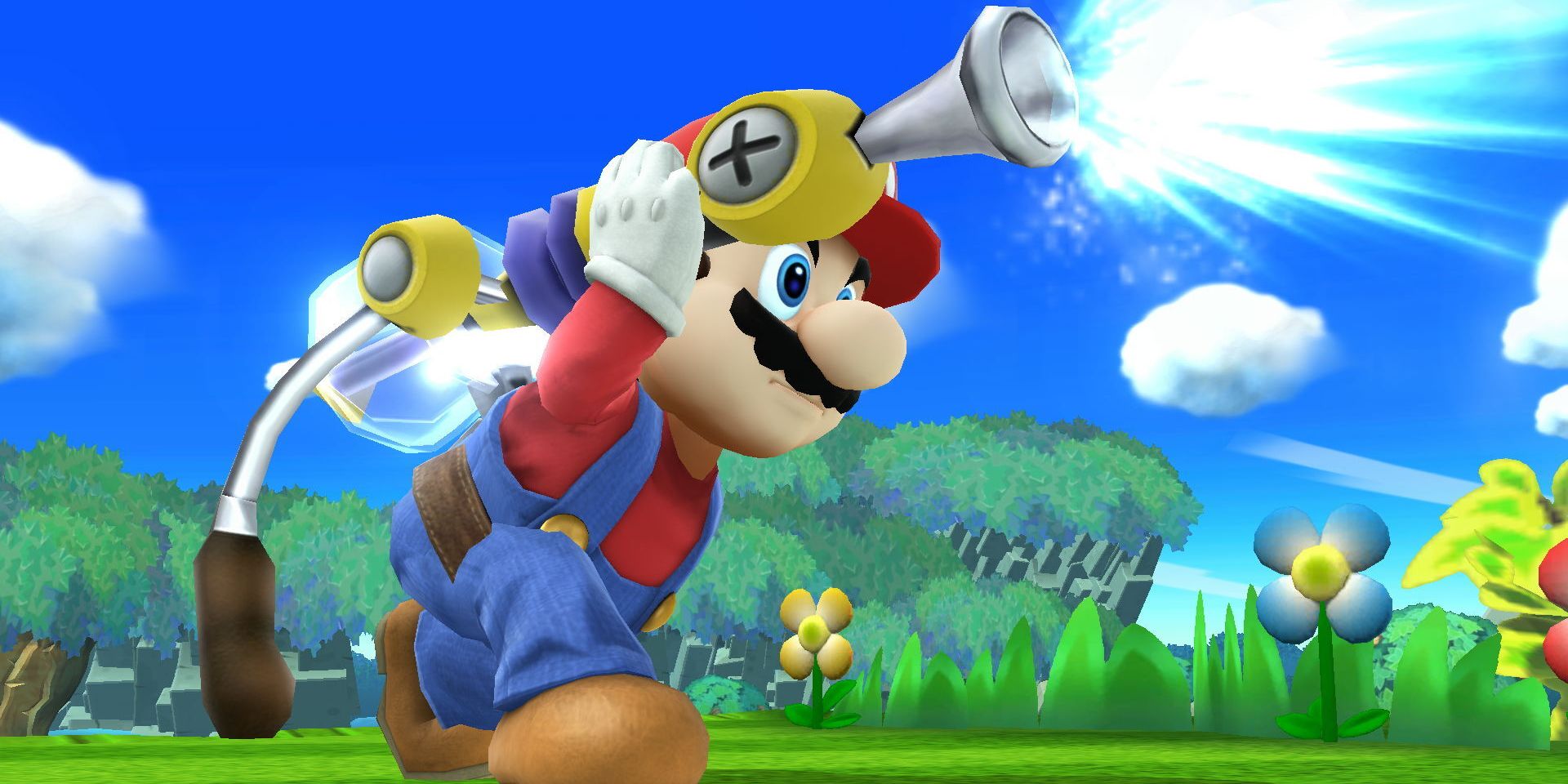 Super Mario Sunshine received near-universal critical acclaim in its day, but hasn't been expanded upon in any Nintendo game until TOTK. Sunshine was widely praised for the fluidity of its platforming, variety of its puzzles, and singularity of its idyllic tropical setting. It sold hundreds of thousands of copies worldwide during the first week of its release, and remained the sole traditional Mario title on the GameCube throughout the console's entire service life. Other games in the Mario series that generation came from spinoff series like Mario Party, Luigi's Mansion, and Paper Mario. While some of those certainly had platforming elements, Sunshine was the only 3D Mario platformer on the system.
Super Mario Sunshine did get a gorgeous, HD remaster as part of the Super Mario 3D All Stars collection, released in 2020 to commemorate the series' 35th anniversary. But despite all the love for Sunshine, it never got a direct sequel. There's no TOTK to its BOTW. Some of its characters and settings appear in other games as little more than glorified cameos. FLUDD features in the Super Smash Bros. series as part of Mario's moveset in every entry since Brawl. Delfino Plaza is also a playable stage in Brawl and beyond. Sunshine's most lasting legacy in the series is probably its introduction of Bowser Jr., who has since reappeared as a major character in other Mario games.
Beyond sly references to its minor details in subsequent Mario games, however, Sunshine was essentially a one-off. TOTK does what it can to expand on Sunshine's ideas, incorporating a similar water stream mechanic, but it's not quite the same. At the end of the day, Zelda's an entirely different series, with a greater focus on combat and puzzle solving. It makes sense that Link's water-based abilities are more useful in attacking and defending than in traversal – they simply reflect the needs of an entirely different kind of game. Still, it would've been nice to see a full-scale sequel to Super Mario Sunshine, with a whole set of new abilities for FLUDD.
Many of Nintendo's classic games are becoming harder to play, and Super Mario Sunshine is no exception. The 3D All-Stars Collection was only available for a limited window; anyone who wants to play it now has to buy it secondhand, often at an inflated price. Between practices of artificial scarcity and the recent closure of the 3DS and Wii U eShops, the future of Nintendo game preservation is bleak. It's nice to see little shoutouts to classics like Super Mario Sunshine in The Legend of Zelda: Tears of the Kingdom, but a more concentrated effort to make these games available to future generations of players would be preferable.
Source: Nintendo of America/YouTube