SHINGO YABUKI is the first DLC character of the S2 lineup; Character refinements for all characters also inbound
Osaka, Japan, November 24th, 2022 – SNK CORPORATION (Corporate HQ: Suita-city, Osaka, Japan, Company President & CEO: Kenji Matsubara) is proud to announce THE KING OF FIGHTERS XV first Season 2 DLC character, SHINGO YABUKI. The new fighter will arrive together with character refinements for the entire roster in January 2023.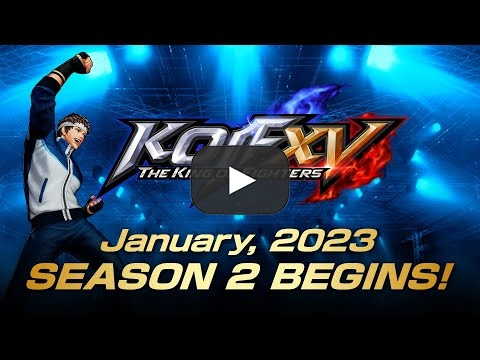 Since its launch in February 2022, KOF XV has undergone various updates and 13 DLC characters have been added to its roster throughout Season 1. Now, the long-awaited Season 2 will begin in January 2023, with Shingo Yabuki being the first character to be released. In addition to Shingo, character refinements for the entire roster are scheduled to be released as well. Kim, the second Season 2 DLC character, as well as the highly anticipated crossplay function, will come to KOF XV sometime during Spring 2023. More DLC characters and updates will arrive throughout season 2 as KOF XV continues to evolve.
THE KING OF FIGHTERS XV was also recently nominated for Best Fighting Game at The Game Awards. Fans can vote for the game at thegameawards.com/nominees/best-fighting.
KOF XV released on February 17th, 2022 on PlayStation, Xbox Series, Steam and Epic Games Store. Currently 13 DLC characters are already available, with more to come in the next season. More information is available on the official website.
– ENDS –
For media enquiries in the US:
Stefano Petrullo – Renaissance PR
+44 (0) 7828 692 315
Sophie Carter – Renaissance PR
+44 (0) 7810 848 320
About SNK
Headquartered in Osaka, Japan, SNK develop, publish, and distribute interactive entertainment software on a global scale. Known for such franchises as THE KING OF FIGHTERS, METAL SLUG, and SAMURAI SHODOWN, SNK continues to focus on their rich console game and arcade history.
©SNK CORPORATION ALL RIGHTS RESERVED.
* All in-game footage displayed is work-in-progress. Design and specifications are subject to change.
※"PlayStation" is a registered trademark or trademark of Sony Interactive Entertainment Inc.
※©2022 Valve Corporation. Steam and the Steam logo are trademarks and/or registered trademarks of Valve Corporation in the U.S. and/or other countries.
※© 2022, Epic Games, Inc. All rights reserved. Epic, Epic Games, and the Epic Games logo are trademarks or registered trademarks of Epic Games, Inc. in the United States of America and elsewhere.