Michael Phelps was once featured in his own Xbox 360 Kinect video game, and fans can't stop reminiscing about it. 
ADVERTISEMENT
Article continues below this ad
After the 2008 Beijing Olympics, Michael Phelps was one name that every swimmer knew of. The Baltimore Bullet stunned the world with a phenomenal performance, grabbing eight gold medals in a single edition. And with that, he also became the most decorated sportsperson, taking the top spot for most medals. 
ADVERTISEMENT
Article continues below this ad
The Beijing Olympics were a breakthrough for Phelps as no one could stop him. While he remained the fastest man in the water, his growing popularity attracted tons of brand partnerships. In fact, Microsoft's gaming brand Xbox also reached out to honor him with a dedicated video game before the London Olympics. And for that, they wanted the 'Flying Fish' to partner with them. 
This is where Michael decided to take one step forward and spread more awareness about the sport. He shook hands with 505 Games and Blitz to create what we know today as Michael Phelps: Push the Limit. 
28x Olympic Champion Michael Phelps once shook hands with 505 Games and Blitz to make a video game 
After his breakthrough in 2008, Phelps was under tremendous pressure for the next one. He spent day and night training for the 2012 London Olympics Games, as he planned them to be his last one. But amidst that, multiple brands approached Phelps for partnerships as he was one big celebrity. 
DIVE DEEPER
Out of all, 505 Games and Blitz chimed in to create a dedicated Xbox 360 Kinect game honoring him. The game was called Michael Phelps: Push the Limit and pushed fans to perform the strokes, dives, turns, and everything else in real life. Users could see a 3-D game on the screen, along with Phelps guiding from start to end. 
ADVERTISEMENT
Article continues below this ad
The video game featured no controllers, pushing users to replicate backstroke, butterfly, and breaststroke and virtually swim in competitions in different parts of the world. Apparently, Phelps had worked with the team right from the start as developers confirmed his partnership for the entire creative process. But later, he went back to what he did best, swimming and bashing records in the pool.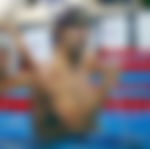 However, during that time, CNN also interviewed Phelps to talk about the video game. There, he said, "It was weird. I still look at the game cover and I'm like, "Wow." But it's kind of cool. Growing up a gamer and being able to work on the little things in this game like the different venues and those types of details has been a dream come true."
ADVERTISEMENT
Article continues below this ad
It was a detailed interview where Phelps dived deep into his love for video games and his personal life. But well, that's a story for another day, as we're going back to play this classic!
WATCH THIS STORY: Usain Bolt vs Justin Gatlin, Michael Phelps vs Ryan Lochte Greatest Rivalries in History