Test your sea legs with the new passion project from Stefano Casillo
Milan, Italy – 18 January 2023. Indie publishing label HOOK is thrilled to announce a publishing deal to bring the exciting and realistic sailing and foiling simulator Hydrofoil Generation to PC via Steam Early Access in early 2023. Developed by Jaxx Vane Studio, Hydrofoil Generation is a passion project from Stefano "kunos" Casillo co-founder of Kunos Simulazioni, the globally acclaimed studio behind the racing simulation masterpiece Assetto Corsa, and is an exciting and accurate first-person simulation of multiplayer "in-shore" regattas.
"I was amazed the first time I saw hydrofoil boats racing in real life, and I immediately fell in love with the experience", commented Stefano Casillo "With my experience working with Assetto Corsa, I wanted to replicate hydrofoil racing in a game for simulation fans to enjoy."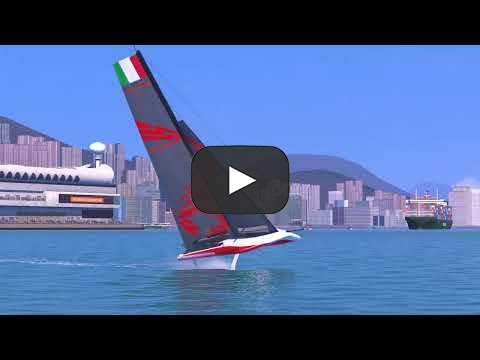 Check out the announcement trailer for Hydrofoil Generation here
Download the press kit here
Register your interest in receiving Early Access code (when available) here
Hydrofoil Generation puts you at the helm of state-of-the-art sailing craft, modelled with unprecedented accuracy to replicate the exhilarating experience of 'flying' over the water at speeds over 50kn. Take control of your vessel and fine-tune the sailing mechanics of your foils to reduce drag and increase your speed. Customise your craft to overcome the demands of the changing winds, sea conditions and currents as you compete against up to 10 opponents in thrilling multiplayer racers in exciting locations such as Den Haag, Hong Kong and Bermuda. Thanks to Hydrofoil Generation's demanding and realistic simulator mechanics, the fine line between speed and capsizing is a continual threat and will not only push your sailing skills but your vessel to the very limit.
Features:
Realistic sailing and foiling simulator
Choose from a range of vessels including the 40ft modern foiling monohull Jx40 and the 50ft modern catamaran Jx50
Created by Stefano "kunos" Casillo former co-founder of Kunos Simulazioni
Real regatta fields with coastlines carefully recreated
Vessel customisation system
Compete against 10 opponents in multiplayer racing sessions
Hydrofoil Generation will launch PC via Steam Early Access in early 2023 and can be added to your Steam Wishlist now. Follow the game on the HOOK official social channels:
Twitter: https://twitter.com/HOOKcrew
Discord: https://discord.com/invite/jZUUaZkUGP
Facebook: https://www.facebook.com/HOOKcrew
Instagram: https://www.instagram.com/hookcrew_/
TikTok: https://www.tiktok.com/@hookcrew
###
For more information please contact:
Mark Allen – Renaissance PR
mark@renaissancepr.biz +44 (0) 7884 408 976
Stefano Petrullo – Renaissance PR
stefano@renaissancepr.biz +44 (0) 7828 692 315
ABOUT HOOK
HOOK, a Digital Bros' subsidiary, is a publishing label focused on offering a unique selection of indie games which stand out for concept, visual, genre or themes.
HOOK provides full-service publishing support (including funding, development support, QA, localization, marketing & PR) to independent development teams with a strong commitment and vision, to help them realize and market their projects globally.