LAUNCH TRAILER: https://youtu.be/lmFRvKPRLVk
BRISTOL, UK – February 23, 2023 – Embark on a journey to save Cardrasil the Life Tree and discover an enchanting fantasy adventure in Aces & Adventures, a deckbuilding RPG with poker-powered combat, available today on Steam.
Aces & Adventures is an immersive fantasy RPG that pairs up poker-powered combat with strategic deckbuilding, leveraging players' familiarity with playing cards to offer gameplay that's immediately rich, yet intuitive to casual card gamers.
Play as 5 distinct characters across 13 thrilling, story-driven campaigns and multiple procedural adventures, all on a magical tabletop in a mysterious grove. Carefully craft your deck, unlock powerful new traits and use tactical poker-powered attacks to defeat enemies and mythical bosses in a fully-narrated fantasy adventure, or jump into the roguelite procedural mode where the adventure is never the same.
FEATURES:
Fast-paced gameplay delivered in highly consumable 10-20 minute sessions.
5 characters, each with their own library of abilities and 30 levels of advancement.
Unlock powerful traits and equipment as you progress through your journey.
13 fully-voiced campaigns and 4 games for a total of 52 levels of escalating challenge.
Procedurally generated runs ensure endless unique experiences.
Build your own decks, and upgrade your abilities to Elite and Legendary potency.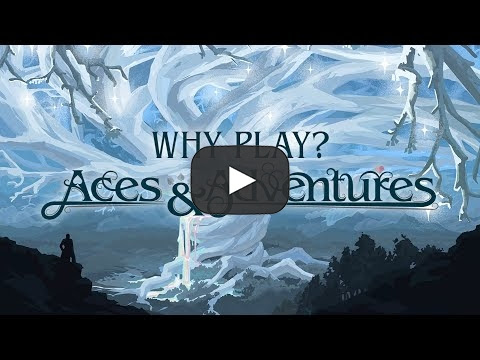 "When we set out to blend poker with a deckbuilder, we didn't know what to expect. We were amazed by how well the two complimented each other, and we hope you'll be amazed too," said Enrique Dryere, co-founder, Triple.B.Titles. "Starting as a physical card game that we've brought to life on-screen, the variety of gameplay styles and delicate balance of strategy and randomness are sure to please fans of card games, while the finely crafted story and presentation will appeal to RPG fans everywhere."
Aces & Adventures is available today on Steam for $19.99 USD / €19.50 EUR / £16.75 GBP with a further 20% launch discount for a limited time. To keep up with the latest info, follow @Triple_B_Titles on Twitter.
About Triple.B.Titles
Triple.B.Titles is a family-operated studio based in Texas that has been making highly replayable indie games since 2012.
About Yogscast Games
Yogscast Games is the independent publisher dedicated to independent developers, founded in 2017 by The Yogscast.
---
For PR enquiries & review key requests, please contact:
Dave Scammell – dave@the71.net
Chris Glover – chris@the71.net