As we get closer to the sixth anniversary of the Switch, it seems Nintendo's beloved hybrid system has broken yet another record. According to the latest NPD Group data for 2022 (via industry analyst Mat Piscatella), the Switch was officially the best-selling console for the fifth year in a row in the US.
Sony's PlayStation 5 was in second place and Microsoft's Xbox Series X|S was in third place. In terms of revenue, PS5 banked the most last year. And the overall market is said to have exceeded $56.6 billion but was down by 5% compared to 2021. Piscatella notes how "factors impacting 2022 spending" included continued supply constraints, a light slate of premium releases and macroeconomic conditions.
In terms of the best-selling games of 2022 in the US (in dollar sales), Call of Duty: Modern Warfare 2 took out the top spot, followed by Elden Ring in second and Madden NFL 2023 in third. Also making the top 10 was Pokémon Scarlet and Violet in sixth place and Pokémon Legends: Arceus in eighth place. And just outside of this Mario Kart 8 Deluxe in eleventh.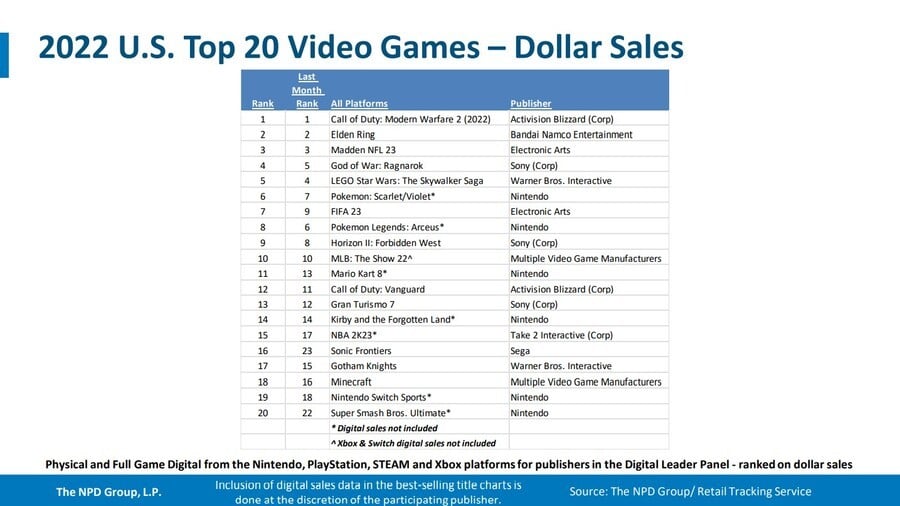 Nintendo managed to sustain sales last year with key releases such as Splatoon 3 and Xenoblade Chronicles 3, and even some DLC for games like Mario Kart 8 Deluxe. It also used some special themed bundles to help shift hardware – releasing OLED models inspired by games like Pokémon Scarlet and Violet and the latest Splatoon entry.
Do you know anyone who purchased a new Nintendo Switch last year? Did you? Leave a comment below.