XEL also receives brand new DLC on Switch, Steam and GoG
As the cold weather retreats away and the rains of spring start to pour in, we're sure the thoughts on everyone's minds are pretty ubiquitous: I could go for a new game right about now. If the spring has got you in that mood, Assemble Entertainment has released not just one, but two of their hit titles, XEL and ITORAH, on console now.
Those of you looking for the visual marvel of a Metroidvania will find one in ITORAH, developed by Grimbart Tales. Coming to Xbox One, PlayStation 4, and Nintendo Switch, ITORAH is a one-of-a-kind blend of action, storytelling, and sheer aesthetic delight. Meanwhile, XEL, the 3D-adventure from developers Tiny Roar, is available on Playstation 4 & 5. To make the deal even better, XEL's console release signals the launch of a brand new DLC, Breaking Time!
ITORAH  is a 2D side-scrolling Metroidvania, deeply ingrained in Mesoamerican style and themes. Players take control of the titular Itorah, the only human in the strange & unexplored lands of Nahucan. While it may be an unfamiliar environment, the beautiful hand-drawn visuals provide a welcoming presence along with a sense of visual wonder. But alas, not everything has the same appreciation for beauty as yourself. A deadly plague is sweeping across the land, so it is up to you to take up arms to defend this new world and uncover its secrets.
Watch the consoles release trailer for ITORAH here
Download the press kit here 
Request review code here
Picking up right after its dramatic conclusion, Breaking Time features over three hours of the dungeon crawling, boss fighting gameplay showcased in the mainline game. New puzzles, new challenges, new music, and a new chapter in main character Reid's ever-evolving story. Additionally, Tiny Roar has listened to the feedback from fans and has implemented numerous bug fixes and quality-of-life improvements. PC players have been enjoying these gradual improvements as they rolled out, and all of these changes will be available in the console release on day one.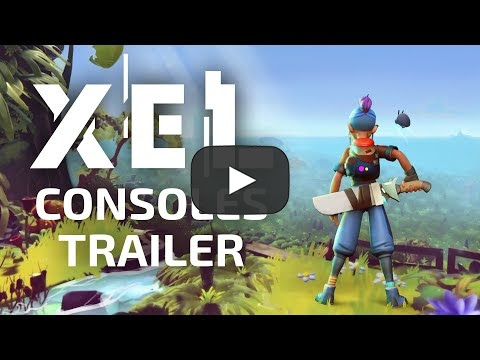 Watch the consoles release trailer for XEL here
Check out the release trailer for Breaking Time here
Download the press kit here
Request review code for XEL here
ITORAH is available now on PlayStation 4, Xbox One, and Nintendo Switch. Additionally, PlayStation and Switch players will receive the title at a 25% launch discount, while Xbox users will enjoy a 20% discount.
XEL can be purchased on PlayStation 4 and PlayStation 5 with a 20% launch discount. The new DLC Breaking Time can be purchased via Steam, GOG, and Nintendo Switch with a 10% discount on all platforms.
###
---
Notes to editors: 
ITORAH pricing:
PS – £15.99/€19.99/$19.99
Xbox – £16.74/€19.99/$19.99
Switch – £17.99/€19.99/$19.99
XEL console pricing:
PS – £15.49/€18.99/$18.99
XEL Breaking Time DLC pricing:
£3.59/€3.99/$3.99
---
For more information please contact:
Mark Allen
Mark Allen PR Ltd on behalf of Assemble Entertainment.
mark@markallenpr.co.uk  +44 (0)7884 408976
About Assemble Entertainment:
Based in Wiesbaden, Germany, Assemble Entertainment is an independent, privately owned games publisher that's made "Saving the World. Game by Game." its mission. Founded by Stefan Marcinek in 2016, Assemble is known for its critically acclaimed and diverse indie games such as Endzone – A World Apart, Roadwarden, Lacuna, and Orbital Bullet. Since 2022, Assemble has been responsible for the distribution of Mixtvision's games, handling indie hits such as FAR: Lone Sails. Assemble also has won the German Developer Award twice in the category "Best Publisher." Learn more about Assemble at www.assembleteam.com.
Assemble organizes GermanDevDays, one of the most popular German-speaking conferences held in Frankfurt. The conference, hosted by Stefan Marcinek, features the GermanDevDays Indie Award, where indie teams across Germany can participate to win cash prizes. Learn more about the GermanDevDays www.germandevdays.com.
About Tiny Roar
Founded in 2015, Tiny Roar is the result of a passion for videogames and an intense desire to create them. Rooted in the desire to deliver fun, polished games, the studio also highly values easily accessible game experiences, supporting their mission to provide entertainment to a multitude of platforms. While recognizing that developing video games is a tremendously enjoyable experience, Tiny Roar also prides themselves on perpetuating a healthy and friendly work environment, stating that it is the key to their success.
About Grimbart Tales
Founded in 2018, Grimbart Tales is an independent Development Studio based in Kaiserslautern, Germany. At Grimbart Tales we want to cherish wonderful memories and create games like the ones that thrilled us in our childhood by focusing on delivering high quality art combined with good old platforming gameplay. Learn more about us at https://www.grimbart-tales.com/.