Rekka Games' upcoming title brings co-op roguelite adventuring to PC, Nintendo Switch™, Xbox One, and PlayStation®4 today.
Tuesday, 15th November 2022 – Team17 and Rekka games have today launched up-to-four-player, co-operative beat 'em up dungeon brawler, Bravery & Greed on PC, Nintendo Switch, Xbox One, and PlayStation 4. Playing as one of four iconic adventure classes; the agile Rogue, the valiant Warrior, the eccentric Wizard, or the mighty Amazon, players drop into a series of procedurally generated, side-scrolling dungeons as they fight their way through waves of vicious enemies, battle giant bosses, and stuff their pockets of gold, filling up the greed-o-meter as they go!
Be brave and get greedy: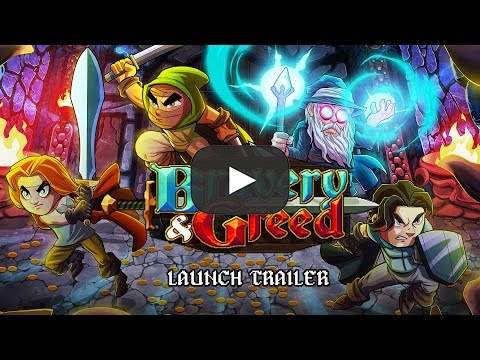 Bravery & Greed combines classic co-op fantasy arcade gameplay with permadeath and roguelite elements and has a series of different PvP and PvE game modes for players to plunder through. Each fresh run plays out differently across the randomly generated dungeons, with four unique skill trees – the Path of Life, Path of Chaos, Path of Order, and Path of Darkness (each with their own game altering unlockables) – waiting to be revealed; and hidden followers who, if found and freed, will support players on their adventure.
Bravery & Greed Key Features
Treasure hunt solo or with friends: Jump into the fun with up to four-player online and local co-operative gameplay, with a variety of both PvE and PvP game modes
Unleash the magic: Parry, dodge, and juggle abilities to unleash devastating attacks on mighty foes, bosses, and even unsuspecting allies
Choose from classic archetypes: Choose from four different and unique classes; Rogue, Warrior, Wizard, and Amazon, all boasting their own skills and specialities
Follow your path: Four different skill trees await, each offering up perks that will affect gameplay, but beware, once a path is chosen the player is committed to it until death
Find help along the way: Hidden throughout the levels, humanoid and animal followers can be acquired to fight alongside players, helping usher them towards the glorious gold and treasure that awaits.
Bravery & Greed will be available to purchase on Steam from 5pm GMT today, and to keep up to date with updates for Bravery & Greed please check out the official website, like us on Facebook, follow us on Twitter and join us on Discord.
Media outlets & journalists wanting to jump into some classic co-op fun can request review code.
For more information please contact:
Jon Wilcox – PR & Events Lead – Team17 Digital
jon.wilcox@team17.com / +44 (0) 7932 900 998
Rebecca Nicol – Junior PR & Events Manager – Team17 Digital
rebecca.nicol@team17.com / +44 (0) 7944 096 906
About Rekka Games
Rekka Games is a two-man team, made up of two friends who share a common love for retro and fighting games, who decided to make a game of their very own. They believe games are art, and creating games is a craft that requires passion, care, and commitment. They are currently working on Bravery & Greed, their first title which has been in the development since 2015 and blends classic arcade gameplay elements with permadeath and procedural generation.
About Team17 Digital
Founded in 1990, Team17 Digital is a leading developer, video games label, and creative partner for developers around the world. Part of Team17 Group plc, which floated on AIM in 2018, Team17 Digital has an extensive portfolio comprised of over 120 titles, and fully encapsulates the spirit of independent games. Team17 Digital's portfolio of multi-award-winning and award-nominated in-house brands include Hell Let Loose, Golf With Your Friends, The Escapists, and the iconic Worms franchise, alongside its games label partner titles, including the award-winning games Blasphemous, Greak: Memories of Azur, and Overcooked! franchise. Visit www.team17.com for more information.
Nintendo Switch is a trademark of Nintendo.
"PlayStation" is a registered trademark or trademark of Sony Interactive Entertainment Inc.