Campaign: Act I and II of PlaySide Studios' acclaimed survival RTS releases worldwide on 19th April
Tuesday, 4th April 2023– A long shadow is being cast over the harsh and unforgiving world of Erodar. On 19th April, ancient threats, old grudges, and new allies are set to emerge across the continent. Protectors of the Light, it's almost time to take your Final Stand…
Team17 and PlaySide Studios have announced Flames of Retribution, the biggest update ever for award-winning survival RTS, Age of Darkness: Final Stand. Since launching into Steam Early Access in October 2021 with a formidable Survival Mode, Age of Darkness: Final Stand has continued to receive new heroes and updates. Flames of Retribution represents the next evolution of the title and will include the first seven of 10 fully voiced campaign chapters, a new hero, Merek, who joins the fray in Survival Mode, and a range of new updates when it launches.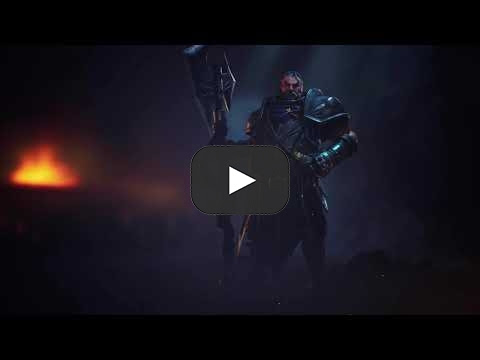 Merek Longhold, also known as "The Bolstering Might", will be the latest Hero to join the illustrious ranks of The Order in Survival Mode. Wielding a massive halberd and with an ego to match, this hard-hitting, close-combat bruiser is an imposing figure on and off the battlefield. Despite presenting himself as a paragon of law and order, Merek has been known to demonstrate some moral flexibility when it benefits his desires and coin purse.
Age of Darkness: Final Stand is a challenging survival real-time strategy game set in a dark fantasy world, where remnants of humanity make a last attempt at holding back against the unrelenting hordes of Nightmares, monstrous creatures that lurk in the fog of war known as 'The Veil'. Featuring proprietary SwarmTech technology, which enables the game to render up to 70,000 models on screen at once – three times more than its genre competitors – and procedurally generated maps and randomised rewards, no final stand ever the same.
Flames of Retribution follows two previously released content updates during Early Access, each bringing new production units and heroes to the battlefield: Queen's Fury in November 2021, and Rebellion's Rise in December 2022. The remaining chapters in the campaign will follow later in 2023.
To keep up to date with all the information on Age of Darkness: Final Stand, like us on Facebook, follow us on Twitter and join us on Discord.
For more information please contact:
Jon Wilcox – PR & Events Lead – Team17 Digital
jon.wilcox@team17.com / +44 (0) 7932 900 998
Jordan Cameron – Senior Global PR Manager – PlaySide Studios
jordan.cameron@playsidestudios.com
About PlaySide Studios
PlaySide Studios Limited is Australia's largest publicly listed video game developer. It provides titles in a range of categories, including self-published games based on original intellectual property and game development services in collaboration with studios such as Take-Two Interactive, Activision Blizzard, Meta, Disney, Pixar, Warner Bros, and Nickelodeon. The company's portfolio consists of 60 titles that are delivered across 4 platforms, which include mobile, virtual reality, augmented reality, and PC. The company was incorporated in 2011, is listed on the Australian Securities Exchange, and is headquartered in Port Melbourne, Australia.
About Team17 Digital
Founded in 1990, Team17 Digital is a leading developer, video games label, and creative partner for developers around the world. Part of Team17 Group plc, which floated on AIM in 2018, Team17 Digital has an extensive portfolio comprised of over 120 titles, and fully encapsulates the spirit of independent games. Team17 Digital's portfolio of multi-award-winning and award-nominated in-house brands include Hell Let Loose, Golf With Your Friends, The Escapists, and the iconic Worms franchise, alongside its games label partner titles, including the award-winning games Blasphemous, Greak: Memories of Azur, and Overcooked! franchise. Visit www.team17.com for more information.
###