Dark and Darker has captivated the gaming space for the last few months with playtest after playtest, luring more and more players into the game's depths. And ever since the latest demo ended, players have been aching to dive back into the dungeons of Dark and Darker. Luckily, you won't have to wait much longer.
Dark and Darker's February demo garnered nearly two million registered players, according to IRONMACE developers. This staggering number is undoubtedly thanks to the addictive and exciting gameplay that Dark and Darker provides, gameplay that many have described as a blend of Dungeons & Dragons and Escape from Tarkov.
These nearly two million avid fans have been clamoring for any and all news regarding the next time they'll be able to play the hit IRONMACE title. And now, we finally have some new information.
If you're itching to hop back into Dark and Darker, here's everything we know about the game's next playtest.
New Dark and Darker playtest release date
Early this morning in the official Dark and Darker Discord server, an IRONMACE developer shared some exciting news regarding the future of the game.
"We hope to test some pretty substantial additions for this playtest that requires a bit more development time than in the past," krapst78 wrote. "Therefore, the next playtest is scheduled for April 14-19th."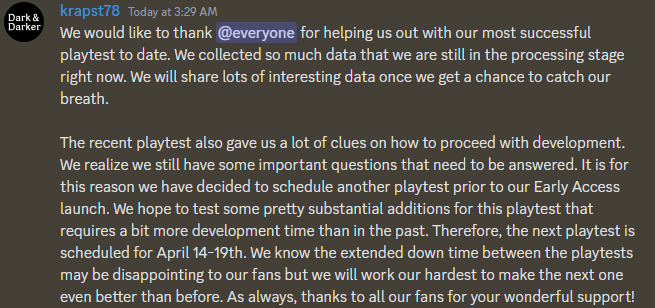 The developer also explained that because of the latest demo, they discovered many "clues" on how to proceed with the development of Dark and Darker. It's because of this that they decided to host another playtest prior to the early access release that is planned for "early April/ May."
It's also because of the data it received from its previous playtest that IRONMACE has decided to push some larger changes to Dark and Darker for the game's next demo.