BGMI caster Ocean Sharma was recently a guest on Gamers Unplugged with Dynamo Gaming, a Spotify Original podcast. During his conversation with Dynamo, Ocean Sharma touched upon various topics, sharing tales of his early academic endeavors, including his participation in quizzes and an award he earned from Steve Jobs.
He also divulged that he had previously worked for the ISRO before taking a break to focus on getting his master's degree. During this preparation period, he had free time and picked the popular battle royale game PUBG Mobile. Eventually, Ocean started uploading instructional videos on YouTube for others to learn from.
---
Ocean Sharma talks about his early experiences as a caster for PUBG Mobile AND BGMI tournaments
Upon being asked if he ever wanted to play the game professionally rather than watch exhilarating clutches from the sidelines, Ocean replied that he had previously competed in the PUBG Mobile India Tour 2019 and shared an interesting anecdote. He said:
"Very few people in the community are aware that I competed at the first PMIT back in 2019. The contest was divided into four groups, and I was in group A with my team, WARP. I was supposed to cast the matches from Group C onwards. However, the circumstances were such that one of my teammates, who now represents India in chess, was not allowed to compete further by his family, so we had to withdraw our name. This was also why my casting began a little early."
Ocean added:
"I really used to feel that I wanted to play like these guys, but then I realized a few things. If I spend 5-6 hours casting, these gamers grind for 8-8 hours. My work is associated with my voice, whilst their job is associated with the game in another way."
He also talked about career opportunities in the field of esports, stressing that the industry holds vast potential that is not limited to merely playing or commentating, as some youngsters might assume.
---
What is Gamers Unplugged with Dynamo Gaming?
Gamers Unplugged with Dynamo Gaming is a Spotify Original podcast hosted by the popular BGMI content creator that aims to provide insights into the gaming and esports community.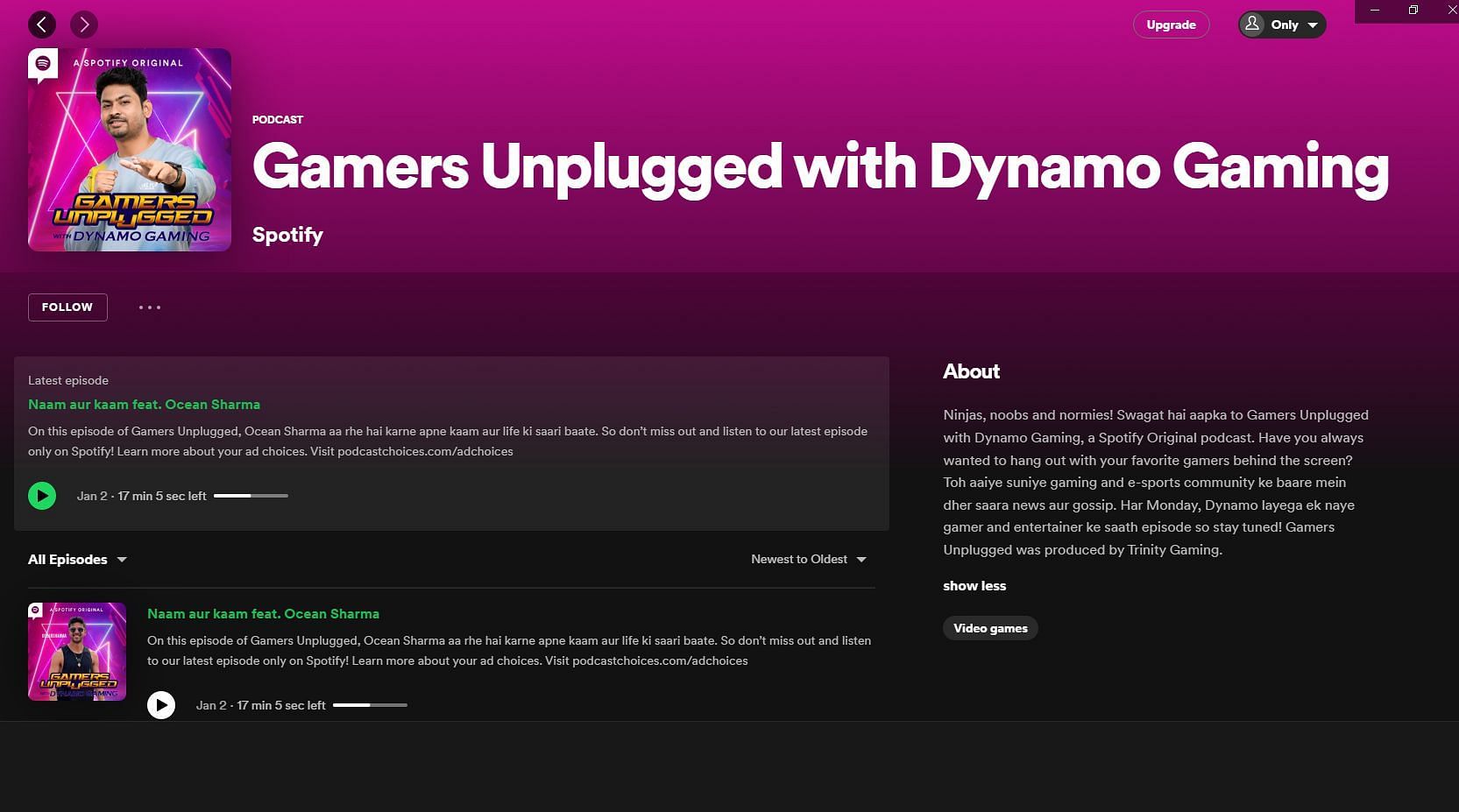 The first episode of the podcast aired in November 2022. The podcast has featured several popular names from the BGMI community (like Mortal and Scout) and other prominent celebrities (like KING and Tanmay Bhat).
---
Ocean Sharma is a prominent figure in the Indian BGMI community. He has gained popularity as a caster for numerous successful tournaments, including PMGC 2021 and the BGMI Master Series. He has also worked as an analyst for several notable teams. He recently lent his voice for a Kho Kho tournament as well.
Edited by Siddharth Satish