Apple Inc. is known for giving the world jewels like the iPhone, iPad, and Mac. There's no doubt about the company's supremacy in the world when it comes to having dominance through its products. Sadly, however, even a trillion-dollar firm like Apple has made some unforgettable mistakes in the past, when it tried to venture into the uncharted territory of gaming.
ADVERTISEMENT
Article continues below this ad
This story dates back to the classic era of the 90s when video game consoles were thriving, thanks to the inventions by Sony and Nintendo. Devices like the PS1 and N64 were selling like hotcakes. It was during this timeline when Apple, somehow, decided to enter the market of gaming by introducing its own console to give the rivals competition.
ADVERTISEMENT
Article continues below this ad
Apple Pippin gaming console sold only 40,000 units and failed disastrously
In the year 1995, the company launched the now defunct multimedia platform called Pippin. It arrived at the time when the first PlayStation console and the N64 were ruling the market. Apple thought there was a room for something better, that could do more than just being a gaming device.
With this intent, the iPhone maker made Pippin. It was so powerful that it could not only run games but Apple's Mac Operating System as well. This functionality was offered to those who wanted to use it as a computer. Moreover, the Pippin game console was also one of the first devices in the world to have internet connectivity.
DIVE DEEPER

The device came with a weird boomerang-styled controller that had a trackball in the middle. Plus, there was an option for wireless connectivity too! So what exactly went wrong with this ambitious product?
ADVERTISEMENT
Article continues below this ad
By now, one might be able to guess the correct answer already. Yes, it was the high pricing that led to its debacle. Even in the 90s, the company made it available for a whopping, pocket-burning amount price of $500. As a result, this console sold horrifically, to say the least. For those interested in numbers, Apple sold only 40,000 units of Pippin worldwide.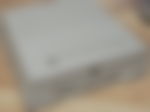 If anyone thinks that Nintendo Wii U is the worst-selling console, they should now remember Apple next time. Wii U, despite witnessing a lot of unfavorable reactions after the release, was still able to successfully sell 13 million units. It means that the iPhone maker's console is nowhere near the figure of even the worst-performing Nintendo device.
ADVERTISEMENT
Article continues below this ad
WATCH THIS STORY: Ranking The Highest Selling Video Game Consoles of All Time
What are your thoughts on this story? Did you already know about Apple's gaming console? Let us know in the comments down below.