VR is now firmly established in the gaming world. The Oculus Quest 2 has had a huge marketing push from Meta, and the last few months have seen the excellent PlayStation VR 2 hit shelves. It's been around a decade since the first consumer VR gaming kits, and along the way, many major video game franchises have made the leap to the medium, including blockbusters like Resident Evil, DOOM, Horizon, Star Wars, Tetris, Half-Life, The Elder Scrolls, and many more. Hell, there's even a Mario Kart VR, though sadly restricted to only a handful of physical locations around the world.
But there's a ridiculous amount of top video game series that would be a perfect fit for VR, so here are the ones we want to see most and how they might work:
10. The Last of Us
The Last of Us is still enjoying a moment in the sun after the excellent HBO show, with rumors building that The Last of Part III is in development over at Naughty Dog. The series' focus on smaller-scale and intricate environments to explore, coupled with gunplay and stealth, would make it a great fit for a VR conversion. We could either imagine a full-scale VR conversion of the first game or a new side story with supporting characters specifically designed for this medium.
We're actually a little surprised this hasn't already happened. Naughty Dog is a first-party Sony studio, with many others under that umbrella producing titles for PSVR. Let's hope this is already in the pipeline, but we can't deny we're not scared at the idea of dealing with Clickers up close and personal, especially if they pick up the sound of your breathing from the PSVR's mic.
9. Silent Hill
Last year, Konami's iconic horror franchise returned from the dead, with a plethora of new titles being announced, including a full remake of Silent Hill 2. Sadly, a VR game wasn't among them. The PSVR version of Resident Evil 7 was one of the scariest experiences we've ever had while gaming, though Silent Hill would almost certainly take that crown if it came out. Imagining walking the foggy streets of Silent Hill in VR already sends shivers up our spine, and a talented developer could do some fantastic stuff in really messing with the player's head.
We also look back at the incredible P.T., Hideo Kojima's now unlisted first-person demo for the canceled Silent Hills. There are already unofficial VR versions of it on PC (and on Sony's Dreams), though the real deal from Konami would be a nightmare come to life.
8. Metroid
Metroid Prime Remastered and Metroid Dread have seen a recent surge in interest in the long-running sci-fi franchise. In the Prime games, Samus spends the game entirely within her armor, with the first-person perspective a perfect fit to be translated into a VR display. There are unofficial mods on PC that already make this dream a reality, though we'd be itching to see how Nintendo and Retro Studios would approach a tailor-made VR adventure that puts us in Samus' metal boots.
Sadly, this is probably just a pipedream. The Switch is too weak for VR (well, sort of, but more on that later) and there's no indication Nintendo is even interested in putting out a proper headset of its own, with the company likely still ruing the memory of the disastrous mid-90s Virtual Boy. Perhaps something might come along in the next generation, but with Metroid Prime 3 still missing in action, we're not exactly hopeful.
7. Pokémon
As mentioned above, Nintendo doesn't seem to be interested in prioritizing VR, but if it ever were, we're sure it'd get a Pokémon VR title ready for launch. Pokémon GO already makes use of augmented reality, but being able to see everyone's favorite creatures up close and personal would break new ground for the franchise. Perhaps a full-on Scarlet & Violet adventure may be a little ambitious for a VR title, but there are a ridiculous amount of Pokémon spinoffs that'd fit the bill.
The best candidate for a VR version would be Pokémon Snap, with its chilled-out photojournalism gameplay translating very easily into VR. The only wrinkle may be that most VR headsets come with an age advisory warning that nobody younger than 12 years should use them, potentially leaving Nintendo open to bad press.
6. The Legend of Zelda
First up, we admit that there very technically already is a VR Zelda. Nintendo's Labo kit comes with a cardboard VR headset that the Switch can slot into, though it doesn't have a head strap and is ultimately something of a gimmick. Nonetheless, it's compatible with Breath of the Wild, though having to hold the Switch to your head means you can't properly play the game for long, it has no VR modifications, and runs at a very blurry resolution.
But, after having spent hours in Tears of the Kingdom, we'd be head over heels to see that properly make the jump to VR, as its construction and crafting heavy gameplay would feel very intuitive in real 3D space. Beyond that, a more focused and linear dungeon-themed Zelda explicitly crafted for VR would be incredible if it had that unique Nintendo creativity. Maybe one day we'll get to hold the Master Sword high for ourselves…
5. Splinter Cell
The chances of a Metal Gear Solid VR title are next to zero (though there is a great Boneworks mod bringing Shadow Moses to life), but what about the other great stealth action title? Ubisoft's Splinter Cell has been in limbo for years, and Sam Fisher's slow-paced, methodical sneaking would make him a great candidate for VR. Plus, let's face it, he's already almost wearing a VR headset with his goggles.
It'd be very neat to switch between his various vision modes to silently navigate levels and complete your mission. The depressing part is that this exact thing very nearly happened. In 2020 Ubisoft announced Splinter Cell VR, only to cancel it two years later due to an "uncertain economic environment."  Why can't we ever have anything nice, Ubisoft?
4. Death Stranding
The boundlessly inventive Hideo Kojima seems like he'd be a great fit for a VR game, and has actually attempted to make one. In an interview with Japanese Pocket Shōnen magazine earlier this year, he said:
"Actually, I once tried to make an innovative game in VR, but that project was also interrupted. But I think there is technological potential for VR. Technology is advancing rapidly, and there are more things that can be done, not just in VR."
As per the interview, the problem seems to be that Kojima feels nauseous in VR, making development tough. This hasn't stopped Kojima Productions from experimenting with the medium, producing a special VR presentation for the 2022 Tokyo Game Show.
But, with Death Stranding 2 deep into development and Sony eager for titles to support PSVR2, we wouldn't be surprised to see Death Stranding 2 get at least some kind of VR mode. PC mods for the first Death Stranding prove that its desolate landscapes are breathtaking in VR, and trekking through them with a headset on would be a truly memorable experience.
3. Assassin's Creed
At first glance, the sprawling open-world gameplay of Assassin's Creed doesn't seem to be a great candidate for VR. These are games designed to be played for hours on end as you sneak through historic locations and stab people in them, and VR is better suited to shorter and more focused titles. But while the core gameplay would be tricky to get right, there's another way of playing these games that'd sing in VR.
Origins, Odyssey, and Valhalla all come with 'Discovery Tour' modes that ditch the murder and use the detailed game world as a way to teach history. You can learn about how people lived, the history of key landmarks, and important historic events, all without ever unsheathing your hidden blade. This violence-free mode would be a home run in VR and fulfill the Discovery Mode's ambition of turning this murder-happy action game into a genuinely educational experience.
As a side note, just like Splinter Cell, there was an Assassin's Creed VR game in development, but it was also canceled in 2022. Boo.
2. FIFA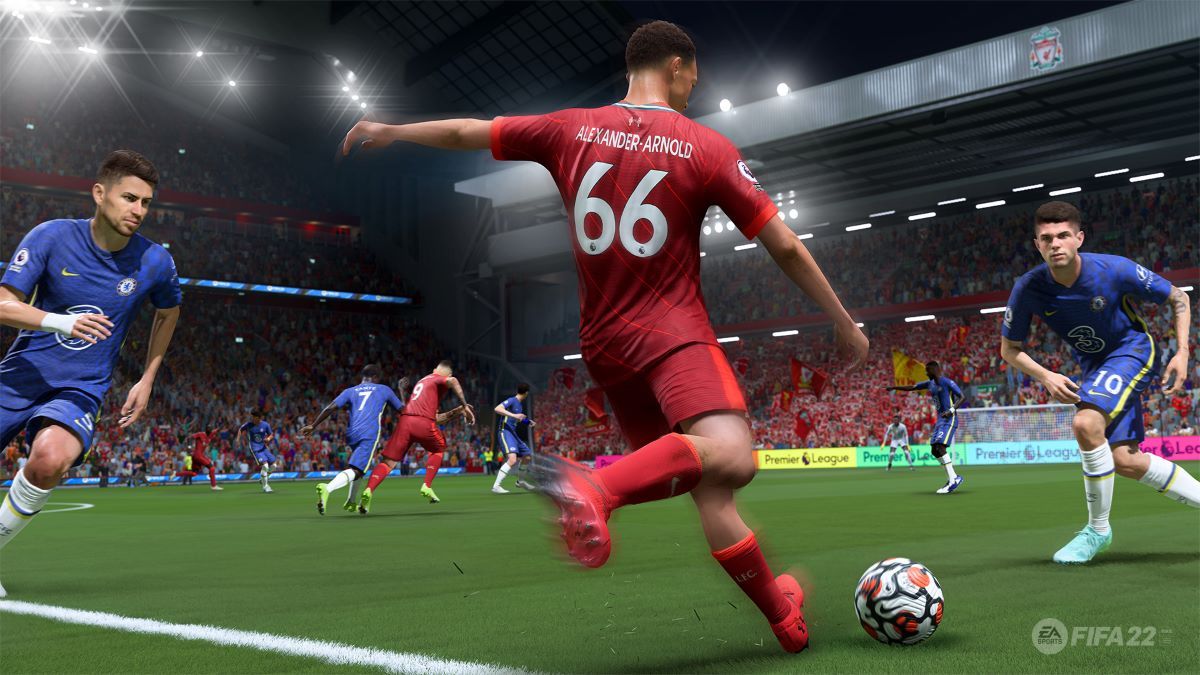 The core FIFA gameplay simply wouldn't translate well into VR, though EA has poured so much care and attention into digitally recreating stadiums and players that getting to step into their shoes in some form would be heaven for soccer fans. Just being able to tour the many stadiums in the game would be fun, though a little creative thinking opens up many more possibilities.
What about playing as the goalkeeper during a tense penalty shootout (though, uh, you may see players diving across their lounges and smashing the furniture)? A manager mode where you can watch from the sidelines and use a headset microphone to yell instructions to the players? A referee mode where you observe the game and have to call fouls correctly? Even a VR recreation of iconic matches from history, so you can see Maradona's hand of god from the stands, or watch England win the World Cup in 1966?
FIFA is about to be rebranded as EA Sports FC, so why not mark this new era by letting us feel the grass under our feet?
1. NieR
The wild world of Yoko Taro is one of the most unique franchises in gaming, combining fourth-wall and genre-breaking design with heartfelt and idiosyncratic storytelling. The first NieR was a cult classic on PlayStation 3 and Xbox 360, with NieR: Automata and Nier: Replicant (a remake of the first game) both critical darlings.
Like Hideo Kojima, Taro is renowned for his willingness to smash through boundaries and deliver wholly unique experiences, and we're sure he'd apply that sensibility to make a VR game unlike anything else ever seen. Taro himself seems relatively enthusiastic, saying in 2019 that Beat Saber was "something beyond my imagination", so we're sure putting him to work on a VR-focused game would pay off big time. Right now he seems focused on Japan-only Gacha mobile titles, but VR needs minds like his to push the design philosophy forwards!
We're sure that at least some of these dreams will one day come to life. And, if they don't, the modding community on PC is continuously bringing unofficial VR modes to games like Resident Evil 2 Remake, Minecraft, Grand Theft Auto V, and Cyberpunk 2077. There's even an 'Unreal Engine VR Injector' being worked on by fans that aims to bring every Unreal Engine 4 and 5 title into VR.
The future is looking bright, and soon you'll be standing in it yourself.
About the author